23 January 1997 Edition
Sportsview: Running out of fuel
Wayne McCullough has a lot to answer for; he resurrected that dreadful dirge ``Danny Boy'' just when we all thought it had gone away, and forced us bloodsports enthusiasts to resurrect ourselves at five o'clock in the morning last weekend to witness his unsuccessful attempt to wrest the World WBC bantamweight title form Mexico's Daniel Zaragoza.

The ``Pocket Rocket'', whose wife Cheryl wears what must be the world's tackiest earrings, took Boston by storm in the days preceding the fight and had the title secured before it had even begun, according to Irish America, who must have thought they were back at the World Cup.

While Zaragoza went about his business with little or no fuss, McCullough was swamped by the media and hordes of chanting Irish Bostonians, who still haven't realised that ``Ole-Ole'' went out of fashion with Big Jack. This hype and build up couldn't have worked in McCullough's favour.

Neither did his slow start, losing the first couple of rounds, and he was always playing catch-up with his older opponent after this, and despite his heroics in the closing minutes, the world's fittest man had crashlanded his rocket and the accompanying media circus.

McCullough made a lightning exit and has blamed everyone except his Mammy in the aftermath. Despite his moaning, which was not dissimilar to Janet Evans in Atlanta `96, he must accept that he allows himself to take too many punches and continually leaves himself open. Every boxer has lost at some stage, but only the few come back stronger. We await McCullough's return (minus the earrings). In the meantime we can look forward to Cabra's Celtic Warrior Steve Collins knocking some poor souls lights out.

 


Cabra's other warriors, Bohemians, suffered a potential lethal setback to their League of Ireland hopes, when they gave away a late goal to their Southside enemies Shamrock Rovers. Bohemians and Shamrock Rovers rivalry is not dissimilar to Celtic v Rangers, referring to each other as ``scumbags'' and ``f***** wasters'' and that's when they're in a good mood. They celebrate each other's woes with glee, with Bohs fans getting great pleasure when Rovers lost their sacred stadium to a housing development in 1988.

To rub salt into the wound Rovers had to ask permission to use their enemy's ground, and this misery was compounded when a Bohs fan photocopied hundred of tickets for a Rovers' home game and distributed them for free, thus depriving ``the scumbags of a few thousand''.

Anyway Bohs threw away three points on Sunday, and while Dublin fiddles, Derry wins and there's now five points between Derry and their nearest rivals.

Finally, hot on the heels of the Croke Park mice, the GAA now face another crisis with the burning and possible closure of the Farah factory in Galway. Farah are responsible for those grey and blue slacks with the little yellow ``f'' at the back that teachers and GAA fans wear. They also produce the good old white Y-fronts and string vests that have served many a cause. Without these essential fashion accessories, many Ga' fans' (and Sinn Féin councillors) won't be able to venture outdoors and the GAA calendar might have to be postponed for three months!


An Phoblacht Magazine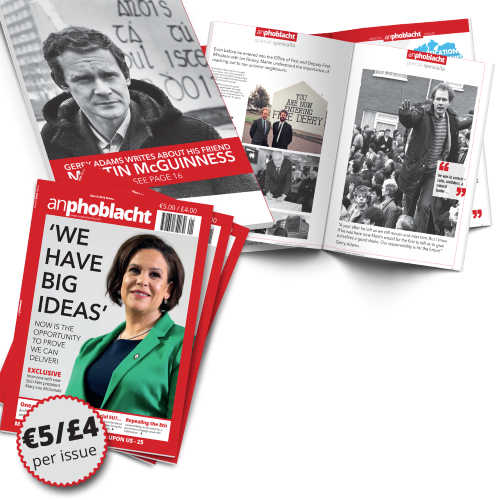 AN PHOBLACHT MAGAZINE:
The first edition of this new magazine will feature a 10 page special on the life and legacy of our leader Martin McGuinness to mark the first anniversary of his untimely passing.
It will include a personal reminiscence by Gerry Adams and contributions from the McGuinness family.
There will also be an exclusive interview with our new Uachtarán Mary Lou McDonald.
test