20 July 2006 Edition
"Penal law" treatment of Belfast Irish speaker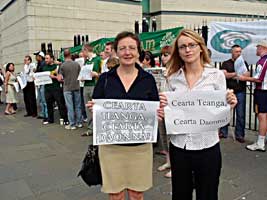 "Penal law" treatment of Belfast Irish speaker
Sinn Féin MEP Bairbre de Brún has described the arrest of an Irish language school teacher in Belfast for speaking Irish as 'treatment which brings us back to the days of the penal laws'.
The woman was arrested after she spoke in Irish on a Belfast street. She continued to speak in Irish, as is her right but it seems that the PSNI member became abusive and pushed the woman before arresting her. She was held in a Belfast PSNI barracks before being charged with disorderly behaviour.
"This sort of behaviour by the PSNI is a throwback to the penal days. Irish language speakers will not be denied our basic right to speak our own language on our own streets by the PSNI or anyone else. That is the clear message coming from this case", Bairbre de Brún said.
The woman's case come before the courts in Belfast on Wednesday. A picket outside the court was organised by Irish language activists and speakers.
Speaking afterwards Bairbre de Brún said the fact that Máire Nic an Bhaird had to put forward arguments in order to obtain court services in Irish shows the need for an Irish language act.
"Regardless of the details of this case the deciding factor is whether or not this young woman found herself before the courts appears to be that she is an Irish speaker.
"This young women has spoken Irish all her life and has gone through her entire schooling through the medium of Irish. While I would obviously prefer that she didn't find herself before the courts, a main concern for the Irish language community is that all proceedings should now be in Irish. In particular, it is imperative that the prosecution service provide the relevant papers in Irish and that she herself be able to address the court in Irish.
" As a result of the British government's ratification of Part III of the European Charter of Regional or Minority Languages, of the Good Friday Agreement and of the Criminal Justice Review the legal proceedings should now be provided in Irish. This morning arguments to this effect were put forward in court and the case was adjourned.
"The fact that such arguments had to be made in court this morning and that further legal pleadings are necessary before such legal services can be provided to an Irish speaker in Irish demonstrates clearly the need for an Irish Language Act for the Six Counties."