13 July 2006 Edition
Media View BY JOHN O'BRIEN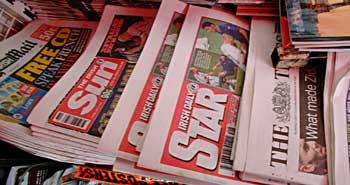 Media barons still hold trump cards
The recent publication of the Defamation Bill and the Privacy Bill have produced the expected chorus of orchestrated outrage from the owners of the gutter press who fear - somewhat overly pessimistically - that their rights to make profits by selling sleaze and lies and distortions will be curtailed.
Naturally, they haven't couched their protestations in those terms, preferring to present themselves as servants of the common good, rooting out the stories that the powerful would prefer to keep hidden.
In fact, they misuse their power and control of the media on a regular basis to uphold the worst right-wing fanaticism, to distort political debate and to attack those who advocate real change.
The Defamation Bill will in fact make it a bit easier to publish lies about people without fear of adverse consequences, but it's the Privacy Bill that has really got their goat.
Justice minister Michael McDowell proudly declared that the bill will give a "modern statutory framework to protect all citizens from the invasion of their privacy". Well, we'll see, but it is intended that the harassment of individuals in their private lives will be curtailed if not stopped.
For example, a few years ago, one newspaper published photographs of Fianna Fáil TD Jim McDaid at the window of broadcaster Anne Doyle's apartment. There is no conceivable public interest involved here, except the prurient one of ogling. Both McDaid and Ms Doyle were single people, and their private lives were their own business.
Again, on another occasion Fine Gael's Alan Dukes was caught with his trousers down - literally - in the company of a woman in a car. There was no political angle to this story, just a nasty desire to sell papers and make money out of other people's distress.
Nevertheless, despite the screeching of the media, the Bill gives them widespread defences. If a newspaper or broadcaster can show that any invasion of privacy, surveillance, harassment etcetera was "an act of legitimate news gathering, that any disclosure of material obtained was done in good faith, was for the purpose of discussing a subject of public importance and was fair and reasonable", then no damages will be obtained.
It's the Courts, of course, who will decide what is fair and reasonable. This gives little grounds for confidence, given their lack of backbone when faced with media criticism, for example, of the recent CC and A cases on statutory rape when they bowed to public opinion in defiance of their own legal judgements.
We might most of us heave a sigh of relief about that, but it doesn't bode well when these same judges will be asked to stand up against the power of the media.
But at least there is a possibility under this Bill that the ugly side of current journalism can be curtailed, and citizens will only be exposed for issues of real public concern - corruption, sleaze and naked hypocrisy.
As to defamation, one of the problems that the ordinary citizen has when libelled is that the newspaper's resources are infinitely greater than anything the average Joe Soap might have call on.
McDowell has done little to help in this area. The only protection is the establishment of a press council. This, the minister boasted, would be "independent" of government. But will it be "independent" of the vested interests who control our press?
The signs aren't good. The minister is proposing a council of 13 members, of whom seven will be "representing the public interest" whatever that might mean. An "independent" panel will choose these worthies. And the independent panel? It will be picked from the ranks of the powerful and privileged who dominate our society already. There won't be too many republicans or unemployed activists listed there.
There will be five appointees directly representing the interests of owners and publishers, and only one representing journalists. The employers will run the show, as usual.
This gang is expected to come up with a code of ethical stands for journalism. Don't laugh but the Sun, Star, Irish Times, Sunday Independent and sundry other rags will decide what constitutes decent journalism.
They will be given a new defence of fair and reasonable publication on a matter of public importance, and again it will be the judges who are already in the media's pocket who will decide what that means.
It's hard, then, to know what the newspaper owners are worried about, but, of course, any regulation of the press raises the possibility that a real ethical government - such as if Sinn Féin win an overall majority - would bring in real ethical standards.
Now that would be something for them to worry about.
An Phoblacht Magazine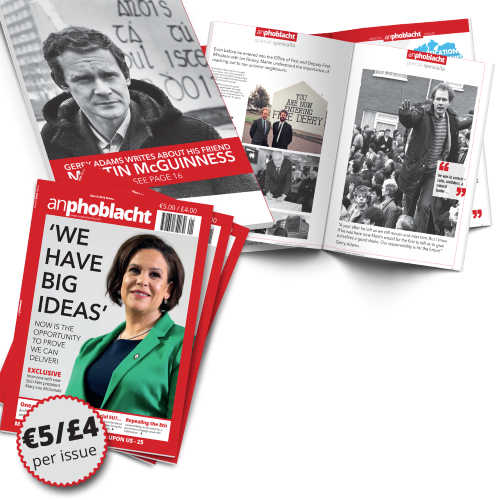 AN PHOBLACHT MAGAZINE:
The first edition of this new magazine will feature a 10 page special on the life and legacy of our leader Martin McGuinness to mark the first anniversary of his untimely passing.
It will include a personal reminiscence by Gerry Adams and contributions from the McGuinness family.
There will also be an exclusive interview with our new Uachtarán Mary Lou McDonald.
test