13 July 2006 Edition
Workers' rights: Sinn Féin activists discuss new policy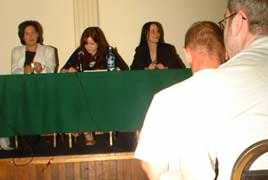 Confronting exploitation, defending workers
Sinn Féin activists from around Ireland gathered in Dublin's Teachers' Clubs last Saturday to discuss party policy on the issue of workers' rights.
Dublin MEP and Sinn Féin Chairperson Mary Lou McDonald said workers' rights is a key priority area for Sinn Féin and has long been an integral strand within Irish republicanism. "We draw our inspiration from James Connolly who argued that the cause of labour is the cause of Ireland and that the cause of Ireland is the cause of labour. On this basis we are working to intensify our engagement with the trade union movement, a movement which must be a key ally in bringing about social and economic change and Irish reunification. The delivery of a strong progressive workers rights framework is a fundamental part of our vision for Ireland.
"We reiterate our determination to stamp out exploitation of workers both in Ireland and across the globe. We commit to defending and extending social protections for all workers and pensioners and to replacing the current model of weak labour regulation and non-enforcement with comprehensive regulation and stringent enforcement."
Exploitation
The conference discussed a comprehensive draft document which significantly enhances party policy in this area.
The first section addresses exploitation and includes a substantial number of recommendations including a workers' rights public information campaign; strengthening the labour inspectorate and ensuring it includes people proficient in the major migrant languages; increased penalties for violations including the introduction of a penalty point system to deal with 'rogue' employers and companies that consistently transgress employment law; increased regulation of sub-contractors, employment agencies and apprenticeships. It also outlines Sinn Féin's approach to displacement concerns and the need to respect the rights of migrant workers.
Income security
The policy proposals include the replacement of the minimum wage with a living wage, subject to a mandatory annual Cost of Living Adjustment; measures to bring about a reduction in wage differentials between the lowest paid and highest paid workers, between men and women and between Irish nationals and migrant workers; increased protections around redundancy; and the phasing-out of 'across the board' percentage wage increases, which disproportionately benefit higher paid workers.
On pensions the document proposes the introduction of a basic non-means tested pension for all those above a certain age and a second tier of pensions related to social insurance contribution.
Health and Safety at Work
Another section of the policy calls for the establishment of an All-Ireland Commission on Health, Welfare and Safety at Work, centrally involving the Health and Safety Authority and HSENI; increased resources to ensure enforcement; increased penalties including the introduction of corporate manslaughter legislation to ensure compliance; as well as measures to tackle workplace causes of mental ill-health including stress and bullying ; and the need for more effective workplace alcohol and drug policies.
Discrimination and Harassment
Also proposed is new employment equality legislation including the upward-harmonisation of employment equality law on an all-Ireland basis, including the introduction in the 26 Counties of obligations analogous to those under Section 75 in the Six Counties, and amendments to equality legislation so that a wide range of grounds are reflected in employment equality legislation across Ireland.
The document also proposes that the burden of proof be shifted away from the applicant and onto the respondent in discrimination cases.
Work-Life Balance
There are proposals involving the upwards harmonisation and increase of leave entitlements on an all-Ireland basis. This would include an increase in statutory minimum annual leave entitlements to 25 days; maternity leave increased to 52 weeks at 100% of wages; the introduction of paid paternity leave in the 26 Counties and its increase in the Six Counties to four weeks; as well as a progressive increase in parental leave to 104 weeks. The document also calls for the introduction of carers' leave in the Six Counties and a statutory right for all workers to request more flexible working arrangements.
Education and Training
The document calls for the introduction of paid learning leave and the establishment of an All-Ireland 'Open University' to offer new distance learning opportunities for workers by allowing greater access to higher education through remote instruction and more flexible course and programme packages specifically designed for students in employment. Workers cannot qualify for better employment if they cannot read or lack basic numeracy. The document proposes to tackle illiteracy and innumeracy as a workers' education priority, using a 'crusade' approach that has worked so well in countries like Cuba, Nicaragua and Venezuela.
Trade Union Rights
Another key section of the document addresses trade union rights. The most significant proposal here is for a constitutional amendment to enshrine in the 1937 Constitution the right of workers to form, join and be represented by trade unions, to negotiate contracts of employment, and to engage in industrial action and trade union activities. There is also a demand that such rights be reflected in a future Bill of Rights in the Six Counties and in an All-Ireland Charter of Rights. The removal of the restrictions on secondary picketing is also sought.
Department of Labour Affairs
The final section proposes the progressive harmonisation of employment law on an all-Ireland basis and the establishment of a full stand-alone Department of Labour Affairs in the 26 Counties which would also have responsibility for pensions, and for departmental responsibilities in the Assembly to be structured in the same way, in order to create direct Ministerial counterparts in the All-Ireland Ministerial Council.
Campaigning tool
The day-long conference featured a number of workshops which addressed the various sections of the draft policy and saw focussed participation from those attending. In a lively plenary session conference participants discussed a range of recommendations. Many useful suggestions for amendments and additions were made by those attending.
In his closing address Arthur Morgan TD, party spokesperson on workers' rights said the completed document would be a key campaigning tool for Sinn Féin. "We will be engaging with trade unions, trades councils, workers, migrant communities, NGO's and other's in relation to this policy document. The campaigning approach employed in respect of the Health policy document will be broadly followed', he said.
Morgan said he looked forward to working with Alex Maskey, the party's newly appointed Six County workers' rights spokesperson and with Sinn Fein activist across the country.
He said that while some proposals would only be delivered through Sinn Féin taking power, the party could force change and deliver on many of the demands contained in the document by campaigning and engagement, by building support for the demands and by building alliances.
"This policy conference coincides with the imminent re-establishment of a Sinn Féin Trade Union Department. Both of these developments demonstrate that workers' rights is a central priority for Sinn Féin. The Department, when established will seek to build on our previous engagements with the trade union movement by approaching this work in a more coordinated and structured manner. Additionally the Department will be tasked with ensuring that trade unionism is promoted amongst our members and supporters and that the struggle of labour remains a vibrant strand within Irish republicanism, a vital part of our struggle", he said.