13 July 2006 Edition
OPINION: In what circumstances should Sinn Féin enter government in South?
Preparing for government - first term will be critical
Returning to the discussion of Sinn Féin's attitude towards participation in government in the 26 Counties, DAVID CULLINANE argues for the building of a coalition of the left.
Who really believes that Sinn Féin will be in government in the 26 counties after the next election, or that we are ready for such a quantum leap? But who would argue that we do not wish to be in government at some time in the future? Entering government in the 26 Counties should therefore be seen as a long term project, not something to be decided willy-nilly based on the accidents of electoral arithmetic, and we need to start strategically preparing for it as such.
It is in this context that the debate on coalition needs to take place. Yes, Sinn Féin wants to enter government in the South. Only by doing so can we deliver on our policies. Yes, that government will inevitably be a coalition. The question then becomes: when, and under what circumstances, can Sinn Féin enter government so as to maximise the political gains, and minimise the political risks?
Any decision on coalition must be one which forwards our republican objectives. Our goal is the reconquest of Ireland for the people of Ireland. It is to build a national republic where the people are truly sovereign, a state whose citizens are active participants in decision-making at every level. Our objective is to replace the partitionist assembly in Leinster House with an all-Ireland parliament in a national republic. Any transitional project must advance these goals. It cannot content itself with reformism or window-dressing: it must be a firm stride forwards on the road to the republic.
Our first term in office will be critical. If we misjudge the time and manner of our entry into government, we will see Sinn Féin decimated at the polls, like Clan na Phoblachta and Labour before us. If we judge rightly, our first term in government could lay the foundations for a republican hegemony in Irish politics.
The key here will be delivery. Any government in the 26 Counties involving Sinn Féin must deliver to its constituency - and must be seen to do so. It must also carry through a series of major reforms that will catch the public imagination and create a momentum for revolutionary change. It is on this basis that Sinn Féin will be able to use government as a launch-pad for further growth.
Key tasks for Sinn Féin in its first term in office will include:
Ensuring ordinary people see real improvements in the standard of public services in health, housing, transport, education and childcare
Beginning a significant redistribution of wealth towards the less-well off, through the medium of a fair and equitable system of taxation
Bringing about advances in cross-border co-operation, and a national consensus on the desirability of reunification
Laying the foundations for genuinely democratic political and economic structures
Asserting Ireland's independence and neutrality in the international arena
In achieving these goals, the party will have to face down obstruction from the permanent government (the civil service), and active opposition from vested interests in both the public and private sector. It will have to operate against the backdrop of a hostile media scrutinising our every move, and hold together a coalition government whose members will have differing political agendas and ambitions. These will be the challenges facing us the first time we enter government. What circumstances will give us the best chance to overcome them?
Firstly, we need to bring a much bigger segment of public opinion over to our side. In the end, fundamental change in our society will come about only when people demand it. We need to continue to build political strength, develop our organisation, and mobilise our communities.
Secondly, we need a lot more bums on seats in Leinster House. The more seats we have, the more weight we will carry in any coalition arrangement. It is true that the PDs, with a tiny number of TDs, have been able to exercise a disproportionate influence over Fianna Fáil in government. But the two parties are ideologically similar, indeed, one could say there is a PD 'fifth column' inside Fianna Fáil pushing it in a neo-liberal, right-wing direction. Sinn Féin, on the other hand, has no obvious 'soul mate' in the current political spectrum. We will therefore need every ounce of electoral muscle we can get to fight our corner in any coalition deal.
It follows - and this is a third point - that Sinn Féin should aim for a coalition in which there is at least some common ground between us and our partners. This will not only help us to get the best deal in initial negotiations. It will help secure the stability of the resulting government - a stability that will be necessary if we are to deliver our programme.
Our aim should be a coalition of the left. This is not a matter of calling for an alliance with the Labour Party and Green Party as they currently exist, but of actively working to bring about a realignment of Irish politics, a new consensus of public opinion around the ideals of social equality, national unity and participatory democracy. Therefore we should be pursuing an active programme of outreach to like-minded people in politics and civic society, aiming to reach broad agreement on a set of preliminary republican objectives such as those outlined above.
Finally, we need to ensure we can deliver. This means having clearly worked out policies to give our political principles effect. It also means having the people in place to implement those policies. We need to be conscious that when Sinn Fein does take power, we will face the institutional inertia and occasional hostility of the permanent government on a daily basis. Therefore we should be assembling teams of people capable of assisting Sinn Féin ministers to deliver. In particular, if Sinn Féin doubles its representation at the next general election and returns at least ten TDs with individual portfolios, we need to use these resources to build strategically for the future.
The issue of coalition needs a long term and strategic view, about how to use participation in government in the South to forward our overall objectives. It should not be decided on the results of a particular election. Such a strategic view would indicate that Sinn Féin is not yet ready to enter government in the South; that the necessary conditions for our successful participation in coalition are some considerable distance from being achieved. But this does not mean that we should be afraid of coalition, or that we should not start preparing for government now. On the contrary: the primary political task of republicans south of the border is to bring about the conditions in which we can enter government with confidence. This will be a stepping stone to greater political strength and the achievement of the Republic.
• If Sinn Féin returns at least 10 TDs with individual portfolios, we need to use these resources to build strategically for the future
An Phoblacht Magazine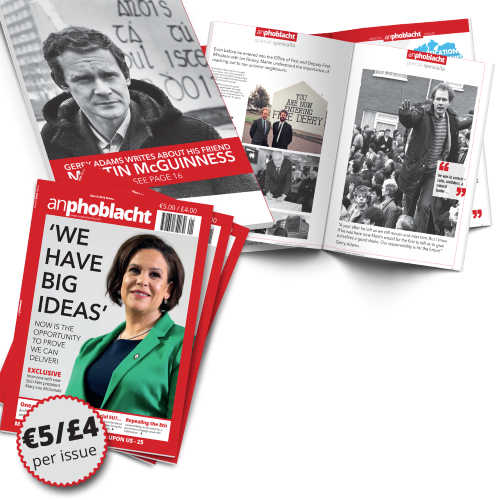 AN PHOBLACHT MAGAZINE:
The first edition of this new magazine will feature a 10 page special on the life and legacy of our leader Martin McGuinness to mark the first anniversary of his untimely passing.
It will include a personal reminiscence by Gerry Adams and contributions from the McGuinness family.
There will also be an exclusive interview with our new Uachtarán Mary Lou McDonald.
test