6 July 2006 Edition
Fifth Column
Mad Dog in heat
Johnny Adair, former leading member of the Shankill Road UDA/UFF, now in exile in Scotland, has been caught short in a nightclub in possession of a secret cache of... Viagra.
No longer a big knob in the UFF, the steroid-filled hulk obviously needs to pump it up to boost his flagging performance on the dance floor and elsewhere.
The impotent UDA renegade was dancing the night away near his bolthole in Troon when he had his dog collar felt by the local constabulary. Drugs squad officers swooped on the Club De Mar in Ayr, acting on a tip-off that Adair was dealing drugs.
Adair came clean about the Viagra and was quite unabashed about his pick-me-ups, claiming that, as he thinks he's a sex bomb and a big hit with the ladies, he needs the help.
"It's not illegal. If I go out for a night I often take a Viagra with me. What happened at the Club de Mar is typical of the hassle I have had since I moved here.
"The police arrived and said I was being arrested on suspicion of having drugs. I told them I didn't have any drugs and never took drugs."
We believe you.
Tony Blair's Orange aid
The Orange Order is being given £100,000 (€144,000) to try and make its Twelfth of July parade of sectarian triumphalism more popular. So who is giving the Orangemen the greenbacks? Ian Paisley's fundamentalist Free Presbyterians and DUP? No. The UUP/PUP/UVF? No.
One of Tony Blair's Labour Party government ministers is going to bankroll the "carnival of reaction".
Stormont Social Development Minister David Hanson approved the funding for the County Grand Lodge of Belfast for a new development officer.
The Orange Order's funding objectives include "to promote 'Orangefest' as a fully inclusive, family-friendly event" (friendly to Catholic families?), and "to promote greater understanding of Orange cultural tradition" (Bombay Street, 1969; Drumcree and Garvaghy Road?).
Belfast Deputy Grand Master Tom Haire said that a survey in 2004 reckoned that Orangemen spent some £6 million (€8.6 million) on "meals, refreshments, clothes and travel". That must mean pies, pints, Bovril and bowlers and going a heck of a long way out of their way to march through nationalist neighbourhoods to make the Twelfth a truly fully inclusive, family event, whether Catholic families want it or not.
Another big Orangeman in Belfast, William Humphrey, added:
"This is one of the largest festivals in Western Europe."
Which is probably what Joseph Goebbels said when he saw the Nazis' Nuremburg rally. If only Hitler had got a few bob from the NIO to get all those Jewish families to join in the festive fun of the flags, bands and black uniforms.
Bet those Nazis downed a lot of pies and pints too.
Propaganda offensive
PD TD Fiona O'Malley has a screaming hissy fit when she even hears about an IRA T-shirt, but Dessie's daughter was noticeably silent when a British warship with real weapons, one that has been part of the illegal invasion of Iraq, docked in Dublin port last weekend.
HMS Ocean steamed in to Dublin as part of the Brits' propaganda offensive. Gaggles of school kids and youth groups were herded aboard while Irish glamour models shamelessly draped themselves all over the Royal Navy's motley crew for Press Association photographs to be wired around the world.
Talk about the pornography of war.
SDLP fortunes
Irish tycoons Denis O'Brien and Paddy McKillen have given the SDLP $750,000 to raise its profile in the United States.
The SDLP might be better off using it to arrest its declining fortunes by raising its profile in the Six Counties.
Soldiers of misfortune
Ex-members of the RUC, UDR and regular British Army looking to make a killing in Iraq as 'private security contractors' are among those suffering the highest casualty rates outside the US Army.
According to Jose L. Gomez del Prado of the United Nations Working Group on Mercenaries, the 25,000 guns for hire in Iraq "constitute, after the United States Army, the largest force of occupation well before the British Army".
But, outside of the US Army, they also incur the highest number of casualties: 420 deaths and 4,000 injured.
The privateers obviously do it for money ("receiving sometimes salaries up to several thousand dollars daily"), but why do their governments allow these private armies to get away with what they do?
Jose L. Gomez del Prado said:
"When they contract these private military and security companies, the USA and British governments, among others, avoid parliamentary controls and at the same time can be present in armed conflicts where they have interests or wish to intervene deploying private companies as auxiliaries.
"These companies thus constitute an element of their foreign policy."
And a deniable element at that.
Their cup run is over
We take no pleasure in the exit of the England soccer team from the World Cup (no sniggering at the back there!).
Therefore, we suggest that antics such as this rewritten terrace chant beloved of England fans despatched post haste by one Sinn Féin figure in the sports industry by text should be treated with the respect they deserve.
The spoil sport sang:
"Two World Wars,
"(Still only) one World Cup,
"Doo-dah, doo-dah..."
An Phoblacht Magazine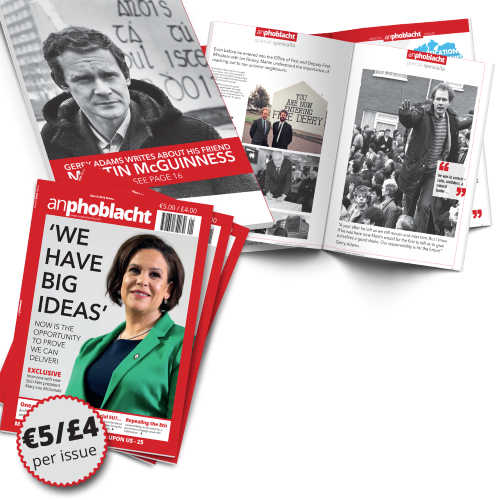 AN PHOBLACHT MAGAZINE:
The first edition of this new magazine will feature a 10 page special on the life and legacy of our leader Martin McGuinness to mark the first anniversary of his untimely passing.
It will include a personal reminiscence by Gerry Adams and contributions from the McGuinness family.
There will also be an exclusive interview with our new Uachtarán Mary Lou McDonald.
test