6 July 2006 Edition
Media View BY FRANK FARRELL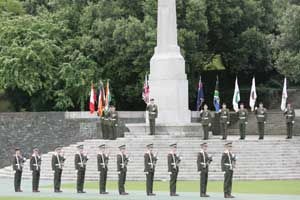 Hypocrisy of the apologists for Somme slaughter
Tom McGurk was one of the few voices raised against the hypocrisy of those who opposed the 1916 commemorations but who gloried in recent events marking the 90th anniversary of the slaughter at the Somme.
Writing in The Sunday Business Post, McGurk took apart recent obsequious essays by journalists like Fintan O'Toole. Britain and her allies versus Germany and its axis was not a "futile slaughter ... for the taking of a few kilometres of ground", as described by O'Toole; rather it was it a global, territorial war between imperialist nations competing for ascendancy at the beginning of the 20th Century.
Irish people and republicans did not forget those who died in that catastrophe but neither did they forget the reasons for the carnage. Republicans and socialists opposed the World War I because it was a war against small nations - like Ireland - and not a war in defence of another small nation, Belgium.
Sinn Féin attended the Dublin event in commemoration of the Irish who were killed in that militaristic abomination but republicans continue to regard the war itself as organised slaughter of working people by their rival masters in Western Europe.
Two passages in The Irish Times supplement accidentally explain a lot that the supplement itself failed to acknowledge. One article bemoaned the fact that Irish soldiers returning home from duty at the front were treated with suspicion and even hostility. Another article, a pen picture of Patrick Joseph Doherty, a British Army sergeant from Donegal, explained how he "very quickly rose to the rank of sergeant and early in his career he displayed a talent for sharp shooting" (dear me, such unbridled militarism from the Old Lady in D'Olier Street!). The same article went on to describe how Doherty's first tour of active service was not in France but in Dublin where he helped to "quell the Easter Rising".
O'Toole cannot have forgotten his James Connolly or the writings of other republicans whose arguments against the war were internationalist in character and argued for self-determination for small nations, including our own.
McGurk asked why O'Toole and others refuse to apportion blame for the Somme slaughter and their failure to answer that question explains an awful lot. For if such writers were to point out that World War I was a violent confrontation between imperialist powers they would have to concede that the 1916 rebellion was of a markedly different and more progressive character.
So antagonistic are various media to the respect that Irish people retain for those who fought for Irish freedom in 1916 and the Tan War that they scurry around seeking other heroes and events to elevate. Thus, the 'socialist' O'Toole has found a new hero in the reactionary landlord, Daniel O'Connell and is reduced to wringing his hands at the Somme slaughter while celebrating "the courage and self-sacrifice of the troops". Significantly, such descriptive and reverential phrases about British soldiers, Irish or otherwise, were nowhere to be found in the accounts of Irish Volunteers in the same newspaper's recent supplement on the 1916 Rising.
According to Fintan and chums, the recent commemoration of the 1916 Rising, a modest affair by comparative military standards of the time, was overly militaristic and triumphalist. Yet, the Royal British Legion (which commemorates ALL British war dead, from the Crimea to Kenya to Iraq), and various British Army regiments were involved in the celebration of military endeavour at the Somme. Not a squeak came from O'Toole and company or from Montrose about the militarist trappings of these events nor the strong Orange tinge to some of the commemorations.
The bald historic facts of 1916, in Dublin and the Somme, cannot be obscured by any amount of obfuscation and apparent sympathy for the forgotten Irish dead of World War I. For too long, British remnants in Ireland and their modern, home-grown equivalents, used that war, not as a genuine exercise in remembrance, but as an excuse to celebrate imperial memories. Republicans are not only sad at such senseless genocide but - unlike O'Toole, Myers and the rest - also angry at the reasons for it.
Real remembrance of the dead in World War I - all of them, not just Irish - would involve a searing denunciation of those who caused the slaughter followed by the dismantling of the system that still causes wars of conquest around the world. But Messrs O'Toole and company won't be volunteering for that war.
**************
Recent sporting catastrophes in these islands give rise to a feeling of sympathy for those who, individually, are neighbourly souls who retain an enthusiasm for sport and for life.
But it's hard watching them win. Every true Irishman has something in his genetic makeup that rebels against the thought. Anyone but them. Anyone but those arrogant bastards.
It's not that we actively hate them. Most of us would be hard pressed to even dislike them. Truth be told, we quite like them. They are after all our neighbours.
And let's face it, even before they started moving here, most of us lived among them. We've all worked there at some point in our lives, though of course the entire time we dreamed of the day when we'd have enough money saved to move back home.
So it's not that we dislike them. Most of them are the salt of the Earth, as decent a collection of human beings as you could hope to find anywhere on the planet. How can you dislike an ordinary fan, whose only sin is shouting for his team? Sure don't we do the same ourselves?
But it's the arrogance that gets you. Every team goes through good patches and bad, but the rest of us don't have that same imperial swagger. Something about it just sticks in the craw. I mean there they were last weekend, still three tough games away from taking the cup home and already talking like they're unstoppable, when let's face it, they're far from the best team in the competition...
But will Dublin really win the All Ireland ????
An Phoblacht Magazine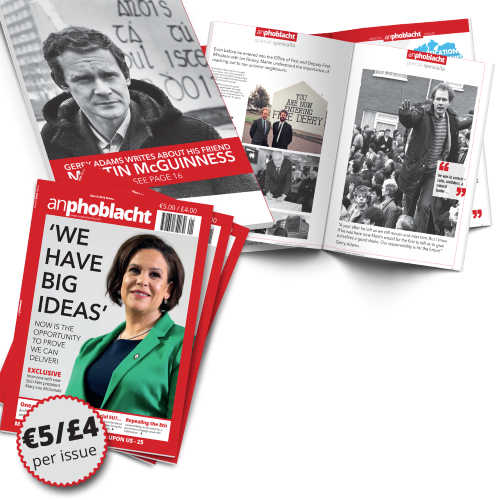 AN PHOBLACHT MAGAZINE:
The first edition of this new magazine will feature a 10 page special on the life and legacy of our leader Martin McGuinness to mark the first anniversary of his untimely passing.
It will include a personal reminiscence by Gerry Adams and contributions from the McGuinness family.
There will also be an exclusive interview with our new Uachtarán Mary Lou McDonald.
test