6 July 2006 Edition
The Matt Treacy Column
Purple and gold journey in vain
One of my superstitions about matches is that the team who appears to have the most supporters in town beforehand will win. Of course this is a very subjective rule of thumb and depends very much on the route I take and which watering hole I favour prior to the match. Nor, in the interests of scientific accuracy, do I apply it to games involving Dublin given the obvious biases involved.
It has proven to be remarkably accurate over the years. Not so last Sunday. Dublin was awash in Wexford jerseys. Literally indeed given that most of the wearers of the purple and gold had been drenched in the heavy morning showers. There were very few supporters from either Offaly or Kilkenny around the place and not too many more in Croke Park. Carlow, appearing in their first ever Leinster minor final, brought a respectable contingent but unfortunately their travels were in vain.
Wexford supporters were likewise disappointed. Their footballers might have won a closely contested Leinster semi-final when a late attack might have brought a goal. Had they done they would not really have deserved it as Offaly were the better team on the day. Corner forwards Thomas Deehan and Niall McNamee, who scored 2 - 11 between them, were in devastating form and may well prove a handful for the Dublin defence in the Leinster final.
Mattie Forde was Wexford's leading scorer with 1 - 7 but will have won few friends after stamping on the head of Offaly fullback Shane Sullivan.
The hurling final was predictably one-sided despite Wexford's best efforts, especially from their backs. With no county seemingly able to challenge the Cats, Leinster is in danger of becoming embarrassingly predictable. Of course that may change but already I have heard one cynic wonder aloud how many more titles Kilkenny will have to win before Leinster goes the way of the Connacht hurling championship?
In reality the situation now is that the hurling championship only really begins when we know the quarter final line-ups. All the same, the qualifier groups have produced some interesting matches and large attendances as the battle for four of those places is contested. As predicted these will go to Galway, Waterford, Clare and probably Limerick unless Offaly beat Clare in their last game.
Indeed, along with the winning and losing provincial finalists Kilkenny, Cork, Wexford and Tipperary, you would have gotten no offers from the bookmakers had you attempted to wager on the make-up of the final eight even a year ago. The question now being asked is what is the point therefore in postponing this for two months while the leading teams go through the motions.
The committee responsible for the hurling draw has already taken this on board so it will be interesting to see what conclusions they draw, and what changes they make to next year's format. In the meantime, there is no need to despair. The quarter finals will produce some good matches and big crowds even if we suspect that the decisive encounter of the year will be that between Cork and Kilkenny. If nothing else, that will be worth waiting for.
As will next weekend's Ulster final which again is being held in Croke Park. Armagh are favourites to win their third title in a row. If they do it will be the first time any county has accomplished this since Down between 1959 and 1961. Of course some pundits will have you know that Armagh have no interest in this. That another Ulster is merely a stepping stone on the way to their real aim of re-capturing Sam and thus emulating Tyrone.
That is true. Given a choice between Ulster and an All-Ireland, Armagh will choose the latter. However, it is not a choice they have to make. They can do both and indeed winning next Sunday will significantly improve their prospects of adding a second All Ireland to the one they won in 2002.
Nor do I believe that Joe Kernan is unmindful of the historical importance of a third Ulster. He may have thrown his 1977 runners-up medal against the wall in the dressing room in 2002 but he is a man fiercely conscious and proud of his county's place in the scheme of things. When all is said and done, when the last ball has been kicked and the Francies and the Oisins have hung up the orange jersey for the last time, Big Joe's team, like all the others, will become like the old photographs in the The Dead Poets Society.
All that will be left then are the medals and the records in black and white. Francie and Oisin will whisper 'carpe diem' to the lads who come after them but they will want to leave behind an impressive CV to be emulated. And part of that will be an Ulster three-in-a-row.
Between that and Armagh stands Donegal. Enigmatic as ever. 'The team most likely to go on the piss the night before the All Ireland final' as someone once described them. Not altogether unfairly! Brian McEniff ended his long association with them last year and was replaced by Brian McIver from Ardboe who appears to have re-energised the county after a number of frustrating years in Ulster and the qualifiers. Win or lose, the boys are unlikely to be hitting for the Paragon in Clones on the way home next Sunday.
So far this year, Donegal have topped Division 2A, unbeaten, and went down to Louth in the Division 2 final after a replay. Some of their old failings resurfaced around that but appear to have been ironed out subsequently. The fruits of this were evident in victories over Down and Derry. The latter was particularly impressive as it was the first time for a long time that a Donegal team played with such confidence and verve.
Sunday then is unlikely to witness a repeat of their best forgotten encounters with Armagh in last year's championship. The bookmakers have probably just about called it right by installing Armagh as favourites but it would be no huge surprise if Donegal were to upset the odds, and thereby upset many people's thinking on the championship itself.
An Phoblacht Magazine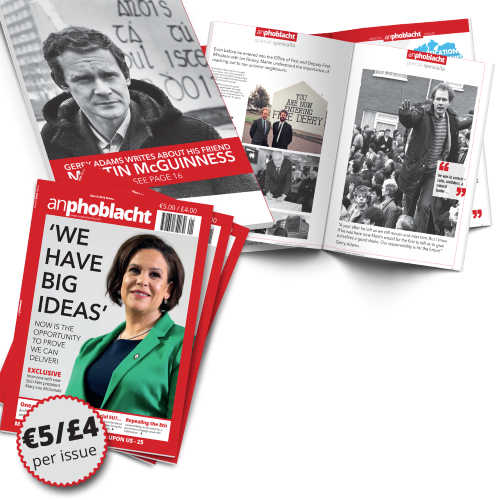 AN PHOBLACHT MAGAZINE:
The first edition of this new magazine will feature a 10 page special on the life and legacy of our leader Martin McGuinness to mark the first anniversary of his untimely passing.
It will include a personal reminiscence by Gerry Adams and contributions from the McGuinness family.
There will also be an exclusive interview with our new Uachtarán Mary Lou McDonald.
test