6 July 2006 Edition
Interview: Treasa Quinn, Sinn Féin Joint National Treasurer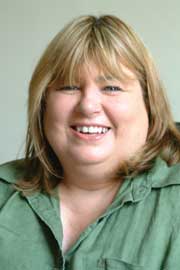 In the latest of her series of interviews with Sinn Féin activists ELLA O'DWYER talks to another of the party's Joint National Treasurers, Treasa Quinn
Strong, capable and full of fun
Treasa Quinn was born in Enniscorthy, Wexford "under Vinegar Hill". Born in 1965, she was the youngest of seven children, six girls and one boy. Both her parents came from Wexford, her father was a Fianna Fáil supporter and her mother died when Treasa was seven, a factor that contributed to making strong, self contained children.
Quinn's father worked with the railway as a goods guard and when CIE transferred him to Dublin, the family moved to Inchicore. "My Da is a Guard" she used to say jokingly to her school friends.
Quinn attended Golden Bridge Secondary School in Inchicore. "I hated school, I was shy, but I was very good at maths and I loved history, I probably got that from my father."
She got involved in republican activism as a teenager. Her sisters were also active republicans who worked variously at An Phoblacht, Sinn Fein head office and Sinn Féin's old Dublin offices at Blessington Street.
It was a time of much Garda harassment and political repression North and South. Quinn was arrested at the age of 17. "I was lifted and got a weekend in Mountjoy. The house was raided". She explained that her father was very annoyed and blamed Quinn's older sisters - Ursula, Angela, and Patricia who were actively involved in republican politics. The arrest took place in Dalkey. "I've never gone back to Dalkey", she laughed.
Recalling the 1981 Hunger Strike, particularly the funeral of Bobby Sands, she remembers being angry with her teachers. "They didn't encourage discussion about the Hunger Strike and it was such a pivotal period in Irish history."
Reflecting on difference between Sinn Féin in the early 1980s and now she says: "Then we were lucky if we got our election deposit back. Now look at us."
As soon as Quinn was old enough she joined Sinn Féin's Robert Emmet Cumann in Inchicore. She met Thomas Berry, a member of the James Connolly Cumann in Ballyfermot at a Sinn Féin function. They went on to marry and have two children - Sean aged 21 and Sorcha aged 17.
Treasa Quinn left school at 15 and got her first work experience at 44 Parnell Square, the then home of An Phoblacht, wrapping papers for distribution. It was the start of a lifelong involvement in full time republican activism. "Danny Morrison was the editor and I was a shy youngster working in the corner", she said. "The sellotape will melt at the speed you're wrapping", Morrison commented and within seven months she began administration work for An Phoblacht.
"It was a fun time in the paper. Rita O' Hare was there doing accounts at the time, Micheál O'Carolan worked in management and was the paper's photographer. My sister Ursula also worked with the paper. Within a few years Quinn was appointed General Manager of An Phobacht.
About six years ago Dessie Macken approached her about taking up finance work for Sinn Féin. "Will you take on this little bit of work. It's only going to take you a half day a week, just to pay a few expenses?" The job got bigger in time and she had to leave An Phoblacht in order to undertake the role of Sinn Fein Treasurer, a position she holds jointly with Margaret Adams who handles party finances in the Six Counties.
The work she's at now is about finance and accounts. It's a big job managing Sinn Fein accounts for the 26 Counties. "You have a body of work to do. Expenses have to be paid every week. You have to keep the lights on in 44."
With Margaret Adams, she's involved in fundraising initiatives like the National Draw and the Le Chéile project. She was producing the brochure for that event as we spoke. The party's Finance Department ties in with the Standards in Public Office Commission and they also have the back up of an accountancy firm.
Asked who were the people who factored most in her life as a republican she named Rita O' Hare, Joe Cahill and Dessie Macken. For Quinn they shared a collective quality - they were "honest, straight and capable of making hard decisions".
"Rita is strong, articulate and takes no nonsense. Joe Cahill, if in form, would sit and tell you stories. His presence was enough, the whole history around him etc. "I would occasionally go down with a bill, and you'd come back with your tail between your legs."
Working for about 20 years with Dessie Macken, Sinn Fein's Director of Finance, she considers him one of the straightest and most motivating people she ever worked with. "He's honest and great craic", she says.
Quinn is a hearty individual and the interview was laced with laughter and reflection. "The Finance Department is very strong. We have two strong women, Margaret and myself" and the inevitable Macken.
"I've worked with Dessie for about 20 years. I'm quite a shy person really and don't have an awful lot of confidence. Dessie would have pushed me. When I was pregnant with the children I was able to take time out. If the kids were sick I could take a day off. If I'd worked in another job at the time, I mightn't have been able to manage it all."
Asked what she liked to do by way of entertainment she said "I like to socialise but I love reading. I love Harry Potter books. I'd nearly be in the queue with the five-year-olds when the next edition is out."
Quinn's 17-year-old daughter Sorcha is an eager republican and wants to join Ógra Shinn Féin. Sitting in the Sinn Fein bookshop in 58 Parnell Square she was asked if to describe her mother in one sentence. "She's a teenager in a 40-year-old's body".
An Phoblacht Magazine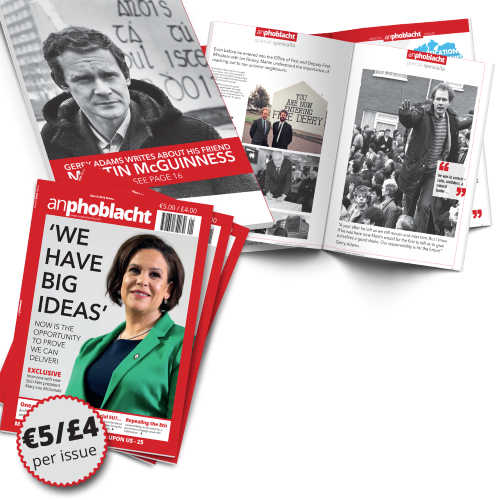 AN PHOBLACHT MAGAZINE:
The first edition of this new magazine will feature a 10 page special on the life and legacy of our leader Martin McGuinness to mark the first anniversary of his untimely passing.
It will include a personal reminiscence by Gerry Adams and contributions from the McGuinness family.
There will also be an exclusive interview with our new Uachtarán Mary Lou McDonald.
test