6 July 2006 Edition
Orange parades: Seeking a shared understanding
As we near the halfway stage in the so-called 'marching season' SEAN MURRAY, Spokesperson for the Springfield Road Residents Group and a member of Sinn Féin's Cuige na Sé Chontae Officer Board , takes stock of how the latest events have impacted on perspectives of the parades issue.
Parades, perspectives and power relations
Last January Peter Hain launched a new Parades Commission. Its chair was Roger Poole whose style contrasted sharply with predecessor Tony Holland - a cold unapproachable legal eagle. Poole, a trade unionist of note, projected an open, approachable image, but with little knowledge of the key issues or personalities.
Our initial verdict was well meaning but naïve and handicapped by a poor and clearly biased Commission. At the outset the various residents groups highlighted the overt absence of anyone from a working class, nationalist or republican background who could articulate the fears, concerns and perspective of that important constituency. This presented a serious flaw in its makeup with obvious consequences for its future decisions.
Key determinations this year show a clear pattern. Leave aside the long standing Drumcree, Ormeau Road and Dunloy disputes, where in the clear absence of any attempt to enter into dialogue by the Orange Order makes it very difficult, if not impossible for any commission, even the current one, to overturn decisions which have been in place for around ten years now.
Poole's strategy appears to be based on the false premise that if the Orange Order agrees to participate in a process of dialogue, they should be rewarded in the hope of locking them in, while nationalists, perceived as more coherent and focused on political development, always agree to dialogue and so don't require any incentive.
This strategy was applied in relation to both the recent Tour of the North and Springfield Road determinations. With the former, in exchange for the North and West Belfast Parades Forum agreeing not to bring a large number of followers with their march along nationalist Crumlin Road, Poole gave them an unasked for parade up nationalist Duncairn Gardens into Tigers Bay. He made no secret of this deal, rubbing salt into any already sore wound.
On the Springfield Road the loyalist parade was allowed to proceed, partially through the Workman Avenue 'Peaceline' gate, with the rest of the parade emerging from the entrance to the former Mackie's site. By contrast, nationalist residents who were abused and threatened by the same Orangemen and bandsmen last September were not allowed to protest outside their own homes.
Poole's dealings with the Springfield Road Residents has demonstrated a lack of integrity, leading to a breakdown in trust, which will be very difficult to repair. This lack of trust is not exclusive to the Springfield Road and Poole has made the serious error of taking our community for granted despite the intervention of a number of senior republicans who highlighted the consequences.
As the marching season rolls out, our community views the issue of loyalist/Orange Parades as one of the litmus tests with regard to their status in the Six County statelet. It underlines power relationships in the North in terms of which organisations, which political parties can impact on the decision making process operated by the parades Commission. What is the role of the NIO, Hain, and the PSNI, in terms of their ability to influence strategy or lean on specific determinations if it is in their interests to do so? Or is the question of impact and influence redundant, if Poole, as he asserts is oblivious to external influences?
Whatever the internal dynamics of power relationships in the Six Counties, the nationalist community will equate biased and irrational determinations with the maintenance of conferred second class status for our community. This is unacceptable.
Residents Groups must recognise this and act accordingly, professionalising their approach by identifying the key parading issues, which will vary from area to area. They must collate essential data, research information and evidence of past breaches of determinations etc.This will inform a comprehensive and evidence based presentation, while engaging legal advice and counsel when necessary.
Nationalists need to make it as difficult as possible for the Parades Commission to make biased or irrational determinations and ensure that the media is aware of contradictions in the Commission's positions. It requires constant interaction with the local community allowing them to understand and support their strategy, while articulating their own viewpoints.
In the event of further bad determinations by the Parades Commission, support will be more forthcoming from the local community if the residents groups can be innovative. Imaginative and meaningful protests can empower the community and allow its members demonstrate a unity of purpose and strength. This will not be lost on those who insist on parading through our areas in a manner which is not worthy of our approval.
Our community now understands that the parading issue represents a long, arduous struggle. As in any struggle you win some battles and lose others. Change may be incremental and vary in size from area to area. But if it represents change in the right direction our community will reciprocate. They will be mature enough to recognise the potential of our parades strategy.
As with all tactics and strategies we must continuously assess their impact and effectiveness. Due to the concentration of parades throughout the marching season the best time to facilitate any such assessment would be the immediate aftermath.
Our community will also be encouraged by the recognition that when we talk of contentious parades, we are not dealing with a monolithic organisation on the opposite side. It is deeply fragmented with a variety of interests and loyalties prevailing. The North and West Belfast Parades Forum exemplifies this. It is an unholy alliance of clergymen, community workers, loyal order members and unionist paramilitaries.
Within this alliance there are individuals who genuinely want to reach an honourable and sustainable accommodation with host communities on the parades issue. They are people are saddened to see the Orders with which they have a close affinity, debased and misdirected by an inept and out of touch leadership, devoid of a vision for the institution or long-term strategy.
This viewpoint is exemplified by the Rev. Brian Kennaway's criticism of the British Government's recent funding package for the Orange Order in Belfast, announced on the very day that determinations were to be made public for many contentious Twelfth of July parades: "I find it hard to believe that David Hanson knows what he talking about when he says this funding is aimed at promoting inclusivity. Does Mr Hanson not understand that the Orange Order is only inclusive in terms of Protestantism?
"If the Orange Order wishes to change its image it should get rid of the paramilitary bands, which are closely associated with its parades. It should also get back to its original core religious values, which make no reference to anti-Catholicism ", said Kennaway.
Republicans recognise the integrity and sincerely held views of such individual Orangemen. Long may it continue, as it will ensure that in the future an accommodation for and a shared understanding of outstanding contentious parades is a worthy and realisable objective?
An Phoblacht Magazine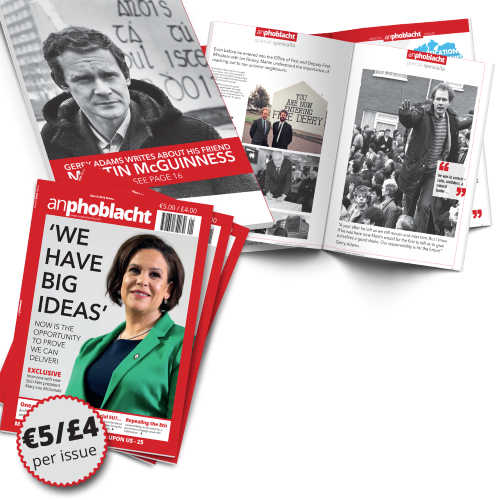 AN PHOBLACHT MAGAZINE:
The first edition of this new magazine will feature a 10 page special on the life and legacy of our leader Martin McGuinness to mark the first anniversary of his untimely passing.
It will include a personal reminiscence by Gerry Adams and contributions from the McGuinness family.
There will also be an exclusive interview with our new Uachtarán Mary Lou McDonald.
test