6 July 2006 Edition
Equality: Sectarian inequality is additional burden on poor
BY LAURA FRIEL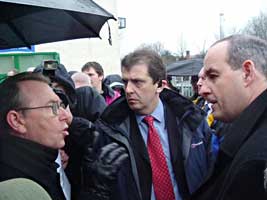 Poverty - the hidden war
At the beginning of his novel 'A star called Henry' Roddy Doyle describes the brutality of poverty in Dublin before the Rising and under British rule.
It's a rare acknowledgement of the corrosive violence of want and neglect.
Like any other battlefield, poverty has its own casualty list of untimely death and injury.
In deprived communities like West Belfast, it is a violence that is well documented but only raised in terms of the rarefied health statistics of life expectancy, infant mortality rates, rates of disability, chronic ill health, depression and suicide.
In the North poverty is a hidden war waged in the interests of the British exchequer to the detriment of ordinary people, whether from the Falls or Shankill.
Chrissie McAuley heads a team of Sinn Féin activists, which includes Sinn Féin MLA Caitriona Ruane, who monitor and promote equality and human rights.
McAuley has lived all her life in West Belfast. She understands her community's lived experience of economic marginalisation and poverty. Regeneration strategies are one of the terrains of struggle within which McAuley works. "West Belfast is officially the most deprived constituency in the North of Ireland with 11 out of 17 wards in the area amongst the worst 10% of all wards in the Six Counties. In eight wards a staggering 50% or more of the population are income deprived. In terms of the economically active the number of people without work is over two and half times greater than the North's overall average," says McAuley.
"There are also significant levels of poverty in the Greater Shankill. Official statistics show that in the West Belfast and Greater Shankill area around 13,000 people who could be working are without work. Of these the Greater Shankill is estimated to have 3,700 potential job seekers while in West Belfast the figure is 9,300," says McAuley.
However the Greater Shankill community experience greater social mobility in terms of securing housing and jobs outside the area than people in the West.
This difference is generated through the operation of sectarian inequality, which acts as an additional burden imposed on the North's nationalist poor.
Statistically greater mobility has resulted in the population of the Greater Shankill falling by over 60% within the last 40 years. It also has resulted in an ageing population in the Shankill, compared to West Belfast with one of the youngest populations in Western Europe.
In West Belfast restricted mobility has led to a steady increase in the population with the area operating more in the manner of the classic 'ghetto' in which poverty and inequality are acting as dual mechanisms of economic exclusion.
"Regeneration strategies that ignore this dual mechanism risk reinforcing rather than overcoming this additional dynamic. In doing so, they risk denying those very communities suffering the greatest levels of poverty equal access to the strategies developed to alleviate it," says McAuley.
"That's why Sinn Fein puts equality at the heart of its anti-poverty strategy. Tackling poverty on the basis of objective need and equality of outcome is an inclusive strategy that will address the needs of both the Shankill and the Falls in a demonstratively fair and rational way", she says.
There is a long history of pressure and mobilisation against poverty in West Belfast. In 1988 a series of public meetings led to the Obair Report on unemployment in West Belfast and, a few years later, the formation of the West Belfast Economic Forum, while Sinn Féin's political strength ensured an inclusive anti-poverty strategy was included as a requirement of the Good Friday Agreement.
"Unfortunately since the signing of the Agreement there have been repeated attempts to undermine the development of rational regeneration strategies by increasingly ideological based impositions. Dermot Nesbitt, UUP MLA and former junior minister with responsibility for Equality was one of the first to lead the charge," says McAuley.
In a booklet Equality: A Society at Ease, Nesbitt claimed anti-Catholic sectarian discrimination in employment "if it ever existed" had been consigned to history. The document argued that sectarian discrimination was nothing more than a "perception" that fuelled sectarian tensions.
"Yet despite the weakness of Nesbitt's case the ideas he espoused continue to find favour amongst statutory bodies and government ministers", says McAuley.
Nesbitt argued that any acknowledgement of sectarian discrimination was "dangerous" because it was "corrosive of community relations".
The Good Friday Agreement had put equality at the heart of its commitment to address poverty and economic marginalisation but without the engine of an up and running Assembly, regeneration passed into the hands of NIO civil servants and British ministers.
The NIO had acted as gatekeeper to the Orange state for over three decades and it wasn't about to change. Conflict resolution through equality and human rights was increasingly being replaced by the primacy of notions of a "shared future," "good relations" and a willingness to address "alienation" within the unionist community as an alternative to demonstratable need in both unionist and nationalist communities.
"There surely can be nothing more shameful than the British government's recent capitulation to the DUP's exclusive demand for a Protestant Task Force. The British government's announcement of an exclusively Protestant multi-million funding package to address unionist "perceptions" of greater need sectarianised the issue of poverty in the North while elevating special pleading above empirical analysis," says McAuley.
"Unionist opposition to anti-poverty strategies that place equality at their core began in denial. Despite all the evidence to the contrary, unionists claimed sectarian discrimination against the nationalist community was a "myth". Now they were urging British ministers to accept the primacy of unionist "perceptions" over established facts," says Chrissie.
British Minister for the Department of Social Development David Hanson graciously complied and announced a £33 million package to fund an action plan to tackle disadvantage exclusively in unionist areas.
A spokesperson for the DSD admitted that despite the fact that "nationalist areas still made up around 70% of designated areas of social deprivation", unionist areas remained "a key priority for government". The DSD justified this disparity by claiming, nationalist communities are "more self-resourced, more socially cohesive and have stronger social links".
Ironically, any resistance against this shift, away from targeting objective need towards the primacy of ideological special pleading, is increasingly portrayed as latent sectarianism.
"Republicans and nationalists often attempt to deny that there is a problem," complained DUP MLA Nelson McCausland. The "lack of fairness towards unionists in favour of lavishing resources at republicans and nationalists is coming to an end," said DUP MP Nigel Dodds. "For decades unionist communities have suffered inequality and disadvantage," said McCausland.
It is one thing for the DUP and other unionist politicians to espouse such nonsense and quite another for British ministers to act in accordance with such flawed and reactionary positions.
"The British government's willingness to pander to demands for exclusive status and special treatment is moving us all into a dangerous game of division and spin. A game that asserts the primacy of 'perceptions of need' over 'objective need' is increasingly resulting in 'perceptions of delivery", says Chrissie.
"Repackaging existing funding, moving funding away from one point of delivery to another, repeated announcements of the same funding are all means by which British ministers are encouraging the perception of delivery without incurring the expense. As An Phoblacht pointed out at the time, the fairground illusionist may pull a rabbit out of a hat during every show but there's still only one rabbit," says McAuley.
"Unionist politicians might hope to eschew additional public funding towards their constituencies but in reality no one gains from abandoning objective criteria for 'perceptions' of neglect. British ministers are masters of spin when it comes to the delivery of the appearance of change. Conveniently for them, it is also less expensive. Poverty is an objective reality and requires real objective intervention," says McAuley.
"In areas like West Belfast the plain truth is the British government is failing to deliver regeneration. Initially the British government accepted regeneration as central to the peace process and given the legacy of sectarian, economic apartheid in the North, crucial to conflict resolution."
"But flagship projects like the Springvale University Campus, guaranteed by both the British and US administration, have failed to materialise. A decade later the nationalist people of Clonard and the unionist community of the West Circular Road are still looking at a muddy field where promised regeneration at the site of the former Mackies factory has never been delivered,", says McAuley.
A report by the West Belfast and Greater Shankill Task Force in 2002 identified British Ministers as "committed to action," urged urgency, "people in both areas should begin to see meaningful action as soon as possible" and warned "if the promised follow through were not to materialise in the manner proposed by Ministers there will be consequential and serious disillusion and disenchantment".
"The agreed ethos was initially one of urgency and action, but now the British government is not only failing to initiate new projects, well established projects with verifiable track records in terms of delivery are also losing funding," said McAuley.
Earlier this week Director of West Belfast's Conway Mill, Fr. Des Wilson warned the project was threatened with "extinction through the unwillingness of government to fulfil its promises to help develop our neighbourhoods".
Established at the height of the current conflict with a track record of delivery that stretches over a quarter of a century, the Conway Mill was earmarked for investment by the 2002 Task Force report.
The report recommended the Mill should receive, "the investment required to become a centre of excellence for the incubation of small arts and craft businesses and the focal point for the clustering of creative sector businesses".
Director of the British Prince's Regeneration Trust, Fred Taggart recently described himself as "baffled" at the delay in developing the Falls Road site.
"We've been supporting the Conway Mill project since 1996 but in that period other projects we've supported have moved from the ideas stage to total completion," said Taggart.
"For us, Conway Mill is the model for communities everywhere who wish to regenerate a heritage building in a way that benefits ordinary people. Conway Mill's mixed bag of tenants represents an ideal development scenario for inner city regeneration," said Taggart.
Meanwhile the Director of Féile an Phobail, Sean Paul O'Hare described the community festival as "on the brink" of collapse after the project's annual grant was slashed by a staggering £100,000.
Like the Conway Mill, Feile an Phobail has an established track record of delivery and excellence. Established 18 years ago Feile an Phobail has gained an international reputation as one of the largest and most successful community festivals in Western Europe.
The 2002 Task Force report estimated that the festival boosts the West Belfast economy by more than £3 million a year and recommended, "core funding should be provided to Feile an Phobail to allow it to develop on a strategic basis and continue to impact beneficially on the economy and image of West Belfast".
British ministers are not only introducing unnecessary division between unionist and nationalist communities but also promoting division within communities through the mechanism of the current Neighbourhood Renewal strategy.
The Neighbourhood Renewal strategy was announced two years ago and was aimed specifically at the top ten percent of the most deprived wards in the Six Counties. In other words the poorest communities are facing the additional hurdle of 'Neighbourhood Partnerships' in their struggle to overcome generations of deprivation.
This not only subjects the most deprived areas to an extra layer of bureaucracy but also fragments regeneration within constituencies, forcing deprived wards within the same constituency to compete with each other for official recognition and funding.
"Subdividing constituencies like West Belfast into neighbourhoods and forcing areas suffering multifaceted long term deprivation to compete with each other in the allocation of funding is a waste of time and a waste of resources. The NIO has us all chasing our tails by creating layers of unnecessary bureaucracy whilst repeatedly shifting the goal posts with policy changes," said Chrissie.
The poorest communities are being burdened with greater responsibility for delivering regeneration without any real decision making authority or access to the kind of funding which allows regeneration to take place. "It's the classic sham of responsibility without power," said Chrissie.
West Belfast is not only the most deprived constituency in the North it is also one of the most militant and as such it is a powerful engine for change. Many of the battles for regeneration might be fought in poverty's heartland, but by setting the precedent, victories in West Belfast are likely to impact positively on regeneration strategies through out the North.
"Sinn Féin has an inclusive vision. No one regardless of differences of religion, race, gender, urban or rural or whatever else, should be forced to endure the misery of economic marginalisation and inequality. Poverty is a crime against humanity and we're seeking justice," says McAuley.