6 July 2006 Edition
Interview: Martina Anderson, Sinn Féin Department of Unionist Engagement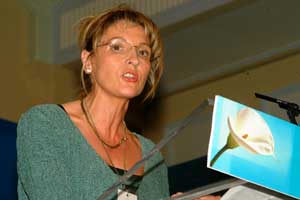 Martina Anderson was appointed head of Sinn Féin's Department of Unionist Engagement in March. This week she talks to An Phoblacht about the nature of her work and addresses why Sinn Féin members need to find ways to engage with unionists.
Reaching out to unionists
An Phoblacht: Previously you were the Head of the party's All-Ireland Agenda Department with a national remit, why did you consider this job?
Martina Anderson: The all-Ireland Agenda was something that motivated me deeply. I built a team around me who were similarly motivated and I think we were very successful in raising consciousness around the all-Ireland Agenda both inside and outside the party. Moving away from that was difficult but it reflects my conviction that as a party we need to accelerate the drive to Irish unity. Key to that in this period is engaging Unionists, making the case for unity, making the case for locally accountable government in the meantime.
Republicans oppose the simple identification of 'Protestant' with 'unionist'. Not all Northern Protestants are unionists. Do you see a difficulty with the terminology in that it can play into the British characterisation of the conflict as essentially religious?
Yes. Of course Protestantism and unionism are not identical - my own father was a Protestant. There are many Protestant republicans and perhaps many Catholic Unionists. However, I think we need to acknowledge the social reality that political ideologies are often defined and maintained through their relationships with the main religious denominations. Unless and until we can look Unionism in the eye and recognise that it has roots in terms of religious freedom, we will never be able to adequately deal with it. Republicans need to face this reality in order to achieve our objective of a United Ireland - one in which Catholic, Protestant and Dissenter can feel at home.
How would you describe engagement with unionists in the party before your appointment?
When I entered this position I reviewed the state of play. I was pleasantly surprised in the amount of work that had already been done. I have to say that there is a great deal of interest in this work among some party activists. Some others find it challenging. It is difficult to cast aside our experience of reactionary unionism and to work 'oblivious to differences carefully fostered' by the British in Ireland.
How easy is it to engage with unionists?
It would seem that it is becoming more and more commonplace for representatives of Sinn Féin to engage with representatives of unionist civil society, their church leaders and various layers of political representatives and pundits. However, often they want to keep it quiet for fear of isolation. It is much more difficult for republicans to engage in any structured way with grassroots unionism and I think that this is really our challenge.
How do you see republicans engaging with unionists in the future and with the broad Protestant population in the North?
There are a huge variety of issues on which we share a common interest with ordinary unionists in the North. The fact that their politicians are completely incapable of positive political engagement has left their communities completely helpless in the face of British-government cuts and new taxes. I also think that we have to build on the openings which exist for republicans to engage positively with grassroots unionists in cross-community structures and in Peace funded projects.
There are particular opportunities for grassroots engagement with the religious groups and across those sectors of our society which experience disadvantage such as women, disabled groups, children and the elderly. Parallel to this engagement our efforts to advance the peace process will necessitate continued negotiation with unionist political parties.
Finally, I think that the government in the 26 Counties and other international forces have a positive role to play in terms of supporting this process of engagement. The fact that the Irish Government rejected our demand to consult with Northern Protestants on the need for a Green Paper on Irish Unity is reflective of their negative attitude towards both reconciliation and reunification.
Sinn Féin MLA Michael Ferguson and Belfast City Councillor Marie Moore with striking postal workers at Larnark Way interface in January. The dispute saw a demonstration of working-class unity with the West Belfast community supporting workers from the Shankill Road
Many republicans will feel that engaging unionists will never change their minds, what do you say to that?
I think that we should start from a position of an engagement based on fairness but no one should underestimate the difficulties we face in dealing with the ingrained unionist culture as it has developed in the North. This is compounded by the negative social forces which have built up in their society. There is a definite climate of fear and desperation among many potentially progressive activists in unionist areas. Having said that, the logic of this age is that Ireland is too small for two distinct economies. Indeed, looking at it objectively we already have a fairly integrated economy. It is the political structures which are lagging behind.
Grassroots unionism is leaderless. I think many of them turned to the DUP in desperation. Now it is obvious for all to see that they are going nowhere and that integration and unification cannot be halted. These trends already spell the end of partition in Ireland. Our job is to make that process of transition speedier and better, with less negative outcomes. Key to that will be republicans accepting the validity of elements of Orange and unionist culture.
We also have to be prominent in challenging the conservative clericalism of the 26 Counties. Ours is a vision of a New Ireland where church and state are completely separated. I don't think we will ever convince unionists to enter the sort of Ireland Fianna Fáil presided over for all those decades. I think that there are many within unionism right across the North who have a potentially selfish interest in that vision coming alive.
An Phoblacht Magazine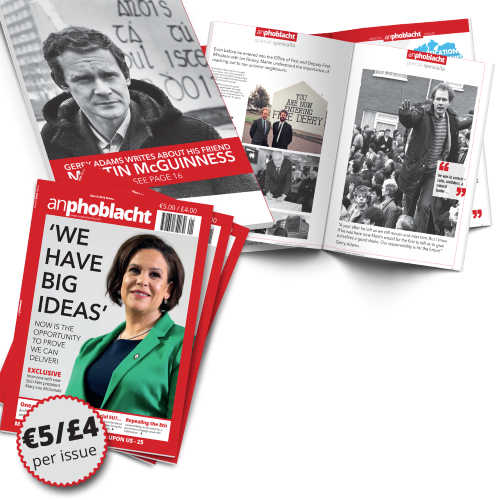 AN PHOBLACHT MAGAZINE:
The first edition of this new magazine will feature a 10 page special on the life and legacy of our leader Martin McGuinness to mark the first anniversary of his untimely passing.
It will include a personal reminiscence by Gerry Adams and contributions from the McGuinness family.
There will also be an exclusive interview with our new Uachtarán Mary Lou McDonald.
test