6 July 2006 Edition
Sinn Féin pushes All-Ireland aspect of Development Plan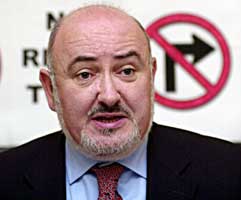 Sinn Féin's Caoimhghín Ó Caoláin TD has questioned 26-County Finance Minister Brian Cowen on new measures in relation to increased all-Ireland co-operation to be included in the so-called National Development Plan (NDP) 2007-2013, currently being prepared.
Ó Caoláin called for an integrated approach to development and a definitive break with the 'back-to back' approach which has characterised development on the island since partition.
The Sinn Féin Dáil group leader pointed out that Minister for Foreign Affairs, Dermot Ahern, had recently stated that all government departments had to incorporate the all-island dimension in submissions for the National Development Plan for the period between 2007 and 2013. "What I would like to know is how serious an effort is being made in this regard and what level of discussion and consultation has been had with relevant departments north of the border", said Ó Caoláin.
He said that the all-Ireland elements in the new plan must build upon the common chapter of the last NDP. "Given that the new NDP is set to run up until 2013 it is vital that it approaches development in a way which is integrated with development north of the border. Neither the 'National Spatial Strategy' nor 'Transport 21' took such an approach.
Derry-Dublin corridor
"The new NDP must facilitate and work for the reintegration, through infrastructural and service development and delivery, of natural hinterlands which have been divided by the artificial border and must progress the objective of establishing an all-Ireland economy", he said.
Ó Caoláin also asked Cowen if the new plan would include a Derry-Dublin strategic transport corridor, if it would include proposals for the establishment of an all-Ireland Environmental Protection Agency and what the new plan would contain in terms of enabling people in the border region to access health services at the nearest geographic location, regardless of which side of the border they live on.
Ó Caoláin welcomed Cowen's support for increased North/South integration and the indication from the Minister that it would represent a substantive element of the new plan.