6 July 2006 Edition
Loyalists raise tension over flags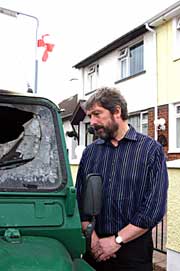 An elderly couple in Articlave, County Derry had their car burned just days after the householder challenged youths erecting loyalist flags outside his Fairview Park home.
Speaking to An Phoblacht Coleraine Sinn Fein councillor Billy Leonard said this latest attack illustrates how unionist paramilitaries are set on heightening tensions over the loyalist marching season.
"Just before hearing about the Articlave attack residents of Garvagh, which saw numerous loyalist attacks some weeks ago, contacted me after UVF flags were erected outside nationalist homes. So unionist paramilitaries are now sending out the message that not only will your property be attacked but we will rub salt into the wounds with loyalist flags".
Meanwhile Sinn Féin Upper Bann Assembly member John O'Dowd accused the PSNI of facilitating loyalists as they erected flags in a nationalist area of Lurgan on Friday 30 June.
Up to six PSNI Landrovers effectively sealed off the nationalist end of the town at around 9pm. "The purpose of this operation was to allow known members of the LVF to put up loyalist flags on lamp posts the whole length of the town", said O'Dowd
He is raising the matter with the Police Ombudsman's office.