22 June 2006 Edition
Fifth Column
IRA 'Sun' stroke
The Wind that Shakes the Barley, Ken Loach's surprise award-winning movie at the Cannes Film Festival about the IRA going toe-to-toe with the Black and Tans in the 1920s, hits the cinemas this week.
Cannes critics at the English edition of Rupert Murdoch's Sun newspaper slated Loach's gritty drama as being "pro-IRA" propaganda. Over on this side of the Irish Sea, at the Dublin edition of Rupert Murdoch's Sun, headline writers hailed the film and star Cillian Murphy with a plaudit that could out-Chuckie An Phoblacht:
"Cillian's IRA men give the Brits a Tanning at Cannes."
So if the English Sun says that The Wind That Shakes the Barley is pro-IRA, and the Irish Sun proudly boasts that it's a great film, then does that make the Irish Sun pro-IRA?
Statues of limitations
Up at Stormont, DUP naturist Sammy 'Woodpecker' Wilson is fighting a rearguard action against statues of republicans from the Tan War or Easter Rising being erected alongside those such as Carson to build parity of esteem for nationalists.
Sinn Féin's favourite would be James Connolly but other suggestions have ranged from Mid-Ulster MLA Barry McElduff's personal preference for Constance Markievicz to Eamon de Valera, Michael Collins and even ex-SDLP leader Gerry Fitt.
Despite being a countess and the first-ever woman MP in a British election, Sammy Wilson still says no, even to a titled lady.
Sammy would welcome a portrait of Gerry Fitt, though. Not surprising really when we remember that 'Fitt the Brit' betrayed the rent and rates strike protests against internment and then turned on the 1981 H-Blocks Hunger Strikers before his airs and graces took him off to the House of Lords and self-imposed exile on the Westminster cocktail circuit to become Lord Fitt of Bell's Hill.
"But republican statues?" Sammy Wilson asks quizzically. "I have enough trouble getting the live ones out without allowing the dead ones in."
You can keep your hat on
The Orange Order is "unlikely" to discipline Portadown Orangeman David Burrows for joining the Parades Commission because he isn't there as an Orangeman, according to media leaks after last week's quarterly meeting of the ruling Grand Lodge.
Brother Burrows is being investigated by his brethren for breaching Orange Order rules but one Grand Lodge member reveals their get-out strategy in reportedly telling the Sunday Life newspaper:
"Did David join the commission as an Orangeman, or did he join as a member of the public, as a private citizen?"
So when is an Orangeman not an Orangeman? Perhaps Brother Burrows could help everyone know by bringing his bowler hat to Parades Commission meetings and press conferences- when he's thinking like an Orangeman he could keep his hat on; when he's thinking like a normal person he can take it off.
Orange hokey cokey
Besides, wasn't David Burrows hand-picked by British Government minister Peter Hain precisely because he was a senior member of the Orange Order behind the Drumcree stand-off and not "a private citizen"?
Out of Order
Orange leaders had no problem showing the yellow card to Colin Shilliday, though.
Shilliday, a former Grand Lodge treasurer, was suspended for daring to publicly criticise Grand Master Robert Saulters for his bumbling interview on the BBC about unionist rioting after last year's Orange Order parade at Whiterock in Belfast.
Saulters' 'Comical Ali' performance left many Orangemen red faced but Shilliday made the mistake this April of saying so: "He was completely out of his depth."
So now the Orange Order has suspended him; trouble is, he'd already resigned.
An Phoblacht Magazine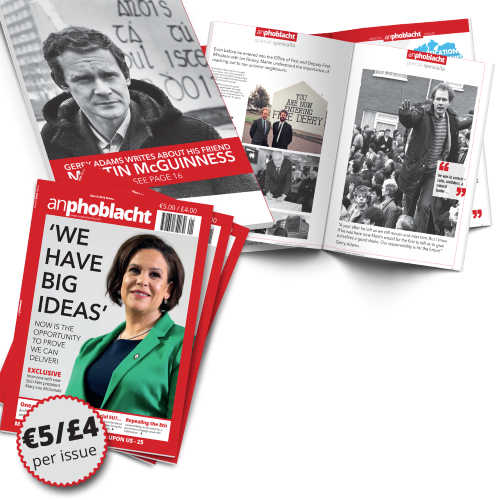 AN PHOBLACHT MAGAZINE:
The first edition of this new magazine will feature a 10 page special on the life and legacy of our leader Martin McGuinness to mark the first anniversary of his untimely passing.
It will include a personal reminiscence by Gerry Adams and contributions from the McGuinness family.
There will also be an exclusive interview with our new Uachtarán Mary Lou McDonald.
test