22 June 2006 Edition
Brendan Moley presentation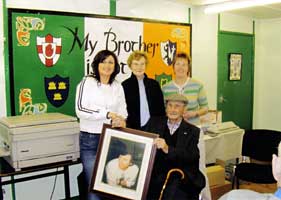 The family of IRA Volunteer Brendan Moley, killed on active serive in 1988 made a special presentation on 13 June to the Sinn Féin Cumann named in his honour and that of his comrade Brendan Burns.
The parents & sister of Brendan Moley made and presented a mahogany framed photograph of Brendan to the Burns/Moley Sinn Fein Cumann, Silverbridge. The presentation coincided with the unveiling by the Cumann of a new mural comemorating Raymond McCreesh and the 1981 Hunger Strike.
For many generations the Moley family have lived in the Dorsey, near Cullyhanna in South Armagh with the first recorded families dating back to the 1600s. At the time of the present phase of the struggle, Brendan's parents, Michael and Mary were living there on a small farm with their nine children. Brendan, the fourth child and eldest son was born on 25 January 1958. He attended Dorsey Primary School and later went to Crossmaglen Secondary School, where he met and formed a lifelong friendship with Brendan Burns.
With a keen interest in Irish history and politics, from an early age he questioned British interference in Ireland. Aged 16, he joined Na Fianna Eireann, quickly progressing to the ranks of Óglaigh na hÉireann, where he became a full-time active service Volunteer.
Moley was arrested several times by the crown forces and on one occasion a naive Special Branch man attempted to bribe him with a large amount of money in return for his "co-operation", an attempt that was rejected with contempt.
Brendan Moley was a trusted and respected member of his community whose advice was sought by many. He was involved in some of the most dangerous and daring attacks carried out by the IRA in South Armagh and, typical of his character, he would never ask Volunteers to do anything that he wasn't prepared to do himself. He had the ability to deal with whatever situation arose while on active service, dealing with the most difficult problems calmly and logically.
Brendan was killed on active service on 29 February 1988 and his death was a great loss to his family, friends and comrades in South Armagh.
The Burns/Moley Cumann, Sinn Féin would like to thank the Moley family for their presentation and to commend them for their lifelong commitment to a united Ireland.