22 June 2006 Edition
Recruitment campaign launched in North Belfast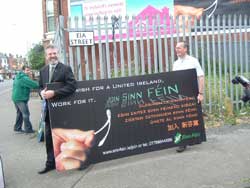 Dozens of Sinn Féin party activists gathered at Eia Street, off the Antrim Road in North Belfast, on Monday 19 June for the launch of the party's latest recruitment campaign.
Party President Gerry Adams, North Belfast assembly member Gerry Kelly and Louth TD Arthur Morgan officially launched the campaign.
This latest recruitment campaign is using three new, eye-catching billboards that will be placed in prominent places throughout the city to attract new members.
Of special importance is one poster aimed at encouragin people from ethnic minority backgrounds to join Sinn Féin. The poster's message is written in five different languages including Chinese and Basque. Another of the posters, written in Irish to emphasise the party's commitment to Irish, is appealing to the Irish language community.
Also present at the launch were the party's women councillors from North Belfast, Tierna Cunningham, Caral Ní Chuilin and Margaret McClenaghan.
A further sign of the Sinn Féin's was the official launch at the event of a new Cumann in North Belfast. The Mulgrew/McCracken Cumann is named after party activist Colm Mulgrew, shot dead by unionist paramilitaries in 1976 and United Irish hero Henry Joy McCracken executed by the British for his part in the 1798 Rebellion.
After the launch of the Cumann up to 50 activists carried out a leaflet drop in North Belfast's Castle Ward, the area represented by Tierna Cunningham.
A scaled down, leaflet sized version of the new recruitment poster was posted through hundreds of doors in the area.
Cunningham told An Phoblacht that the Castle area of North Belfast would once have been," a very fallow ground for Sinn Féin. We are building on our success of the past couple of elections that saw Danny Lavery take a seat for Sinn Féin. I now hold that seat and in the next election we hope to elect another Sinn Féin representative. The work we do now around recruitment will be crucial to that."