22 June 2006 Edition
Encouraging innovation or electioneering?
BY ROBBIE SMYTH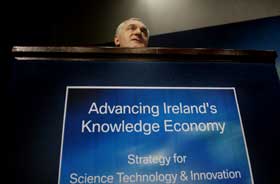 Five ministers working overtime on a Sunday in June, together with the Taoiseach and a promise of €3.8 billion. Could it mean the starting bell for the next general election?
The centrepiece of the weekend government press conference was the launch of the Strategy for Science Technology and Innovation and a multi-billion euro investment in third level research and private sector firms over the next seven years.
The government aims to make a "leap forward" so that by 2013 Ireland will be "internationally renowned for the excellence of its research". They want to create an "innovation driven culture".
These goals are predictable government election speak and the strategy document is filled with references to the promise of "world class" research, or the 26 Counties being "a world player".
Long on hype, there is however substance to the proposals. The first stumbling block is thhe environment, marine and energy and the new strategy proposes a significant public sector involvement in the R&D strategy in these areas and it is here that the new proposals from the government are at their weakest.
There is no doubt that the next decades of jobs in the Irish economy would be a lot better coming from the high technology high wage sector than the bargain basement wages that are increasingly becoming the norm in the economy today, but there is little in the new strategy which shows that the government will be getting value for money for its R&D spend or who will really benefit from the massive public sector investment in the sector.
The policy has echoes of Sinn Fein's recent enterprise document in that it proposes a simplification of the R&D process and tax credits for the private sector and that it sees an important role for the public sector. But the gambling of billions of the tax payers euro without a safety net is a needless risky strategy. Micheal Martin has a target of 2.5% R&D spend. In the EU 54% of this spend comes on from the private sector compared to 63% in the USA and 75% in Japan. Time will tell if the Irish private sector is willing to match the government's investment of our hard earned billions.