22 June 2006 Edition
Mayo engagements: Sinn Féin President pays tribute to Michael Davitt
'The West's awake' - Adams
Sinn Féin President Gerry Adams was in Mayo last week for a series of engagements with Mayo Sinn Féin representative Councillor Gerry Murray. Adams met with health groups and workers and addressed the Michael Davitt Memorial Lecture.
Commenting on a report from the Western Development Commission detailing severe decline in rural communities, particularly in the West, Adams said it confirmed what many people have been saying for years. He said government promises for rural development had never materialised into real action. "The West is an area of great potential and the reason it continues to suffer from population decline is well documented. It is due to a lack of jobs, infrastructure and the ongoing withdrawal of essential services. The government needs to start recognising that this is a national crisis and treat is as such", he said.
Addressing over 250 people at the Michael Davitt Memorial Lecture in Castlebar on the cetenary of Davitt's death Adams called for the re-establishment of the Land Commission which was abolished by the Irish Government in the 1990s. "While developers and speculators have made huge windfall profits as a result of the rezoning of land, would-be home owners and small farmers seeking to expand their holdings have suffered. In particular the escalating cost of building land has frustrated the social housing programmes of local authorities", Adams said.
"The period during which land prices began to escalate at unprecedented levels coincided with the winding down of the Land Commission which had been in existence in one form or another since 1881. Its dissolution in 1999 under the Irish Land Commission (Dissolution) Act, 1992 was short sighted", he said.
"The Land Commission was abolished on the grounds that its original purpose of reforming landownership was no longer valid. This is clearly not the case. The difficulty in acquiring land has become a block to social progress.
"In order to ensure that the land of Ireland is used to the benefit of the people of Ireland there is a compelling case to be made for the re-establishment of a land commission", said Adams.
"A reconfigured Land Commission would ensure that where land becomes available it is not priced beyond the means of local, small farmers who wish to expand their holdings, or beyond the means of local authorities and communities who require land for housing or essential facilities and amenities.
"A new Land Commission could be used to facilitate new people entering the farming sector- but who would find it impossible to acquire the land needed- to lease holdings or purchase land at a reduced cost. In particular it could be used to facilitate those who wish to become organic farmers. It could play a significant role in rural regeneration at a time when the numbers of farms and farmers in the state continues to decline", he said.
"In addition, almost 130 years after the Land War we still have a situation in many parts of Ireland where ground rent is still being paid to absentee English landlords. This is unacceptable to Sinn Féin. It would certainly be unacceptable to Michael Davitt. Ground rents should be abolished", Adams said.
Members of the Rossport Five were present on the night and Adams praised their campaign for community and national justice and said he believed that if Davitt were alive today we would be talking about the Rossport Six. Similar parallels were highlighted between Davitt's fight for social justice and the fight for equality in terms of infrastructure, health and education that is being fought by the people of the West of Ireland today.
Adams concluded by saying that: "Michael Davitt was a visionary. The men and women of 1916 were visionaries. This year also marks the 25th anniversary of the 1981 hunger strike and the deaths of 10 hungers strikers. They too were visionaries. We need to be visionaries also. I want to invite you to join Sinn Féin. I especially want to appeal to women to come into our party and to change it. Women are the majority on this island but they are mostly absent from the decision making processes. We want women to be at the heart of Sinn Féin's decision making processes. We want to build a stronger, egalitarian national political movement which is capable of making our vision a reality. The West is Awake once more. Let's ensure that the leadership which Mayo is capable of has its place as of right in the vanguard of our struggle."
The Sinn Féin President described his meeting with local health groups and unions in Mayo as "very important and informative". The meeting with the health organisations coincided with the launch of Sinn Féin's All-Ireland health policy document Healthcare in an Ireland of Equals.
Adams, who was joined at the meeting in Castlebar by party colleagues Councillors Gerry Murray and Noel Campbell, gave an overview of the health document before opening up a general debate on the different aspects of healthcare in Ireland.
Afterwards, Adams said the meeting was "about informing health groups of Sinn Féin policy and receiving informed comments from those groups that are at the frontline in terms of healthcare delivery". He said that Sinn Féin's policies of a rights based approach to healthcare, its emphasis on primary care, the need to end the two tier health system and proposals on suicide prevention and drug and alcohol treatment among other sections of the document, were warmly welcomed.
Sinn Féin's Mayo general election candidate Councillor Gerry Murray told the meeting that "It is vital that the problems and ideas of our health workers are addressed if our health service is to function to its best ability."
Sinn Féin is meeting health groups right across Ireland to discuss healthcare issues.
An Phoblacht Magazine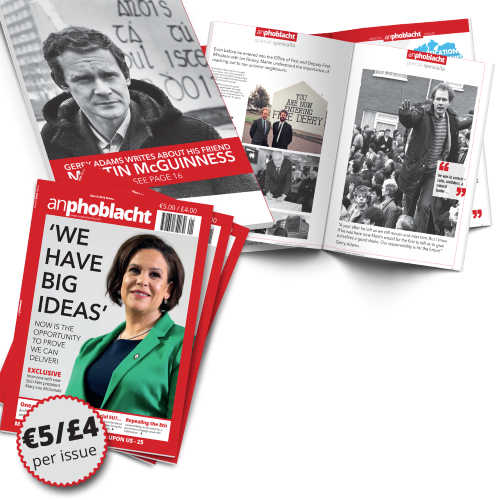 AN PHOBLACHT MAGAZINE:
The first edition of this new magazine will feature a 10 page special on the life and legacy of our leader Martin McGuinness to mark the first anniversary of his untimely passing.
It will include a personal reminiscence by Gerry Adams and contributions from the McGuinness family.
There will also be an exclusive interview with our new Uachtarán Mary Lou McDonald.
test