15 June 2006 Edition
Scotland remembers Connolly and the Hunger Strikers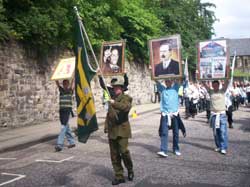 Last Saturday over 10,000 people marched through Glasgow to honour the sacrifice of the 1981 Hunger Strikers. People travelled from throughout Scotland to participate in the biggest ever republican march to be held in the country.
Organisers, Cairde na hEireann said the size of the event was evidence of the enduring importance of the 1981 hunger strike to Scotland's Irish community. Many of those attending the march were not even born in 1981.
Making its way from the Garngad area through the city centre to Govanhill the march was met with cheering crowds along the route. While the scale of the commemoration exceeded organisers expectations the signs were there the week before at the James Connolly march in Edinburgh. Over 3,000 people marched through Scotland's capital to honour the city's most famous revolutionary.
Sinn Féin's Joe Austin told the crowd the party was determined to build the inclusive Ireland envisaged by the Hunger Strikers.
Cairde na hEireann's National Organiser Jim Slaven told An Phoblacht: "Republicans in Scotland have a series of events planned to mark the 25th anniversary. The national march and rally was central to our programme and we are delighted that so many people participated in a dignified and respectful manner. Cairde is the fastest growing political organisation in Scotland and on target to achieve our aim of establishing Cumann in every major town and city in Scotland. Every week more Scots are convinced of the need for Irish reunification."