15 June 2006 Edition
TV reviews: Documentaries on the making of The Wind that Shakes the Barley and exiled drug barons
Good in parts
Hidden History. RTE 1 Tuesday, 13 June. Pat Collins, Producer/Director, Harvest Films
This documentary on the War of Independence in Cork, using Ken Loach's prize winning The Wind that Shakes the Barely as a backdrop was, like the curate's egg, good in parts. Interviews with Ken Loach, Scriptwriter Paul Laverty, academic historians and relatives of those who fought, illustrated the fight against the RIC, Tans, Auxiliaries and regular British forces.
The story of the "ordinary people" who in Ken Loach's words "were able to shake the might of the Empire" was well expressed. So too was the effect on the community of the torture and executions of IRA prisoners. Post-torture photographs of Tom Harte and Pat Harte, hit with hammers and their fingernails pulled out, and with Hales forced to hold up a Union Jack, was reminiscent of more recent US torture in Abu Ghraib,
Attacks on the community by British forces who burned down the family homes of republicans and sympathisers was outlined and the burning of Cork was dealt with. A clear picture emerged of forces whose "reprisals" against the community were at first tolerated by the British and then "sanctioned", when it became clear they could no longer be hidden from public view. But there were indications that the full story was missing, and in some ways misrepresented.
Revisionists
We were told that Sinn Féin won 73 seats in the 1918 election with "48% of the vote". This is an old British propaganda line and effectively a lie when promoted as a measure of Sinn Féin support. Sinn Féin won 25 uncontested seats where the party had overwhelming support. No votes were cast there and the support was not officially measured. This was a very serious weakness and factual misrepresentation as was the comment by Stirling historian, Michael Hopkinson, that the vote was not pro-Sinn Féin, just anti Irish Parliamentary Party.
The other attempt to sell a line was in the attempt to suggest that the IRA targeted Protestants. Discredited revisionist historian Peter Hart was wheeled out. Hart, who reported interviewing an anonymous veteran of the Kilmichael ambush six days after the last veteran died, spoke about his "study". Hart sold a line about innocent Protestants "who had no information" being targeted.
New research- John Borgonovo's on IRA Head of Intelligence in Cork, Flor O'Donoghue, demonstrates the accuracy of IRA intelligence and informer targeting. As Road to Crossbarry author, Duirmuid Begly was allowed to put it briefly: the IRA was indifferent to the religion of the informers who were responsible for the torture and execution of republicans. Historian Brian Murphy, not consulted here, has shown that Hart misrepresented evidence. As with his 'research' on Kilmichael, Hart's attempt to construct a sectarian basis for IRA actions is discredited. While some local loyalists tried to create a sectarian mini-Belfast in Cork, the IRA found them out. British intelligence admitted this - the evidence that Peter Hart misrepresented. In fact many Protestants were sympathetic to the struggle and some, like Dunmanway's Sam Maguire, were in the IRA. Unlike unionists and the British, republicans prevented and suppressed sectarianism.
Anti-sectarian
If I dwell on this point in the review it is because it is going to become a refrain of revisionist historians and their hangers on in weeks to come, as they attempt to pick holes in the Ken Loach film. However, there is ample evidence for the truth, which is that even in the midst of the war, Protestant spokespersons ridiculed the notion that southern unionists, never mind Protestants, were in danger from republicans. This anti-sectarian truth will out.
Unfortunately, this documentary has offered an opening to sectarian misrepresentation that others will attempt to walk through. Whether this misrepresentation was witting or unwitting is a matter for speculation.
BY ELLEN WILKINSON
Not half the truth
Prime Time Investigates: The Irish Connection. RTÉ 1 Monday, 12 June.
RTÉ's latest sensationalist Prime Time about exiled Irish drug dealers still preying on communities from afar was an opportunity missed.
More could have been done to show the full effects of this sinister trade and the barons' deadly grip on addicts in Ireland. The full horror of the daily lives of drug addicts, , their families and their victims did not come across.
RTÉ would serve their under-writers, the public, better through the production of a series of programmes about the various victims of this plague that has destroyed families and communities, and in trying to educate a new generation about the far-reaching consequences of heroin, cocaine and crack in particular.
The programme didn't show how The Penguin (George Mitchell), the Dunnes, John Gilligan, John Traynor, et al flourished and built up their sordid empires at a time when the state used its energies to destroy the community anti-drugs movement.
Tabloid scrawlers
The Penguin, The Viper, or whatever moniker dreamed up by tabloid scrawlers such as Paul Williams, and bandied about in the papers are but a few of the millionaires who robbed and continue to rob communities from which the came. That some of these stories display a degree of accuracy which could jeporadise future trials higlights the fact that the Garda are too busy chatting to ragboys like Williams, Mooney or O'Toole, to bother with real police work and too busy turning drug-dealers into informers and giving them immunity rather than convicting them.
The Prime Time programme barely touched on suffering engendered by the drugs trade- infants born as addicts, parents who've buried their children, the thousands of young people who've ended up in jail, homeless, or working as prostitutes, or the countless hardships and tragedies visited upon the hundreds of thousands of other victims- the elderly who are mugged, the addicts who are killed for a debt and the grieving families they leave behind.
Reality
It is all very fine to travel to the continent to show how drug dealers live and continue to ply their trade, but there is no need to travel that far, there are many still here. Young guns literally, with no fear and who display their trade and wealth smugly, and who trade information with Gardaí for immunity to continue targeting new victims. There are young people looking at their trappings enviously and who may decide to emulate them and be sucked into the vicious spiral of drugs which has gripped our country.
With the raft of laws passed by 26-County governments in the last two decades, supposedly to tackle serious crime in this state, very few of the big or medium players are behind bars or living in poverty. CAB has been too busy serving tax notices and doing what the Revenue Commissioners were meant to do.
Tackling our drugs crisis will require, in the first instance an admission by the state that we have a problem, that there is a crisis and that all organs of the state have to work in tandem, now. When the Foot and Mouth disease threatened to undermine the island's agriculture industry, it was all hands on deck, yet that disease wasn't going to kill a single person. The parasite of drugs is killing our young for the last 20 years. RTÉ get real.
BY AENGUS Ó SNODAIGH
An Phoblacht Magazine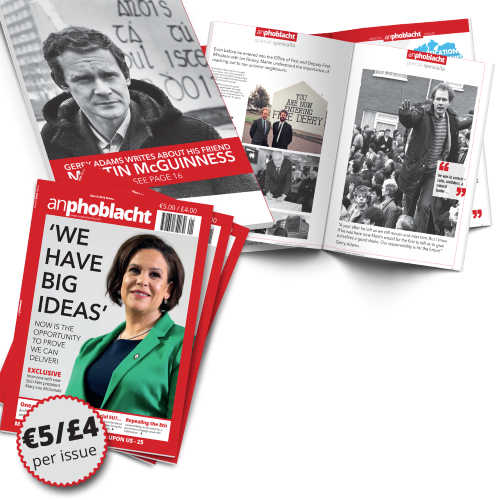 AN PHOBLACHT MAGAZINE:
The first edition of this new magazine will feature a 10 page special on the life and legacy of our leader Martin McGuinness to mark the first anniversary of his untimely passing.
It will include a personal reminiscence by Gerry Adams and contributions from the McGuinness family.
There will also be an exclusive interview with our new Uachtarán Mary Lou McDonald.
test