15 June 2006 Edition
The Matt Treacy Column
Most exciting match of championship so far
While no doubt some of you spent last weekend watching grown men with dubious hairstyles diving and rolling around on the grass, not all of us could get into the Tyrone training sessions. God, I crack myself up sometimes. Seriously you know what I mean and I am very disappointed in you all. It will not be mentioned here again.
In Clones, Fermanagh and Armagh poured scorn on the critics of Ulster football. It was without doubt the most exciting match of the championship so far and the replay will be eagerly anticipated by those lucky enough to be there. Given that this match as well as the Munster hurling final and Dublin/Laois will all be on 25 June, a chap would need to be Padre Pio in order to attend all of the rival attractions. In my case, while I have acquired a number of different personalities, bi or even triple location has thus far eluded me. So it will be that the original and most disturbed of the personalities will be in Croke Park. Becoming more disturbed no doubt.
Fermanagh have clearly taken up this year where they left off in 2004. Last year at this stage they looked weak and tentative and were easily disposed of by Armagh. On Sunday they played with the abandon and flair that won them so many admirers and got them to within an ace of reaching an All Ireland final two years ago. They are the most exciting team in the country to watch and if they can hold their nerve and play the same way they did for the first ten minutes of the second half for even half an hour the next day they will hand Armagh a back door pass.
I say 'abandon' cautiously because it is clear that Fermanagh have tacked on a fair bit of worldly wisdom to youthful expansiveness. Looking at the game, even a second time, I am not sure whether Fermanagh's tactics following Ryan Keenan's goal was an inspired piece of thinking by Charlie Mulgrew that almost paid off, or alternatively that their retreat into defence was forced on them by Armagh's efforts to break them down. I suspect that it was a combination of both.
It did seem, though, that Fermanagh fell back with the confidence that they could hold out in the same way that they had against Tyrone and Dublin in the league, and that they could score on the break. It is an unusual and high risk strategy in Gaelic football and one requiring a huge degree of nerve and discipline as most teams forced back on their own line will concede a surfeit of frees. Not so Fermanagh. Remarkably the only free that Armagh scored was Oisin McConville's equaliser at the death.
If you hadn't seen it, this might paint a picture of the dreaded 'blanket defence' that we hear so much of. It was anything but. Or at least it didn't appear that way as it was far from negative. Fermanagh don't 'do' the third man, the 'clothesline' or the rugby style tackle. Speed is of the essence. Getting back, intercepting, dispossessing players, transferring the ball quickly. And having the forwards to take their scores when they present, although ironically apart from the goals this was not one of Messers Brewster, Maguire, Little & Co's better days at the office. They were forced to rely on scraps for much of the game but had they been more accurate during the periods they were on top, this match would have been over long before John Bannon blew his whistle.
Of course this is a scenario that is familiar to all concerned. Especially Armagh in the reign of Joe the Magnificent. The plot goes like this. Little guy punches above his weight. Earns a heroic split decision. Big Joe looks worried. The boys go for a swim on Monday and train like madmen for the rest of the week. Re-match fails to go the distance. Big Joe has kind words for the courage and tenacity of......... Fill that space. Plenty have. Fermanagh don't have to.
When anticipating this encounter a few weeks ago I referred to the convergence of a Fermanagh team on the up, and an Armagh team that might, just might be entering its declining years. They look vulnerable but it will still take a fast, skilful and absolutely committed team to put them down. Fermanagh could be that team if they refuse to follow the script.
The cast for the hurling qualifiers was drawn on Sunday and the first series of games take place this weekend. Group A consists of Laois, Waterford, Galway and Westmeath (who acquitted themselves quite well on dry land against the Cats!). Group B is Dublin, Offaly, Clare and Limerick. The top team in each group plays one of the losers from the Leinster and Munster finals. The team placed second meets one of the provincial champions. The two bottom teams in each group then enter a relegation group from which one team is cast into the outer darkness of the Christy Ring Cup. The smart money would suggest that this group will consist of last years 'group of death' survivors Dublin, Offaly and Laois along with newly promoted Westmeath.
As if things were not bad enough for the 'weaker' counties they each must face the prospect of unmerciful hammerings as score difference might well determine who wins the group and therefore gets to avoid most likely Cork and Kilkenny in the quarter finals.
My predictions, for what they are worth, are as follows: Galway to win Group A and Waterford to be second. In Group B Clare and Limerick ought to qualify. Dublin and Offaly's only win is likely to be over each other and thus their meeting on Saturday in Parnell Park takes on a huge importance. My multiple personality that is given to outrageous fantasies might foresee the Dubs winning that and then Offaly doing them a favour by beating one of the others and then .....
More likely, however, is that Dublin and Offaly will join both and Laois and Westmeath in the relegation group. Then either Laois or Westmeath to go down.
An Phoblacht Magazine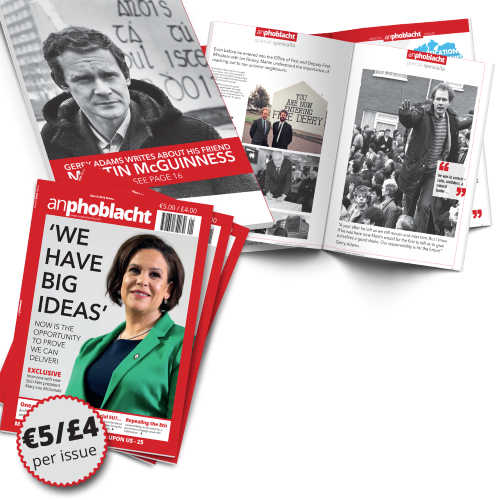 AN PHOBLACHT MAGAZINE:
The first edition of this new magazine will feature a 10 page special on the life and legacy of our leader Martin McGuinness to mark the first anniversary of his untimely passing.
It will include a personal reminiscence by Gerry Adams and contributions from the McGuinness family.
There will also be an exclusive interview with our new Uachtarán Mary Lou McDonald.
test