8 June 2006 Edition
Adams addresses Presbyterian congregation during Wexford visit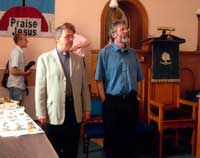 Sinn Féin President Gerry Adams visited a number of communities in County Wexford last month, including an historic visit to Enniscorthy Presbyterian Church where he addressed members of the congregation.
In Gorey, Adams was greeted by Councillor Jimmy Fleming and visited various local groups including St Aidan's Day Care centre. In Enniscorthy Adams launched Sinn Féin's healthcare document. He was invited by Reverend Stephen Rea to meet with the local Presbyterian congregation at the church in Willowpark Road. Adams spoke to individual members of the congregation which included members of the immigrant community.
Reverend Stephen Rea extended a warm welcome to Gerry Adams and said the visit was an historic occasion. He added that it was particularly appropriate in a week that saw the sectarian murder of a young Catholic man in Ballymena. Rea welcomed Sinn Féin's policy of outreach and said he felt deeply that Presybterians in Ireland must take up that offer.
In Wexford town a healthcare demonstration was held outside Wexford hospital. That evening the Sinn Féin President officially opened the Daithí Forde Centre on Main Street, named in honour of the popular republican activist who died last year. The tape was cut by Daithí's son