8 June 2006 Edition
Faughill Mountain reclaimed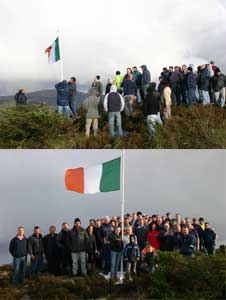 Republicans in South Armagh raised the national flag at the site of the recently dismantled British army spy post on Faughill mountain.
Last weekend dozens of local people surmounted and erected a Tricolour on the spot where the British army's Romeo 21 observation post was located for over twenty years.
Newry and Mourne Sinn Féin councillor Packie McDonald said local residents were glad that the British army post had been dismantled.
"At its height this spy post saw up to 40 helicopter flights a day. It had a massive amount of high tech surveillance and monitoring equipment that exposed residents to high levels of microwave radiation.
"This was a major health concern for the local population", said McDonald.
At the start of the year Sinn Féin uncovered a British army document that detailed the surveillance targets of the 14 cameras located at the Faughill base. Among those targeted were the home of Sinn Féin's Packy McDonald, members of the local GAA club and the clubhouse itself.