8 June 2006 Edition
Legal, political and constitutional debacle
The political and legal system in the 26 Counties was plunged into crisis last week. This was because of the failure of successive Governments since 1990 to update legislation on sexual offences. Their failure led ultimately to the Supreme Court striking down the 1935 legislation covering sexual offences against children under the age of 17.
The Fianna Fáil/PD Government claims that neither the Minister for Justice, Equality and Law Reform Michael McDowell nor the Attorney General Rory Brady was aware of the constitutional challenge to the 1935 law. Most people find this incredible. If they really did not know they certainly should have known. If they did know then they have lied and, if that is the case, they will inevitably be found out.
While the legal questions are complex, there is one issue at the heart of the matter. That is the need to protect children from sexual predators. That must be the priority. The legislation rushed through the Dáil last Friday was a stop-gap measure but it was deeply flawed legislation. It retains the situation where it is a criminal offence for two 16 year olds to have consensual sexual relations. It creates a new discrimination against the male in that case who is deemed to have committed a crime whereas the female has not. This situation is not sustainable. It fails to recognise the reality of our society in 2006. It could well be found unconstitutional on grounds of discrimination.
The role of the Director of Public Prosecutions also needs to be examined. Why did the DPP continue to prosecute people under legislation which it was known was in danger of being struck down? Other legislation was and is available to prosecute these cases, apart altogether from the need to revise and update these laws.
All of these matters and the wider social issues of teenage sexuality need to be debated thoroughly and with the widest possible consultation. Child protection must be the priority. The Sinn Féin TDs have made these points in the Dáil and will continue to provide leadership on these issues. The pages of An Phoblacht should also be used to further the debate.
An Phoblacht Magazine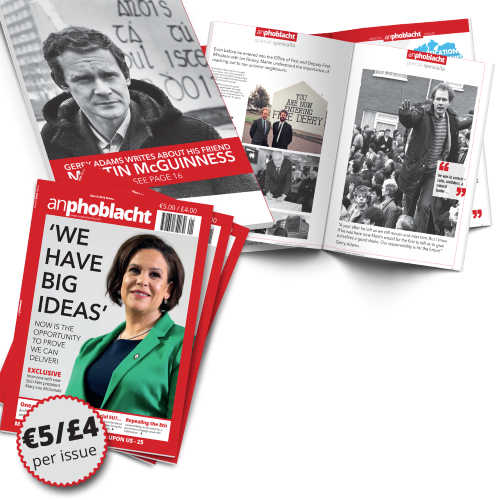 AN PHOBLACHT MAGAZINE:
The first edition of this new magazine will feature a 10 page special on the life and legacy of our leader Martin McGuinness to mark the first anniversary of his untimely passing.
It will include a personal reminiscence by Gerry Adams and contributions from the McGuinness family.
There will also be an exclusive interview with our new Uachtarán Mary Lou McDonald.
test