8 June 2006 Edition
Rally for Terence Wheelock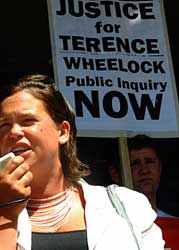 A large crowd of people marched to Store Street Garda Station in Dublin's North inner city last Saturday, 2 June to mark the first anniversary of the arrest of Terence Wheelock who was fatally injured in Garda custody there.
The march began in Sean McDermott Street after a short Mass.
Around 400 people took part in the march and when they got to Store Street they were addressed by Larry Wheelock, a brother of Terence. He thanked the crowd for turning up in such numbers and thanked supporters and campaigners for all the support the family has received.
Sinn Féin MEP Mary Lou McDonald addressed the rally, praising the Wheelock family for their dignified approach and also welcomed the family of Johnner Maloney, who also died in Garda custody. The MEP called for the immediate introduction of an effective Garda Ombudsman. McDonald concluded by assuring the Wheelock family of the full support of Sinn Féin saying the party would assist them in any way possible.