1 June 2006 Edition
Economy Global factors affecting Irish workers
BY ROBBIE SMYTH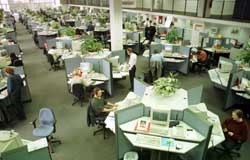 The Irish worker is trapped. With partnership talks on a new three year wage agreement stumbling on the issues of inflation and workers rights, and with global financial markets in turmoil, the first ever national employment survey complete with accompanying media and political reaction to it has shown more clearly than ever before that the Irish worker is ensnared in a vicious trap of global market demands on one hand and an exploitative inequitable domestic economy on another.
Possibly the greatest international pitfall facing the Irish worker today is shown by the massive collapse of financial stock markets across industrialised states in recent weeks. Share prices in New York, London, Frankfurt and Toyko fell as one of the longest growth periods in financial markets seemed to be ending. In India the stock exchange was closed temporarily last week in an attempt to calm the frenzy of selling.
Underpinning these falls are three factors, the first is the fear that high oil prices are beginning to dampen business profitability and many firms such as airlines, and electricity generators and others are passing on the costs to buyers. These price rises are pushing inflation indices up around the world. We have had over the past decade in Europe and North America one of the longest periods of low inflation driven it is believed by an aggressive policy in the 1980s of letting interest rates rise as a means to drive inflation down.
Now with inflation back on the agenda the US Federal Reserve and the European Central Bank are returning to the route one economics of the interest rate hike. Rates have risen in recent months in both the US and the EU and now too they are in the rise in Japan.
For Irish workers this is a double bind. Many have mortgages linked to EU central bank rates and face increasing payments, there have been two rises in the last six months. All workers face increasing energy costs whether it is petrol, electricity or gas and this means lower disposable incomes.
When Irish workers seek wage increases to maintain their current standard of living they are being given two reasons why they can't have a cost of living wage increase. The first is that wages are so low in competitor states, the second is that any wage rise will fuel inflation and therefore cannot be countenanced.
So Irish wages are seen in global terms of cheaper competitors but there is no recognition of the higher costs workers face here like housing, transport, electricity, health care and even basic things like food and clothes.
The reality is that we are as a labour market much further down the road towards the scary reality of the slave wages we saw in the Irish Ferries dispute than we might care to think.
Hard evidence of this was found in the release last week of a 26-County employment survey. The survey found that in 2003 the average hourly wage was €16.41, that public sector employees had an average hourly wage of €21.04 compared to €15.03 per hour for private sector workers. Most startling was the finding that half of all Irish workers were in 2003 earning less than €13.08.
The Irish media seemed only to focus on the 40% gap between public and private sector workers, rather than the reality of how low wages are a factor across all sectors or the global factors driving Irish wages down. Globalisation is the problem not the public sector.
CSO 26-County wage survey
€16.41 - average hourly wage
40% - the gap between average public and private sector wages
33 hours - average working week
84% - age of women's average wages compared to men
€13.08 - half of Irish workers earn less than this hourly wage
€27.24 - average hourly wage in education sector
€10.95 - average hourly wages in hotel and restaurants