11 May 2006 Edition
Casting off the burden of tradition
BY Matt Treacy
Given all the terrible stuff that has been said about Mayo over the past number of years it is only right that we pay tribute to their Under 21 football team who captured the first All Ireland title of the year last Sunday when they beat Cork in Ennis.
Mayo have unfairly earned themselves the title of serial losers over the past 25 years or so. It seemed as though every time a team from the county - with the notable exception of their women footballers it has to be said - got to a final they could be relied upon to 'choke', as the Americans would say. But, as Phil 'The Choker' Mickelson proved recently when he won the US Masters, personal courage and skill can make a nonsense of the derision of those who would never be capable of doing the things they sneer at others for failing to do. So hats off to the Mayo boys.
Besides, all this labelling of an entire county is never fair it has to be said. And a bit unscientific anyway when you reflect upon the fact that mostly you are talking about completely different groups of individuals. Mind you, just as there can be a tradition of winning within a county, so too I suppose you can build yourself a long history of 'bottling' it at the crucial juncture.
Take the Kerry footballers or the Cork hurlers. Both have won far more finals than they have lost. Obviously it is not some innate physical or psychological or even spiritual superiority that is at the bottom of it all, as much as some of them might like the rest of us to believe.
Rather, the tradition is built on the simple fact that when Kerry get to a football final, or Cork to a hurling final, there will be plenty of people- players, former players, managers, herbalists, sidekicks, priests back from the African missions and probably the bus driver who have been there before and won. And most of whose plain sisters will have at least one medal dangling from a garish charm bracelet or gracing an outsized ear.
The lads who were there before have a wealth of experience and advice to be dispensed that can be crucial when two otherwise evenly matched counties meet in a final. Just even the simple things that no-one else might notice. The little things that make the difference at ten to five when the sides are level and you can't think for the pounding in your head. That is when the tradition comes into play. The old codger who told you when you were a minor how they beat Kilkenny or Meath after being four points down and the referee was looking at his watch. What they did, how they dragged themselves over the finish line.
The Mayos of this world are in a different league. Of the eleven senior football finals they have appeared in, they have won just three, and the last of those 55 years ago. It is not right that some 20-year-old from Ballina has to carry the burden of tradition on his shoulders but he does. Often placed there by those of his own who mean him best but who only seem capable of beaming negative thoughts from the stands onto the field.
Honest to God, you can feel it sometimes. Like in 2004 when I sat beside a huge Mayo man in the Canal End who had come over from London but spent the entire match until he left not long after half time sitting with his side to the pitch. Could not even bear to look. Every time there was a roar he would ask me what had happened, "Kerry point" being my most common response.
But then again that tradition is also practical. "What do we do when Kerry get a goal with five minutes to go?" And the only man left who might know is like Grandpa Simpson. "It was 1927. No, 1928 and we were being bate out the gate when Tipp came down with foot and mouth disease. Or were they abducted by aliens? Anyhows, we won. Now, where's the girls in the shorts that kick football?" Everyone else can only remember the crushing demoralising heart-breaking defeats.
So fair play to the Mayo lads for doing the Phil Mickelson. They gave the two fingers to tradition and threw that monkey off their back.
If Mayo, and the Carlow minor hurlers, were the highpoints of the weekend, one of the lows was listening to Marian Finnucane's nauseating interview with retired GAA President Sean Kelly. In fairness to Kelly he came across well enough although quite what facilitating the IRFU and the FAI has to do with 'multi-culturalism' is beyond me.
Then there was Marian. A one woman crusade on behalf of the sort of nice people whose conversation after a couple of bottles of expensive, bad wine consists of (a) how awful the Shinners are and (b) the GAA and the reasons why they don't (1) disband, (2) pay reparations to the south Dublin rugby colleges and (3) surrender all their grounds to the IRFU and the FAI. "Loike, you know".
Marian positively gushed with ecstasy with as she pondered the imminent arrival of the Union Jack into Croker. By Jaysus, it's a good job she never stood close to my Granny. Please, Mr. Brennan, can we have that vote again?
An Phoblacht Magazine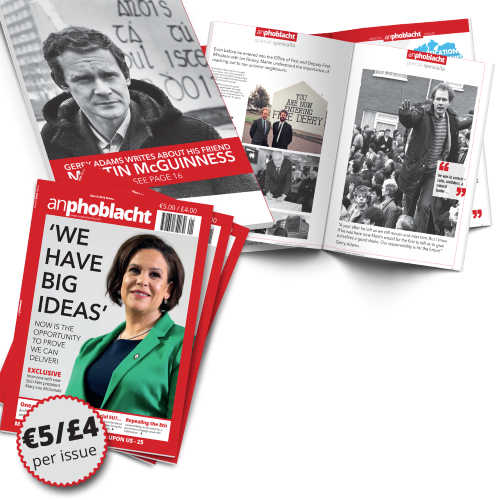 AN PHOBLACHT MAGAZINE:
The first edition of this new magazine will feature a 10 page special on the life and legacy of our leader Martin McGuinness to mark the first anniversary of his untimely passing.
It will include a personal reminiscence by Gerry Adams and contributions from the McGuinness family.
There will also be an exclusive interview with our new Uachtarán Mary Lou McDonald.
test