11 May 2006 Edition
Media View by Frank Farrell - Tory hacks attack Rossport 5
Business journalists, dominated these days by liberal, free marketeers (Tories, although the Irish variety don't like to admit it) have had to clench their teeth and restrain their hostility to the Rossport 5 given the open and almost universal admiration for their principled stand. But Environment Minister, Noel Dempsey's endorsement last week of the 'independent' report (it was commissioned by the same government that has backed the Shell pipeline) recommending that the pipeline proceed as planned, with minor safeguards, has emboldened the business hacks and they went on the attack at the weekend.
A Sunday Business Post article announced as fact that the Rossport 5 had lost support due to Shell's concessions, citing multiple sources as evidence for this. The article, by Laura Noonan, opened by proclaiming that support had fallen "according to sources" - no name, no organisation - and went on to quote "a senior (wow!) source close to the negotiations between Shell and local groups" as stating that a majority in Mayo now support Shell. Noonan went on to report that "sources in Mayo say the five men no longer have the support of most locals" and that "one source" said the Rossport 5 "are out on their own now".
So clear and overwhelming is this feeling amongst these sources, senior and junior, that not one of the brave spin doctors from the ranks of the PR professionals that Noonan took her anonymous quotes from were brave enough to identify themselves. You wonder why.
Matt Cooper, writing in the Thatcherite, Sunday Times, does not require sources, anonymous or otherwise and he resorted to sheer abuse against the Rossport 5 whom he accused them of arrogance, hysteria and victimhood. Cooper argued that as Shell had done a deal with the government it had to be honoured, regardless, one presumes, of the effect on local people. With devastating logic Cooper told readers that he lived under a flight path (in Dublin, no doubt) but did not worry about a plane crashing into his house. Em, how about proposing that an untreated gas pipeline runs through Dublin, Matt? Would Cooper and his neighbours along the Gold Coast of South East Dublin be so philosophic then?
Parts of the media have treated the 25th anniversary of the Hunger Strikes with caution and some, the Sunday Tribune and Irish Examiner, have even shown a degree of respect with reasonably faithful records of the momentous events of 1981. Credit where it's due, even from this cynical quarter. Sometimes, the media feels it must reflect the powerful and profound regard that exists for those republicans whose magnificent sacrifice cannot be dimmed or maligned by the yellow press.
Incredibly, the Sunday Independent was bereft last weekend of any of the anticipated bile against the Hunger Strikers on the 25th anniversary of Bobby Sands' death and so too was The Sunday Times. Surly, malevolent silence is probably the most we can expect from these newspapers- for the time being.
It was left to the new, right-wing Irish Times and the Irish Independent to put the boot in with the former claiming that "controversy persists" over claims that the IRA refused a deal to save the last six who died on hunger strike. The only thing that "persists" is the enthusiasm of some journalists to continually quote one source, Richard O'Rawe, who has made this claim with no support from any credible source. This claim has been demolished by such as Danny Morrison and Morning Ireland's Aine Lawlor was reduced to embarrassed silence by Morrison last week as he dissected the "controversy" that some journalists continue to peddle.
Dublin's Newstalk 106 appears to have been intimidated by attacks on its alleged republican bias by Eoghan Harris in recent weeks and its lunch time presenter, Brendan O'Brien presented O'Rawe's claims as a simple fact On the 25th anniversary of Sands' death. A few days earler pop revolutionary, Eamon McCann supported the allegation with casual disrespect for the dead men and an even more casual approach to evidence- none of which he offered. In a most disengenuous commentary he said that Denis Bradley's claims of a deal was a "grey area" but went on to say that the same claim, by O'Rawe, was "very convincing". Have Derry socialists and republicans been treated to a similar view of the hunger strike by this political dilettante?
An Phoblacht Magazine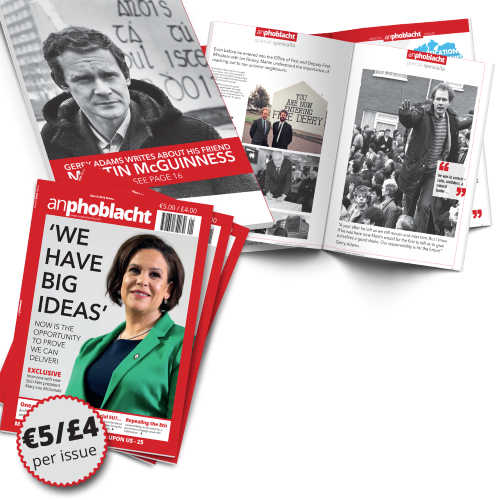 AN PHOBLACHT MAGAZINE:
The first edition of this new magazine will feature a 10 page special on the life and legacy of our leader Martin McGuinness to mark the first anniversary of his untimely passing.
It will include a personal reminiscence by Gerry Adams and contributions from the McGuinness family.
There will also be an exclusive interview with our new Uachtarán Mary Lou McDonald.
test