4 May 2006 Edition
Media View… BY JOHN O'BRIEN
Tabloids drool as sensation takes centre stage
The tabloids had a field day last week, with the DPP's decision not to proceed with the Dermot Laide retrial for the manslaughter of Brian Murphy outside Annabel's nightclub and the self-exonerating interview given by Wayne O'Donoghue, the young man convicted of the manslaughter of young Robert Holohan.
So much so that they had little space left for their regular pastime of Republican-bashing.
But the same indifference to honest and objective judgement was apparent.
In the O'Donoghue case, for example, having sought an interview, the media then howled about an interview being given - even though there would have been no interview if the media hadn't demanded one. And having played up the tenuous suggestion of a sexual motive for the crime, it was inevitable that this is what O'Donoghue would have concentrated on, even though raking over all of this subject matter so soon after the trial must have been painful for the Holohan family.
But the media don't care, because outrage sells papers.
Similar outrage was expressed by Ireland on Sunday. They sought to get an exclusive interview with Dessie O'Hare, the so-called Border Fox. O'Hare is reported as having asked for €10,000 for this interview, but most sane people see this as a pretty definitive no comment on O'Hare's part.
But why IOS's outrage? Is it the interview they wanted that is outrageous or the price asked for? Double standards again.
But nothing like the double standards in the Dermot Laide case. The media just salivated at this story, exploiting every possible juicy angle. Problems in forensics were mentioned in passing as if this were a regular feature of press coverage. In fact it is not.
The most appalling recent incident concerns the death in Garda custody of Clonmel boy Brian Rossiter. In this case the pathologist who rubbished John Harbison's opinion as to the death of Brian Murphy, Marie Cassidy, accepted uncritically a Garda statement that Brian Rossiter had been taking drugs. Her conclusion was that this had been the primary cause of his death, despite the fact that subsequent blood analysis showed that he had not taken drugs at all and that this was just a self-serving statement from an Garda.
This fact was barely mentioned in discussion of Marie Cassidy's work, even though her rubbishing of Harbison had raised the appalling spectre of large numbers of appeals in cases where Harbison's evidence had played a role in conviction. The fact that Cassidy has a proven record of uncritically accepting Garda opinion - whether for prejudice or because of a lack of time brought on by pressure of work - has not been deemed worthy of comment.
But there's the difference: in one case she was causing the Garda a problem, and so was subject to media scrutiny; in the other, she was backing the Garda up, and so endured no scrutiny at all.
So much for a free press.
Back to the Laide issue: amidst all the angst over this story, one fact is forgotten. That if the young men who were involved in this fracas had been working class lads from Ballyfermot or Gurranabraher, there would have been little fuss about it all: they would have all gone down, and the media would have indulged themselves in giving out about scumbags and all the rest.
But these were middle class boys from "respectable" families, and so their pain was a matter of public concern and sensitivity.
But remember two other points that the media glossed over: the only boys charged in this case were those who went to the Garda of their own volition and made statements. Our brilliant detectives could build no evidential case against anyone else without such statements.
And the second point: it was Brian Murphy who died, and Dermot Laide and Seán Mackey who were charged; but it could very easily have been the other way around. It's the middle class culture of violence and domination that is the problem, but there's no money in the media saying that.
And after all that excitement, wasn't the PD election gimmick of further tax cuts and the opening of the pay phase of the national partnership talks just so much dross.
But think: when Republicans point out that the rich pay less than their fair share of tax, the media pundits demand detailed costings. How can we afford the changes they ask? No such questions were asked of the PDs, whose prescription was unchallenged. Even those who weren't sure of the case all agreed that it was a good thing that tax cuts were back on the agenda.
But isn't it strange that not one of them can say that it's a good thing that the unions have put substantial wage rises back on the agenda as well. Well, the papers know what's good for them, and we the readers ought to know what's good for us as well.
An Phoblacht Magazine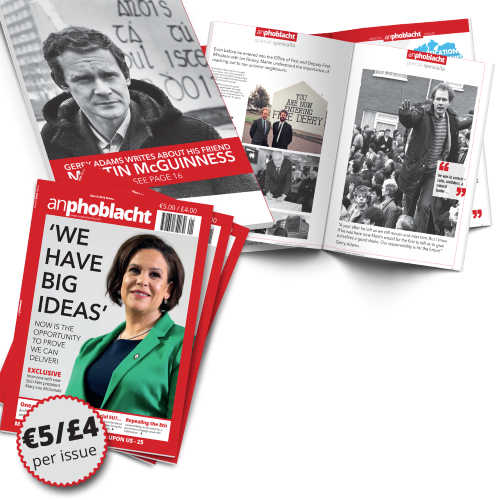 AN PHOBLACHT MAGAZINE:
The first edition of this new magazine will feature a 10 page special on the life and legacy of our leader Martin McGuinness to mark the first anniversary of his untimely passing.
It will include a personal reminiscence by Gerry Adams and contributions from the McGuinness family.
There will also be an exclusive interview with our new Uachtarán Mary Lou McDonald.
test