4 May 2006 Edition
H3 - The film of the H-Block Struggle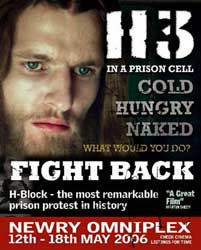 To commemorate the 25th anniversary of the 1981 Hunger Strike, the film H3 will be re-released with a week long launch at Newry Omniplex 12-18 May. Co-written by former H-Block prisoner Brian Campbell and former Hunger Striker Laurence McKeown, the film brings to life the unbelievable existence of the blanketmen - the horrific conditions of damp, filthy cells with walls smattered in shit, the inadequate diet and casual brutality.
In these conditions young men in their early twenties, cold, hungry, and naked except for a blanket, padded their cells barefoot but with a confidence in their political convictions. Surreal images such as these capture the remarkable defiance of those political prisoners who refused to bow to Britain's policy of criminalisation.
Although H3 portrays a horrific period in the republican struggle, it also shows the camaraderie, the craic and sing songs, the yarns and black humour. It stands as a remarkable testament to the triumph of humanity, friendship, solidarity and courage over the British Government's crude efforts to break men who were political prisoners.
In 2001 H3 premiered at The Galway Film Festival to critical acclaim. One film critic wrote, "H3 is a cry from the heart that transcends the party political to embrace the truly human." The Irish Times described it as, "An accomplished, emotionally powerful drama." And actor Martin Sheen (Apocalypse Now) remarked that H3 is, "A great film".
In 2002 H3 won the award for best screenplay at the Avanca Film Festival in Portugal in addition to the prestigious Gold Rosa Camuna Award from the Bergamo Film Meeting (Italy).
Anyone interested in having the film screened in their local cinema should approach venue managers to make arrangements and then contact Brendan (Bik) McFarlane of the 1981 25th Anniversary Committee on 02890 740817 to obtain a film reel.