4 May 2006 Edition
The Matt Treacy Column
Winning weekend for Dublin
Despite one newspaper pundit managing to use the word "depressing" twice in the course of his piece on Dublin's victory over Kerry and in his preview of the Dublin College's victory in the All Ireland colleges final, which in his huge personal knowledge he thought was too much to expect, the prospect is far from depressing. Indeed if winning our first national titles - and two in the space of one weekend! - is a cause for depression, long may it last.
In common with over a thousand other 'adults' I was labouring in the humble fields of Junior leagues last Sunday - and labouring badly I might add - so many of us who would have gone to Thurles to support the Dublin seniors were unable to travel. Like the Vikings who had to stay at home to protect the homestead while the heroes were away pillaging and generally having a good time, we were forced to await news of their exploits from afar.
And well worth waiting for it was. Victory over Kerry in the Division 2 final added to what is an unprecedented series of seven victories for the county team. It may not have been a great match and as Jamsie O'Connor pointed out there was a noticeable difference in quality and pace between that game and the Kilkenny-Limerick Division 1 decider.
However, Dublin will not be losing sleep over that. They set out to win and that was never in doubt. Indeed had it not been for something like 20 wides they would have won by at least twice the eight points margin that separated the teams at the end. They are capable of upping their level and will need to do so over the next month especially for the anticipated encounter with the Cats.
On the evidence of last Sunday putting up any sort of resistance to Kilkenny will be a huge task. Limerick stayed in the match up to the last quarter before the game was effectively finished as a contest with Henry Shefflin's second goal. Shefflin was in fine form and apart from posting 2 - 6 himself, he provided the pass for Eoin Larkin's goal and for at least one of the other points.
His importance to the team was underlined by his unselfishness and his desire to bring the other forwards into the game. Often overshadowed by DJ, Shefflin has nonetheless earned recognition as one of the great forwards of the modern game. Limerick will be pleased enough with the progress made over the Spring and will be warm favourites to beat Tipperary in the first round of the championship.
Important and all as Dublin's league victory was, of far greater value was the defeat by the Dublin Colleges of St. Flannan's in the All Ireland final at Carlow. It is Dublin's first victory in the competition and confirms the fact that the county is now a real contender in all underage grades.
Superb work is being done in many clubs and schools where the game is often far more popular with kids than football. Indeed it is ironic that overcoming the rival attraction of the big ball may be one of the crucial challenges if Dublin is to continue to progress. Too often in the past brilliant young hurlers - Conal Keaney being a notable recent example - have been enticed away by the prospect of major success with the county footballers. Unfortunately as the dual option appears doomed to extinction, players will continue to have to make that choice.
The Division Two football final replay confirmed the superiority that Louth had displayed last week before allowing a substantial lead to be eroded. They made no such mistake last Sunday and even after Donegal went ahead from a Michael Doherty penalty they never looked like being beaten. Indeed that lead was quickly cancelled out when Mark Stansfield got on the end of a Mark Brennan lob to punch the ball to the net.
Donegal's cause was not aided by the sending off of Paddy Campbell and one or two others gave away silly frees at vital stages. Brian McIver may have asserted his authority earlier in the week when dismissing errant panel members but he still has his work cut out if Donegal are to challenge either of the big guns in Ulster this Summer.
Louth were naturally delighted and will be relishing the prospect of meeting Meath in Croke Park on May 14. This is still one of the great rivalries of football. Meath like to keep their borders quiet and generally do so. Indeed at times it appears as though Louth and Westmeath are afflicted with some awful psychological disease that prevents them putting one over on the Royals. However, Louth will be looking forward to this one with confidence and victory there would be worth five Division 2 trophies.
The All Ireland Colleges football final between St. Patrick's of Navan and Abbey CBS of Newry was an enthralling affair. The game ebbed and flowed but it always seemed as though the Meath team had that bit in hand and they appeared to have clinched victory both in normal time, before a Kevin Dyas goal, and in extra time until Abbey clawed their way back once more and Sean Murdoch scored the two points that separated the teams at the final whistle.
Congratulations to Round Towers of Lusk who marked their 100th Anniversary last Saturday by hosting a challenge match between Dublin and Derry. Or at least that was the plan until we heard that Derry were not going to send a team because the management and squad had resigned the previous evening.
Only later did we actually discover that they had then withdrawn their resignations. Some pretty annoyed locals and Derry people out in Lusk I have to say! Bad form chaps.
Finally, best wishes for a speedy recovery to Brian McGuigan who broke his leg playing with Ardboe in the Tyrone league at the weekend. Hopefully he will be back tormenting the rest of us before too long.
An Phoblacht Magazine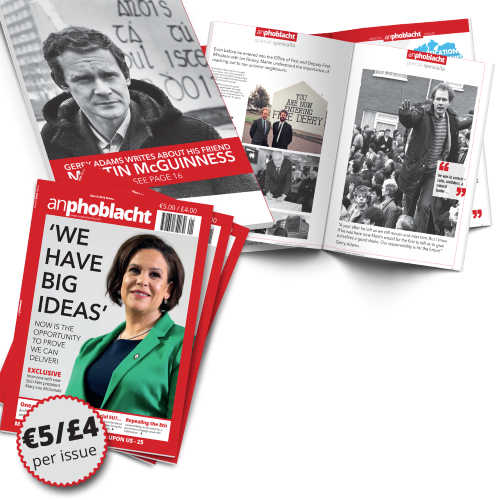 AN PHOBLACHT MAGAZINE:
The first edition of this new magazine will feature a 10 page special on the life and legacy of our leader Martin McGuinness to mark the first anniversary of his untimely passing.
It will include a personal reminiscence by Gerry Adams and contributions from the McGuinness family.
There will also be an exclusive interview with our new Uachtarán Mary Lou McDonald.
test