4 May 2006 Edition
OPINION: CIL rejects any coalition with right wing parties
Campaigning for a new left
The issue of of an Irish left wing alliance to counterpose the current conservative political establishment and its grip on power, has been discussed in An Phoblacht on several occasions. This week we continue that debate. Here, COLM BREATHNACH, a member of the Irish Socialist Network, a group affiliated to the Campaign for an Independent Left (CIL) writing in a personal capacity, argues the need for a new left party which would oppose coalition with conservative parties as a matter of principle.
Recently, the Sunday Independent declared dramatically that it had uncovered an evil Sinn Féin plot to set up a Marxist dictatorship. The truth, however, lay in the small print, if you had a strong enough stomach to read through the garbage: the article quoted Sinn Féin documents outlining a strategy of grassroots-based activism that would lead to radical change in our society.
No socialist could disagree with a strategy that argues for such bottom up change, although it is legitimate to point out the huge contradiction between such a strategy and the entirely different notion of entering coalition government and somehow reforming the system from above. These issues, which have been a matter of intense debate by republicans, are also being discussed by many others on the left, including those individuals and groups involved in the newly established Campaign for an Independent Left (CIL).
The CIL is an alliance of individuals and groups who are committed to the struggle to build a society where working people democratically control all aspects of their lives and where the gap between rich and poor has been eliminated. The initial groups involved are the Community and Workers Action Group, based in the Dublin areas of Crumlin, Walkinstown and Greenhills, the Tipperary Workers and Unemployed Action Group, an organisation of community and trade union activists represented in the Dáil by Seamus Healy TD and the Irish Socialist Network, a participatory socialist group based in Dublin and Belfast. A number of individual social justice, anti-racist and trade union activists are also involved. What these groups and individuals have in common is their proven commitment to democratic methods of organisation and a track record of activism on the ground.
To achieve this radical transformation of Irish society, these groups share the view that it is necessary to build a new, independent all-Ireland party of working people. By independent we mean a party that will oppose the pro-capitalist parties, north and south, and will under no circumstances enter into government with them. Along with rejecting coalition with parties of the right, the CIL argues for public ownership and democratic control of the economy, universal health care and education as a right, equal rights for all and opposition to imperialism.
The CIL is also opposed to the so-called 'social partnership' process, arguing for trade-unions run democratically by their members, and fighting for their interests rather than making deals with bosses.
It must be accepted that a new party of working people cannot be conjured up out of thin air but will emerge out of struggles of working people and realignments on the left. What form that party will eventually take, who will be involved, its internal structures and detailed policies are matters of evolution not prescription. Nor would the CIL argue that we alone have all the answers. It is certain that in the struggle to build a socialist society a number of different currents and forces will be involved including without doubt republicans amongst others.
This again raises the question of how to bring about radical change and the related issue of coalition with parties of the right. For socialists this is not a question of tactics but of fundamental principle, for two reasons: parties of the left that enter coalition invariably fail to deliver any significant reforms for working people and any that they do are off-set by the anti-working class measures that they must support as part of the deal with the right. This in turn usually leads to electoral punishment, as happened to Labour in 1997 or total elimination of a party (who remembers Democratic Left?).
The second problem with coalition, or any political project based primarily on electoral strategies, is that it confuses being in government with being in power. Although some power lies in the hands of those elected to the Dáil, real power is held in the hands of those that control the economic, social and cultural power in a capitalist society. You cannot create a socialist republic simply by electing a certain number of TD's and you certainly won't create it by having a few ministers in a coalition government.
Revolutionary change can only occur through a bottom up democratic revolution in which ordinary people gain full control over all social, economic and political structures. In this sense the CIL shares a strong commitment with Sinn Féin members, a commitment to community based campaigning. But it is impossible to work on the ground arguing for bottom up change while your party is involved in a government which imposes neo-liberal policies from above. It is impossible to offer a real alternative to the system while sharing power with capitalist parties. It is not simply a question of being a party of protest or of power, but recognising that power does not solely or even primarily lie in Leinster House or Stormont, and that the aim is to change the class that holds power not just the parties.
Members of Sinn Féin will undoubtedly question the necessity of a new party of the left. The need for such a party is not based on some disagreement with existing parties over specific policies but on a key question of principle: the necessity for a party that represents the interests of one class only, the working class and which follows the logic of that class's interests by remaining independent of the wealthy classes and their representatives, the parties of the right.
Labour and the Greens have clearly shown that on both counts they have no interest in such a project, but how does this relate to the role of Sinn Féin? Clearly the current situation is quite fluid but some trends now seem to be emerging. On the question of coalition with parties of the right, Sinn Féin's current policy is for its members to make a final decision at a special Ard Fheis after an election.
Despite the vigorous and welcome opposition to coalition by a substantial minority at the party's last Ard Fheis, the contributions of members of Sinn Féin's leadership indicate that they believe that there is nothing wrong in principle with coalition, and it is fair to assume that the leadership view would have a very strong influence on the members' decision.
This debate is not unique to Sinn Féin and the contradictions between an electoralist strategy and a grassroots campaigning strategy have always reared their head in left parties. Of course left republicans have a decisive role to play in the attainment of a socialist republic but in what form is now open to question. If Sinn Féin members reject coalition and the idea that capitalism can be reformed out of existence, and build on their already deep experience of grassroots campaigning then one can hope for an increasing convergence of work between the radical left and republicans, all of whom have a role to play in building the workers republic of the future.
An Phoblacht Magazine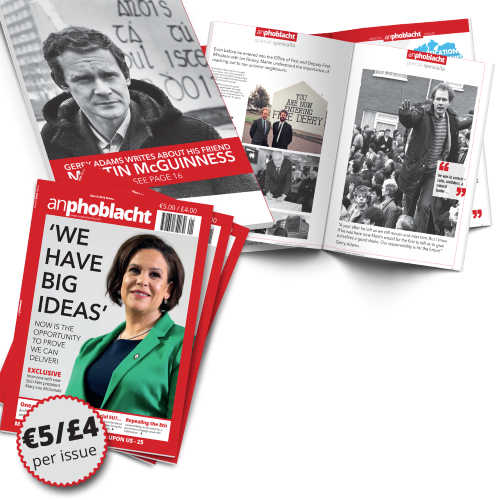 AN PHOBLACHT MAGAZINE:
The first edition of this new magazine will feature a 10 page special on the life and legacy of our leader Martin McGuinness to mark the first anniversary of his untimely passing.
It will include a personal reminiscence by Gerry Adams and contributions from the McGuinness family.
There will also be an exclusive interview with our new Uachtarán Mary Lou McDonald.
test