4 May 2006 Edition
Leading ANC figure attends opening Dáil session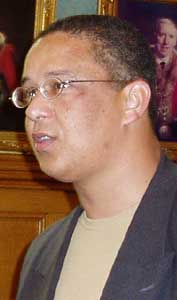 Senior ANC figure Robert McBride, relative of Major John McBride executed by the British for his part in the 1916 Rising, has been in Ireland over the past week.
The leading ANC representative and former political prisoner spent a number of years on death row in South Africa in the 1980s and is currently Chief of Police for Johannesburg's East Rand district.
McBride is addressing audiences around the country about the struggle against the apartheid regime in South Africa, his experiences as an ANC revolutionary and of the task of dealing with the many residual effects of the apartheid system.
He spent Saturday in Belfast with friends and Sunday and Monday in Kilkenny visiting relatives. On Tuesday, 2 April he spoke to a Sinn Féin gathering at Cork's Metropole Hotel.
On Wednesday 3 May McBride visited Kilmainham Jail where his relative was executed in 1916. He also attended Leinster House where he was greeted by the Sinn Féin TD's Caoimhghín O Caoláin, Aengus Ó Snodaigh, Arthur Morgan and Martin Ferris.
McBride was brought on a tour of Leinster House by Martin Ferris. As a distinguished visitor he attended the opening of the Dáil session. Later, he addressed a meeting of Dublin Sinn Féin members in the Teachers' Club.
On the 25th anniversary of the death of Hunger Striker Bobby Sands, McBride will deliver the Bobby Sands Memorial lecture in Belfast. Other events he is scheduled to attend include a meeting of Sinn Féin's Leinster Cuige in Louth on 6 April and Sinn Féin meetings in Belfast 7 and 8 April.