4 May 2006 Edition
The Mitchel McLaughlin Column
Towards an all-Ireland economy
The opportunities and benefits of all-island economic planning have never been clearer. The North's economy is underdeveloped because of dependence upon and domination by the British economy. It has no fiscal independence and has been cut off from the 'Celtic Tiger' expansion of the rest of Ireland. The regional economy is over-dependent on the public sector whilst R & D expenditure, a key barometer of future economic growth, is at 0.7% of GDP. And almost 75% of our graduates leave and do not return.
The North has always been peripheral to strategic economic planning by the British Exchequer with decisions in London inevitably reflecting the economic needs of the southeast of Britain.
The statement by Peter Hain, that the local economy is unsustainable is the first such public admission by any British government minister but surely reflects their thinking for a long time. The North's Department of Enterprise Trade & Investment has already conceded, in consultation on its 'Economic Vision' document that the key problems facing the economy are that fiscal policy, taxes and public expenditure are set in Whitehall. Sinn Féin has always argued that very point and it is clearly an issue that must transcend party political opinion. It is becoming increasingly evident that partition is economically disastrous for the North.
An issue on which there is some convergence of opinion, is corporation taxes. While positions may differ on the actual rate there is a very clear consensus across the political and economic spectrum that corporation tax needs to be harmonised across Ireland.
To be brutally frank, the 6 counties need the 26 counties. On its own, or lumped in "with the rest of the UK", the North will continue to limp further and further behind the rest of Ireland.
Competition between north and south and neglecting all Ireland economic opportunities is costing money. The most efficient response to the infrastructure deficit is to deal with it on an all island basis. The British government is currently engaged in an efficiency review. What better way to ensure efficiency, avoid duplication and make the most of finite resources than to engage in island wide strategies? It is commonsense for a small island of less than 6 million people.
Infrastructure should be developed on an integrated basis. Roads, transport, energy and telecommunications all need clear all-Ireland perspectives. I understand the International Centre for Local and Regional Development under the auspices of InterTradeIreland is doing some groundbreaking work in auditing the potential for developing island wide spatial strategies.
Incentives used to attract enterprises to both parts of Ireland should be complementary and the barriers to labour mobility removed to create a single Irish labour market. Invest NI and IDA Ireland investment agencies should amalgamate. In the short term, rather than competing, they should work together on harmonising investment regimes, sectoral development strategies and share out inward investment in a regionally balanced manner.
An Phoblacht Magazine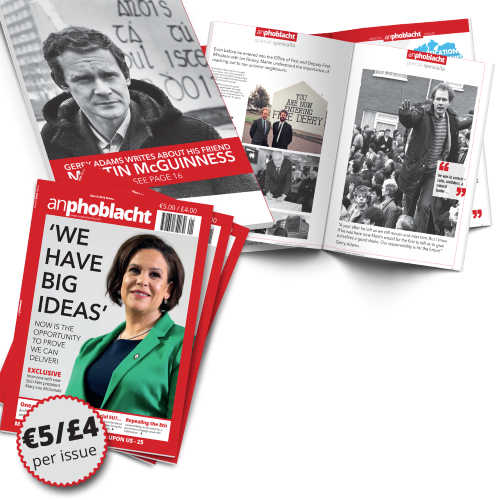 AN PHOBLACHT MAGAZINE:
The first edition of this new magazine will feature a 10 page special on the life and legacy of our leader Martin McGuinness to mark the first anniversary of his untimely passing.
It will include a personal reminiscence by Gerry Adams and contributions from the McGuinness family.
There will also be an exclusive interview with our new Uachtarán Mary Lou McDonald.
test