4 May 2006 Edition
Interview: David Cullinane on a community's struggle to improve conditions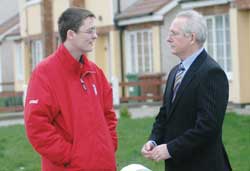 Ballybeg's voice will not be silenced
The Waterford community of Ballybeg has recently been in the news with the media focusing on problems such as anti-social behaviour and deprivation afflicting the neighbourhood. However what has gone generally unremarked is a strong community spirit with individuals and organisations active in trying to improve conditions for residents. This week Waterford Sinn Féin representative David Cullinane spoke to An Phoblacht's ARAN FOLEY about life in Ballybeg.
Asked about the recent media coverage of Ballbeg, David Cullinane points out that only a small minority are involved in anti-social behaviour. "The vast, vast majority of people are decent people. I am chair of the area committee, and the taskforce set up by the council to tackle problems in Ballybeg. I am also, incidentally, originally from Ballybeg so I know the problems that there are, especially with anti-social behaviour, and some kinds of criminal behaviour but that should rightly be dealt with by legislation and the Gardai. It only involves a minority.
"I constantly try to emphasise positives and in fairness there has been a lot of good work done in the area. The local council has built a new amenity in the form of a park and more importantly they have pledged money and resources towards the housing problems. Myself and my party colleagues will certainly be keeping the pressure up to see that these are delivered. Also, in conjunction with Waterford Crystal, a local social autonomy project has been, the LEDC was established. Sinn Fein councillor Joe Kelly was chairperson and it delivered an enterprise centre and a sports centre so that is quite positive."
Cullinane points out that anti-social behaviour is not a problem confined to Ballybeg but is a citywide problem affecting both public and private estates. Indeed it is a problem countrywide. "It is really a matter for the Gardaí and for the council to live up to it's responsibility and for an integrated approach involving health boards etc. This needs to be done alongside the provision of resources, amenities and infrastructure.
"I do have to say in relation to all of this is that there does seem to be an exasperation building in the community that agencies such as the Gardaí and the council are not doing enough. The residents know that it is only a small minority that are involved in anti-social behaviour and criminality and they can't understand how the agencies working together, especially the Gardaí, can't solve this problem.
"If these people need to be jailed then so be it or if they need to be evicted by the council then so be it. Residents can't see much of this going on and feel abandoned and betrayed. I mean drugs, joyriding and the burning out of cars are all overt criminal acts. People feel that if this was happening in a middle class area it would be dealt with overnight. There is no sense of urgency in their approach. If you call the Guards they take forever to arrive and will just cruise the streets for a few minutes and depart.
"There is no evidence of surveillance on the minority of people involved. The Gardaí attend residents' committees and make all kinds of promises which are never delivered upon and people perceive that a small minority of thugs are being allowed to hijack this community."
On Sinn Feín's role in the community, Cullinane cited the local council's putting up of significant funding- €40 million, to be rolled out over the next few years. "This is directly attributable to people like ourselves keeping the pressure on. The main establishment parties turned their back on these people years ago but this community has a voice and it won't be silenced.
"There is a huge problem with boarded up houses because the council has difficulty getting people to move into the area. This leaves houses abandoned and they become a venue for drink and drugs and have even been set on fire with a terrible risk to any those living next to them.
"We have secured a commitment from the council to deal with this problem, not piecemeal, bit-by-bit but, in one, concerted effort. These houses can all be allocated together in one go. Again I feel that this is a result of pressure that Sinn Féin and others have been applying.
"We now have a commitment to progress all remedial work needed on the houses. This will mean central heating, windows, doors etc., a complete upgrade to the house. It is really incredible that in this day and age people have to live without things like central heating."
Cullinane said that there was some scepticism about promised improvements as the area has seen and heard it all before and yet nothing was delivered. But he emphasises that remedial work was already started and that he and the community were going to make sure that each agency lived up to it's commitments. He feels the pressure is mounting and Sinn Féin has played a significant role in that.
"It is now a matter of keeping that pressure up. The resources have been promised and I intend to ensure that they are delivered through Sinn Feín's work on the local council, through it's work on the area committee and it's work on the task force and beyond. The pressure will be kept up.
"Up until the last local elections in 2002 there was no Sinn Féin representation on the local council. Since then these communities have had a voice which was denied to them for so long by the establishment parties. The abandonment of Ballybeg, and areas like it, by the establishment was one of the main reasons I joined Sinn Féin."
On educational and employment disadvantage in the community, Cullinane spoke of breaking the cycle of disadvantage that had been operating in the area for years. This would require the co-ordination and intervention of all the relevant bodies and the implementation of holistic solutions. "Agencies such as the health board, education and other related agencies are going to have to work together so that when a problem does arise, early intervention can be identified and targeted.
"Also the financial problems associated with attending third level must be addressed. I know from my days as a student how difficult this can be. An improved grants system should be implemented. Issues around job security and pay are a huge factor here as well.
Cullinane does not believe that Ballybegs problems are solely or even primarily ones of law and order and he opposes ASBOs as a way of dealing with problems. "We need to tackle, in a structural way, the cycle of deprivation that has been allowed to continue here for far too long. With this done, and equal access to resources guaranteed, then people will be able to plan for their future instead of feeling trapped in poverty."