27 April 2006 Edition
Fifth Column
Criminal activities
Political observers remain cautious that a paramilitary group with a criminal record stretching back over many decades can end its involvement in criminality before talks resume about restoring the Assembly in the Six Counties.
Since March 2004, 64 members have been convicted of criminal offences, including possession of an offensive weapon, being drunk in charge of a loaded firearm, theft, deception and assault.
They are all self-confessed members of the PSNI, previously known as the RUC.
The Irish Independent and the News Letter have been less than keen on calling for the PSNI's political wing, the British Government, to be expelled from talks until the criminality ends.
Oh, Karolina
The PSNI were all fingers and thumbs last week when an animal rights protestor chained herself to the railings at Belfast City Hall to get her anti-circus complaints off her chest - and her bra as well.
Traffic in Belfast city centre naturally came to a standstill at lunchtime last Tuesday week when Karolina Kostrzewa, from the Animal Rights Action Network (ARAN), stripped down to her undies and put a metal chain on her leg to draw attention to cruelty to circus animals.
Less daring supporters in the Belfast chill carried a banner saying: "Circus Animals: Shackled, Lonely, Beaten."
Peelers took their customary course of action and ordered a cover-up.
Cold comfort
Ice cream brand giants Ben & Jerry's have apologised to the Irish people for releasing a new flavour dubbed Black & Tan.
The American company claimed that the ice cream had been named in honour of the classic mixture of stout and pale ale, and not the notorious 8,000-strong British terrorist force of the same name that arrived in Ireland in 1920 with a more chilling reputation.
A spokesman for Ben & Jerry said:
"Any reference on our part to the British Army unit was absolutely unintentional and no ill-will was ever intended.
"Ben and Jerry's was built on the philosophies of peace and love."
SAS elite supports first battle
Britain's new special forces unit to support the SAS - combining the supposed cream of the Parachute Regiment, Royal Marine Commandos and the RAF Regiment - has seen its first action... when 60 Paras and RAF members battered each other in a Wild-West-style pub brawl in Dover.
The row began in a pub after RAF Regiment soldiers (known as "Rock Apes") boasted about how they beat the Royal Marines section of the unit in a tactics test for the Special Forces Support Group.
The Paras came to the Marines' defence and the whole shebang ended up with both mobs squaring up to each other in a back room of nightclub Studio 1 in a full-scale riot. There were civilian casualties.
The Ministry of Defence at first denied the battle took place but came clean when Kent Police let it slip that it had been called to the bar-room punch-up of Britain's new glamour force.
Defence Secretary John Reid has told MPs the battalion will "enhance the capability" of other British forces. And test the patience of British police forces.
Reds under the PD bed
I could have sworn that I'd tuned into EastEnders when I was channel-hopping for RTÉ's live coverage of the Progressive Democrats conference on Saturday morning.
Was that Pauline Fowler venting about who she wouldn't go into coalition with? But it wasn't Ian Beale's Auntie Pauline - it was Councillor Mary Mitchell-O'Connor.
The Dun Laoghaire headmistress said she wouldn't have the bold boys and girls from Sinn Féin in her coalition class. No, sir. No way. In fact, she said, she'd have the Communist Party of Ireland before Sinn Féin!
Don't know who should be more worried about Miss Mary's Marxist musing: Michael McDowell or the Communist Party.
Where soldiers sleep
China's People's Liberation Army is showing its sensitive side by introducing a new military code banning chronic snorers from joining up because they disturb the sleep of other soldiers.
And as well as snorers, if anyone is overweight, have tattoos or take drugs then they won't be able to join either.
Never mind. They can always join the UDA.
An Phoblacht Magazine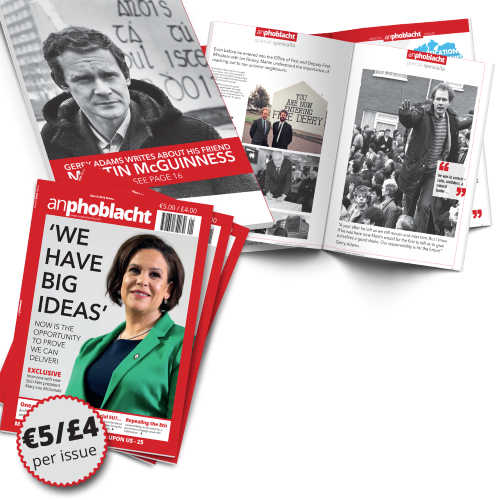 AN PHOBLACHT MAGAZINE:
The first edition of this new magazine will feature a 10 page special on the life and legacy of our leader Martin McGuinness to mark the first anniversary of his untimely passing.
It will include a personal reminiscence by Gerry Adams and contributions from the McGuinness family.
There will also be an exclusive interview with our new Uachtarán Mary Lou McDonald.
test