27 April 2006 Edition
Health crisis: Privatisation agenda slammed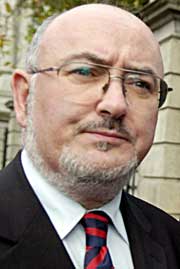 "Government has lost the plot on A&E" - Ó Caoláin
Sinn Féin Dáil leader and Health spokesperson Caoimhghin Ó Caoláin TD has described "bizarre and self-congratulatory" the motion on Accident and Emergency services tabled by the Government in the Dáil on Wednesday. Ó Caolain said the Government had "lost the plot". He called for the provision of the additional 3000 hospital beds needed in the public hospital system and slammed the privatisation agenda being pursued by the Tánaiste and Minister for Health and Children Mary Harney.
Ó Caoláin stated: "The Tánaiste and her colleagues must take the people for fools. She recently described the situation in A&E units as 'a national emergency'. At the IMO conference last weekend Minister of State Seán Power spoke of the 'perceived flaws' in the health system and said that highlighting these 'helped to create a false impression of a health system in crisis'. So it seems, according to this Government, we have a national emergency but no crisis.
"The reality known only too well to people the length and breadth of this country is that we have had a crisis for years, not just this past winter or since Minister Harney took up the health portfolio. This reality translates into thousands of individual crises for patients and their families. People are being subjected to the dangers and indignities of overcrowded and often chaotic A&E units year on year, with the situation worsening every winter. In the first three months of 2006 there has been a daily average of 300 patients on chairs and trolleys in A&E units."