27 April 2006 Edition
Media View
BY FRANK FARRELL
Revisionist recrimination
The cynicism and reserve that journalists retain for all and any republican initiatives was, predictably, dispensed with when the DUP launched its PR road show in Killarney this week at the British Irish Inter-Parliamentary Body.
Adopting the usual genuflection position in the face of the slightest twitch from Unionists, Northern correspondents like RTE's Tommy Gorman and others greeted the DUP gesture with something close to sexual arousal. A breakthrough, a giant step forward and signs of hope were the sort of cliches that greeted Paisley's White Rhodesian type followers, as his party - led by 'moderniser', Peter Robinson - agreed to visit a forum graced by various British Tories, British Labourites and Irish parliamentarians. What courage, such initiative and what a bold move!
If this is the sort of response that the DUP can trigger in the media with a glorified photo opportunity then how will they respond if or when Paisley tells the entire body politic in Ireland and Britain to bog off and stuff power sharing with Taigs? Which is, of course, what Robinson and Nigel Dodds effectively told the assembled politicians, hacks and functionaries gathered in frozen anticipation at Killarney's lakes for the word NO, yet again this week.
Many republicans have long believed that the BIIPB is a self-indulgent talking shop for some politicians to posture as statesmen and women in front of a willing media who justify their own expeditions to such non-events by portraying them as serious initiatives. But when confronted with real and substantial political breakthroughs of the sort that the IRA and Sinn Féin have persisted with and which have kept the peace process alive, the media reverts to a scepticism and negativity that refuses to recognise real progress.
*****************
The post mortem carried out on the dead body of the media's campaign against the 1916 commemorations descended into a wake recently as The Irish Times and Sunday Independent rationalised why, yet again, most Irish people ignored their advice and turned out in their tens of thousands to honour the 1916 Rising. The Sindo's Eoghan Harris tried to restore his shredded credibility (he compared Padraig Pearse to a suicide bomber at the beginning of the debate about 1916) by claiming that Polish people swelled the numbers at the parade and that the dignified ceremony was a result of his bi-polar rantings.
Harris and others could have noted that with virtually the entire middle class Dublin population decamping to their holiday homes abroad (ie, in the West and in the South of France) for the bank holiday, that it was working class Dublin that largely made up the 100,000 plus who turned out at Government and Sinn Féin parades over Easter.
Stephen Collins, the new representative of a more overtly right-wing Irish Times, was more pessimistic (and honest) and argued last Saturday that Sinn Féin and Fianna Fáil were the only beneficiaries of the commemoration in a remarkably blunt assessment which spelled out how neither Fine Gael nor Labour could relate to 1916. He also seized on the lame attempt by Fintan O'Toole to lionise Daniel O'Connell and counterpose the Derrynane landlord to 'violent' revolutionaries. What Fintan, Stephen and others - who appear to have discovered the Liberator a little late in the day - most admire about O'Connell is that he abandoned the Irish peasantry when the British Crown threatened a massacre at Clontarf.
*****************
More grief was visited upon the revisionist media set recently as two of this column's favourite hacks - Kevin Myers and Jim Cusack - immersed themselves in recrimination and sulk in the last week or so. Various media - Newstalk 106, Phoenix, The Big Bite and Village all took a pop at Cusack for his recent 'exclusives' on Sinn Féin and the IRA as he managed to blame republicans for everything from the Dublin riot to imminent invasion by martians. Cusack, like many hacks, embraces the charge of being a rabid, neo-unionist but cries foul when the accuracy of his lurid stories, supplied by the usual security 'sources', are questioned.
Myers, meanwhile, who is appalled at the violence caused by leaders of the Rising but who glories in ripping yarns about World War One carnage, has had a falling out at The Irish Times. Are we really to be deprived of future extracts from a West Brit's Diary? Are there to be no more tributes to the daring exploits of British war mongers and can we expect that single mothers and their children will no longer be able to savour his gentle, chiding humour in future?
If the politically correct Irish Times did not see fit to part company with Myers over his 'humorous' remarks about such people, what sort of obscenity did he perpetrate to cause such a rift on this occasion? Word is that Myers got into an almighty sulk because the timid souls at D'Olier Street would not let him pen a sonnet in praise of General Maxwell in their recent supplement on 1916. Fintan O'Toole is a safer pair of hands when it comes to dishing it to republicans and the paper's senior editors regarded Myers as just a tad 19th Century for such a delicate exercise.
An Phoblacht Magazine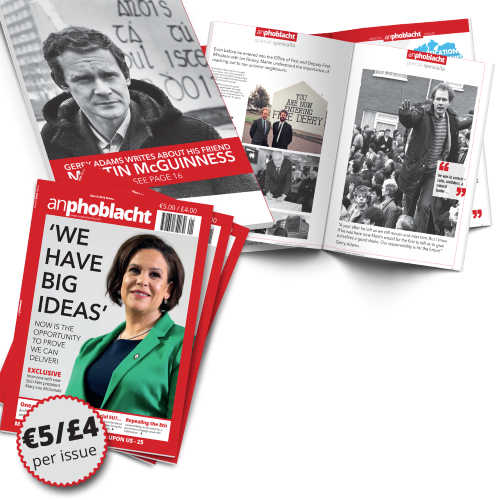 AN PHOBLACHT MAGAZINE:
The first edition of this new magazine will feature a 10 page special on the life and legacy of our leader Martin McGuinness to mark the first anniversary of his untimely passing.
It will include a personal reminiscence by Gerry Adams and contributions from the McGuinness family.
There will also be an exclusive interview with our new Uachtarán Mary Lou McDonald.
test