27 April 2006 Edition
Political harassment: Dublin activist targeted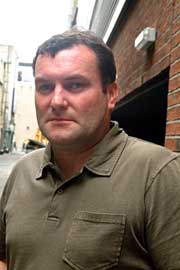 Garda's political policing
Sinn Féin's Dublin Mid West representative Joanne Spain has slammed Garda harassment of her Director of Elections as "political policing". Spain's comments come after Féilim Mac Críosta, a Sinn Féin candidate for local elections in 2002 and currently party Director of elections for the constituency of Dublin Mid West, was subjected to a Garda raid while staying at his mother's home.
On Friday morning 21 April, Mac Críosta was staying at his mother's when the house was raided by Gardaí.
The raiders claimed they had a report that Mac Críosta'a car was seen trailing the key holder of a post office ten days previously and that they were conducting a search for firearms. Mac Críosta says this whole story is "ridiculous". "Why did they wait ten days? Their search of the house was only partial. They concentrated on my room which contains a lot of records and documentation relating to political activities in which I have been involved", he said.
"They would not let me be present while they went through it. They ignored a number of rooms and generally gave the impression that they had no intertest in looking for firearms.
"The car which they claimed was used to follow the key holder was in fact registered to an address in Wexford and they never approached this address. My diary clearly shows I was elsewhere on the day in question and I have witnesses to this", Mac Críosta said.
"The only explanation I can think of is that it was an act of political policing. They knew that I was prominently involved in Sinn Féin and that people in the area would be aware of that. I suppose they hoped that by raiding me they could imply there must be something sinister about us. They were collecting intelligence on legitimate political activities. I think this is particularly sinister as we have just entered the run up to the next election", he said.
Mac Críosta says that his mother was left in shock by the raid. "One of my brothers is wheel chair bound and he was forced out of bed. They also went beyond the terms of the warrant when they searched my brother's garage next door. When I said this is harassment they said "we're not harassing you because you are Sinn Féin", yet I never mentioned Sinn Féin to them."
Mac Criosta runs a business and sees the fact that he has now been scheduled for a VAT inspection as significant. I think this is a cynical act of political policing but I won't be intimidated. I think that in the run up to the elections republicans should be vigilant to this type of propaganda policing", he said.