27 April 2006 Edition
Sinn Féin responds to IMC report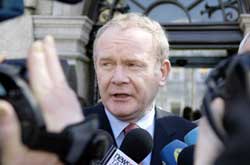 Responding on Wednesday to a report from the so-called Independent Monitoring Commission (IMC), Sinn Féin Chief Negotiator Martin McGuinness said: "The IMC were established outside the terms of the Good Friday Agreement. In our view it has no positive or constructive role to play in the peace process. They have provided the pretext for political discrimination against democratically elected politicians", McGuinness said.
He said that "as predicted" the IMC report was "top heavy with allegations, but devoid of any evidence to back them up".
Sinn Féin previously challenged the Irish and British governments to substantiate specific incidents to which the IMC have referred but the body, widely seen as a tool of securocrats, has never been able to do so. Sinn Féin continues to challenge the legitimacy of the IMC in the courts.
McGuinness said; "The IRA has fulfilled all of the commitments made in the historic statement of July 28th. They have addressed unionist concerns and removed any further excuse for non-engagement. The DUP must now decide if they want to come on board the peace process and see the reestablishment of the political institutions in the immediate time ahead. There are no excuses left for not moving forward.