27 April 2006 Edition
Mála Poist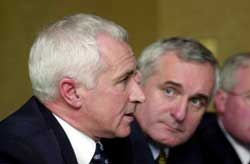 McDaid's sham resignation
A chara,
If Jim McDaid is said to have retired from politics this week how come he will continue to receive his €94,000 salary and expenses until the next election? He was elected to represent the people but now he says he couldn't be bothered but will continue to pick up the pay cheque, a bit like the sickies so beloved of his good friends in An Gárda Siochana. This is an insult to the people who elected him and worse, has left them without representation in Leinster House. Surely the honourable thing to do would be to stand down and allow a by election to take place. This would be the democratic thing to do. It would seem however that financial gain far outweighs any commitment this TD has to democracy.
This is a man who called suicide victims "selfish bastards" and only recently was insisting Donegal cattle dealer, Ritchie Barron may well have been murdered long after everyone, including the Gardaí, had abandoned this discredited theory. The intended effect of this, of course, was to throw cold water on far reaching allegations of corruption in the Donegal Garda Division. While he failed in this endeavour, the fact that he ignored the deep concern in Donegal and beyond on this matter again calls into question his commitment to democracy.
The circumstances of his drink driving conviction were so blatant and extreme as to merit immediate resignation by such a senior government figure and amidst an epidemic of carnage on our roads. Characteristically he has chosen to hold out to the very end. In fact he would not have "resigned" at all were it not for a fear of the judgement of the people. For now he has denied them that right.
Is Mise,
Owen Stanley
County Donegal
Decision to run baffling
A chara,
I have nothing but admiration for the fine work carried out by Colm O'Gorman and his One in Four group. He has represented the victims of clerical abuse adamantly and fought all attempts to sweep the issue under the carpet. In doing so he has demonstrated that he is a person who cares deeply about people.
With this in mind I find his decision to run for the PD's inexplicable. Does Colm really support the privatisation of healthcare to make money for Harney's cronies? Can he stand over the current state of the health service under Harney? This is a party that has stated openly that inequality is a good thing. Its Justice Minister is a disgrace who prefers pursuing vendettas in the press and deporting vulnerable asylum seekers to actually addressing crime. He has failed to tackle widespread Garda corruption, some of which has resulted in the cover up of clerical abuse in the past. In fact he is now obstructing the efforts of families, whose loved ones have been killed in Garda custody, to gain justice.
I could list many more examples of that party's uncaring and arrogant treatment of ordinary people but I don't need to. Apart from the measly four percent who cast their vote for them, and come come from the most affluent sections of society, no one else is attracted by their philosophy of greed and elitism.
I would respectfully urge Colm to reconsider.
Is Mise,
Paul Wilkinson
Gorey, Co. Wexford
Commemoration charade
A chara,
With a slight touch of anxiety and anticipation I switched on the TV to watch the 1916 rising commemorations in Dublin. I did so just in time to see the Taoiseach Bertie Ahern, Willie O'Dea Minister for Defence, and a whole gathering of assorted berets and bonnets, standing to attention, as all types of modern weaponry pass by.
To be completely honest I found this whole charade garish. I could not find or see the connection between the IRA pre- 1916 or after, and those standing on the steps outside the GPO claiming to be their predecessors, after discarding or dumping republicanism and the ideals of the proclamation, for 35 years or more, and replacing it with an orgy of greed, selfishness, and the selling of state assets, gas and oil, at the behest of pro-British protagonists of the
Dublin 4 variety, within the ranks of Fine Gael and Fianna Fail.
I now find it shameful that the bravest of the brave, namely Thomas J Clarke, Seán MacDiarmada, Thomas macDonagh, PH Pearse, Eamon Ceannt, James Connolly, and Joseph Plunkett, whose heroic actions and deeds are now being plundered and used for purely selfish political reasons in an ongoing attempt to keep lining the pockets of the elitist double or treble chinned Fianna Fáil-Fine Gael-PD or Labour TDs in the Dail.
Hopefully come election time it will be pay-back time and their self-indulging media led electioneering strategy- for all it was worth will be exposed as the sham of the century for all to see.
Is mise,
J woods,
Gort an choirce, Co Dun nGall.
McDowell a paper tiger
A chara,
Michael McDowell likes to be seen as some sort of hard man and is constantly eulogised in the media for his no nonsense approach. How does this picture measure up to reality however.
He was humiliatingly defeated by Fianna Fáil backbenchers when he attempted to introduce Café bar legislation. He has failed to tackle Gardaí corruption and now this disgraced force feel confident enough to challenge him on the proposed Garda Reserve. On the issue of crime he cannot seem to accept any responsibility throwing hysterical wobblers if his record is challenged. And leaking to the press in order to damage an opponent's reputation, a sneaky and cowardly act.
So how has this paper tiger acquired this hard man image? The only thing I can think of is that his constant and irrational attacks on republicans has, in the eyes of many in the media, bestowed on him this image. He sits well with the minority opinions of this micro group. I would remind them that there is a significant difference between being tough and being a buffoon.
Is mise,
Sean Crossan
Co. Monaghan