27 April 2006 Edition
Challenging Ireland's health scandal
The crisis in healthcare in the 26 Counties continues unabated. An average of 300 people lay on hospital trolleys every day for the first three months of 2006. Amidst the continuing chaos we have the spectre of consultants running private beds in our hospitals, devoting precious time and effort to people who can afford to pay. Public hospitals should cater for everyone equally. If that does not suit certain people let them seek out genuinely private care, and pay for it without being subsidised by the taxpayer.
Mary Harney's idealogical commitment to privatisation in the health service will only excerberate the problem yet she continues on this path relentlessly. The scandal of tax breaks for private operators in the health sector continues alongside lack of resources for our public health system. Money squandered on tax breaks and white elephant computer projects would have provided 1,000 much needed hospital beds already.
Sinn Féin has consistently called for an end to the callous, inefficient and crisis-ridden, two-tier health system and its replacement with an efficient, properly resourced system based on the principle of equality of access for all.
The party will publicly launch a campaign on health next week. This will focus on a number of core points. All health funding should be invested in the public sector with an agreed timetable for the phasing out of all privatisation incentives. The transition to a full public service should start with medical cards for all under 18s and an increase of the medical card income threshold to well above the poverty line. There needs to be an accelerated timetable for the provision of promised Primary Care Centres and funding for an extra 3000 hospital beds. The policy of centralisation and cutbacks at local hospitals must be reversed. An increase in the provision of nursing home beds, community care and home care is urgently needed. The cap on health service recruitment should be ended and more frontline staff must be employed with enhanced payment and conditions for staff in the health service to combat current high level of natural wastage. New contracts for consultants should protect the rights of public patients and all new consultants should be appointed to the public sector only.
The anger and frustration throughout the country at the current scandal in our health services needs to be channelled into an effective campaign to apply poltical pressure and create the inescapable demand for a new and equitable Irish system.
An Phoblacht Magazine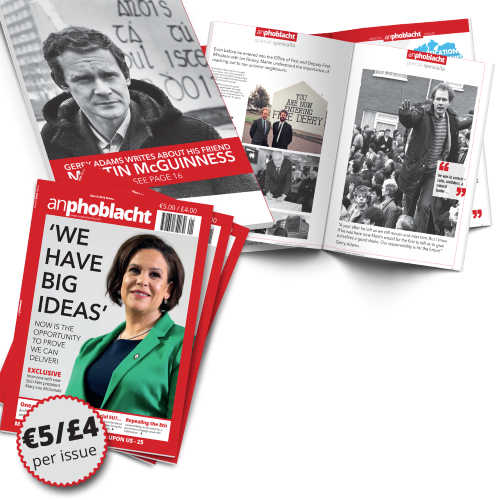 AN PHOBLACHT MAGAZINE:
The first edition of this new magazine will feature a 10 page special on the life and legacy of our leader Martin McGuinness to mark the first anniversary of his untimely passing.
It will include a personal reminiscence by Gerry Adams and contributions from the McGuinness family.
There will also be an exclusive interview with our new Uachtarán Mary Lou McDonald.
test