27 April 2006 Edition
Health Crisis: Sinn Féin's alternative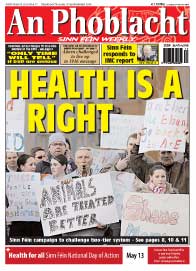 Campaigning for healthcare as a right
Next week Sinn Féin launches a campaign for Healthcare as a Right based on the comprehensive new party policy Healthcare in an Ireland of Equals, adopted by the Ard Fheis earlier this year. Focussing initially on the crisis in the health services in the 26 Counties, the campaign will see Sinn Féin presenting an alternative to the current system and proposing ways to bring practical improvements that will be of real benefit to patients. An Phoblacht spoke to Sinn Féin Dáil leader and spokesperson on Health and Children Caoimhghin Ó Caoláin TD.
An Phoblacht: Why is Sinn Féin launching a health campaign at this time?
Caoimhghin Ó Caoláin: We have just come through one of the worst winters in recent years in terms of the crisis in our Accident and Emergency units. There were, on average, 300 people per day on trolleys and chairs in A&E units during the first three months of 2006. Health Minister Mary Harney says this is a 'national emergency' but if that's the case it's been going on since at least 1997, when this Government came to office because these scenes have been repeated every year since then. Despite record spending, the setting up of the Health Service Executive, the Minister's so-called 10-point plan and a task force to deal with A&E, the same critical problems persist. We are saying that the core issues are not being addressed. So we need to campaign on these issues and on healthcare as a right.
Staying with A&E, what are the core issues there?
The A&E crisis is the most acute symptom of a sick system. First of all there are not enough beds in our hospitals. The Government's own Health Strategy states that we need at least 3000 extra beds. But a proper audit has never been done. Because of the bed shortage, patients are waiting in A&E for many hours and often days to get beds in wards. A&E units in smaller hospitals have been closed, adding further to the pressure. We don't have a proper primary healthcare system where patients can go with minor injuries. GPs aren't available around the clock or they don't have the facilities or patients can't afford their services. So many of them go straight to the A&E unit.
How would Sinn Féin address those issues?
We need an accelerated programme to provide the necessary hospital beds. We need the roll-out of the promised primary care centres throughout the 26 Counties on a faster timetable. Older people are often scapegoated over the beds issues because many of them occupy hospital beds. But the reality is that the long-term facilities, including comprehensive home care, is lacking. This leaves no option for many older people but long stay hospital beds. At the other end of the scale older people suffer most in the A&E crisis. Because of inadequate care for them in their homes, many of their illnesses are left untreated until the crisis comes and they have to go to A&E.
The Sinn Féin policy speaks much of the two-tier system. How is this relevant?
The two-tier nature of the system is the core problem from which so many of the ills of the health services spring. Take the beds issue. At present public hospitals also contain private beds which they service with staff and other facilities. Hospital consultants can operate the two systems. They get paid by the State for their work in the public system. But they can also work in the private system, devoting much time to private fee-paying patients who can access faster care. This is totally unjust. It is also inefficient. Public money should be spent on the public system only.
But Mary Harney says her support for private hospitals will free up beds in public hospitals.
That is one of the greatest frauds ever attempted on the Irish people. What she is saying is this: 'We will give money and land to developers of private hospitals. In return they will vacate 1000 private beds in public hospitals.' But these private beds should not be piggy-backing on the public system in the first place!
Harney can't tell us when or where her supposed additional beds will come on stream. With the money this Government has spent on tax breaks for developers of private hospitals and on the failed PPARS and FISP computer systems for the health services, they could already have funded an additional 1000 public hospital beds.
On the one hand Harney and HSE Chief Brendan Drumm are telling consultants who work in the public system - quite rightly- that they must work only in that system. But on the other hand the Government is reinforcing the public-private apartheid by using our money to encourage the growth of private hospitals. This can only attract more health professionals into the lucrative private health business and away from the public system. This is the privatisation of our health services.
Mary Harney claims to be acting on behalf of public patients. But we know where she is coming from. She has said it herself. In the Dáil on 9 December 2004 she stated: "I believe in a minimalist role for the State in all our lives, including health care." On 30 June 2005 she stated: "The fact that more and more people are getting private health care is a good thing. It's a sign of increasing disposable income."
What is Sinn Féin's alternative?
We are saying very clearly that the present two-tier system must be replaced with a new health system for Ireland that provides care free at the point of delivery based on need and need alone, regardless of your ability to pay or where you live. We regard healthcare as a fundamental right which people are prepared to stand up and demand. It is also a public service which ought to be provided equitably and which can be paid for through fair and progressive taxation.
Is that not a utoptian vision? And how can all this be paid for?
It is far from utoptian. Many other countries have developed State-provided health systems suited to their needs. We will have to replace the two-tier public-private system with an entirely public system based on fairness. Many people are already paying on the double anyway. They are paying for the public system through taxation and they are paying private health insurance. Lots of people are taking out private health insurance because they cannot rely on the crisis-ridden public system. But this money could be harnessed much more efficiently for individuals and for society if there was one universal system with equal access for all.
A key part of our policy is the establishment of a Health Funding Commission which would look at all the ways healthcare is funded at present and recommend how best this can be harnessed to fund the equitable, universal system we propose.
What form will the campaign take?
Sinn Féin activists are encouraged to take our policy to the general public and to people directly concerned with the health services, including health service workers. This will include local launches of the policy, public meetings, briefings, leaflets, newsletters, posters, protests and so on. Already our five TDs have begun distributing tens of thousands of newsletters in their constituencies. We will be rolling this campaign out across the country and it's up to local activists, including our elected representatives, to ensure that our message is heard loud and clear. It is especially important for people to link in with the local campaigns already in existence and in which our activists have played a central role - in defence of threatened hospital services for example.
What do you hope to achieve with this campaign?
We want to make a real impact in demanding and delivering improved health services. This includes defending existing public health services at local, regional and national level. We hope to promote the argument among the wider public for enhanced health services delivered by the State and for an end to the two-tier system, exposing the deceit and folly of the current privatisation drive. Above all, we aim to promote our vision of a new Health Service for Ireland with equal access for all.
Money wasted on private hospital tax breaks
The Fianna Fáil/PD government has given away millions of euros of public money in tax breaks for developers of private hospitals. The review of tax reliefs published in February 2006 exposed how this has only benefited people earning at least €200,000 per year - as well as reinforcing the unfair two-tier public/private system. These tax breaks are subsidizing private hospitals and health centres that people on lower incomes cannot afford to use. They were introduced by former Finance Minister Charlie McCreevy in 2001 against the advice of the Department of Health and Children. This tax break has spurred property speculation and development of facilities not on the basis of local, regional or national need but in the interests of profit.
The most recent stage in the privatisation process in the 26 Counties is Mary Harney's plan to give away land at public hospital sites to developers of private hospitals, allegedly in return for the freeing up of 1,000 private beds in public hospitals. But with the money wasted on tax breaks on private hospitals and on the failed computer systems for the health service (PPARS and FISP) the Government could already have provided over 1,000 public hospital beds. Instead, public money is going to the private health business where wealth buys healthcare. Sinn Féin asserts that ALL government spending on health should be in the public system only, with equal access for all on the basis of need.
A New Health System for Ireland
At the core of Sinn Féin's health policy is the call for healthcare in Ireland to be provided on a new, more equitable basis. The party's key policy proposals are:
A new health system for Ireland that provides care free at the point of delivery for all on the basis of need alone and funded from general, fair and progressive taxation.
Immediate establishment of a Health Funding Commission to report within a six month period on the projected costs of the transition to an all-Ireland system of universal provision, taking into account all spending on health services under the current systems, including state funding and private insurance, and to make recommendations on how the state can best harness these resources in the interests of more equitable and efficient delivery.
• Supporters of Patients Together lie down on the road outside Leinster House in protest at the number of people who are forced to lie on trolleys in A&E departments in hospitals around the country, 14 April 2006
In order to tackle the inefficiencies and duplication caused by partition, we are calling for the development of a single Irish National Health Service. This new all-Ireland system should be built on a foundation of equity and excellence, delivering the best possible healthcare for everyone regardless of income, place of residence, or any other factor. All health law and policy should also be equality proofed to eliminate exclusion or discrimination against any particular social group.
Sinn Féin also says that a partnership approach to management is required. The party's document proposes the development of structures that include representation from management, health professionals, service users, public representatives, advocacy groups and communities. In addition to national oversight and management by a Single All-Ireland Strategic Health Executive we propose the establishment of Community Health Partnerships to introduce democratic accountability, oversight and participation at local level.
Sinn Féin's 10 Interim Policy Proposals
1. Invest all health funding in the public system, immediately end tax breaks for private hospitals and the land gift scheme, phase out public subsidisation of and ultimately replace the private system within an agreed timetable.
2. A managed, phased transition to full public provision, beginning with:
Medical cards for all under 18 (full year cost €223 million)
Increasing the income threshold qualification for full medical card coverage to above the povertyline.
3. Rollout of the promised Primary Care Centres throughout the state on an accelerated timetable.
4. A fully resourced and timetabled strategy to deliver the additional 3,000 hospital beds required.
5. Halting the centralisation of hospital facilities and reversal of cutbacks in services at local hospitals.
6. A plan for enhanced provision of essential public nursing home beds, community care facilities and home care.
7. Removing the cap on numbers employed in the health service, with an emphasis on recruitment of staff providing health services direct to service-users.
8. Ensuring working conditions, promotion prospects and remuneration sufficient to maintain trained staff in the health services, halting the exodus from the public system and from the country.
9. A new contract for hospital consultants to guarantee equity for public patients.
10. All new hospital consultant posts to be public-only.