20 April 2006 Edition
Remembering the Past
BY SHANE Mac THOMÁIS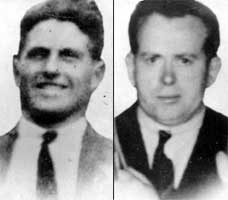 McNeela and D'Arcy
When Seán Russell was appointed IRA Chief of Staff in 1938 he immediately appointed Seán McNeela OC England and Tony D'Arcy OC Western Command.
After a few months of intense activity preparing for a bombing campaign in England, McNeela was arrested and sentenced to nine months imprisonment. He returned to Ireland in 1939 and was appointed IRA Director of Publicity and produced a weekly paper entitled War News.
McNeela was arrested three weeks later with members of the Radio Broadcast Staff and imprisoned in Mountjoy jail. He was Officer Commanding of the prisoners from February 1940, sharing a cell with Tony D'Arcy who had been arrested at a GHQ meeting in 40 Parnell Square in Dublin. D'Arcy was serving a three month sentence for refusing to account for his movements or give his name and address when he was arrested.
A crisis developed in the prison when Nicky Doherty, of Julianstown, County Meath was sentenced to five years penal servitude. Instead of being transferred to Arbour Hill, where other republican prisoners had political status, Doherty was lodged in the criminal section of Mountjoy.
McNeela, as OC of the republican prisoners requested Doherty's transfer to Arbour Hill. The request was ignored. McNeela and his prison council decided to launch a hunger strike until the demand was accepted.
Four men joined McNeela and D'Arcy on huinger strike. They were Tomás Mac Curtáin, of Cork, the only son of the martyred Lord Mayor. Jack Plunkett of Dublin, son of Count Plunkett and brother of Joseph Mary Plunkett, Tommy Grogan of Drogheda and Michael Traynor of Belfast, later Ard-Rúnaí of Sinn Féin.
Seven days into the hunger strike Special Branch detectives came to take McNeela for trial before the Special Criminal Court. McNeela refused to go and barricades were erected in D-Wing.
In the riot that ensued the Special Branch and Dublin Metrpolitian Police were deployed in force against the prisoners.
D'Arcy was rendered unconcious by blows from a baton and McNeela was pummeled by blow after blow. The wounds received by McNeela and D'Arcy never healed.
McNeela was taken away that evening and tried and sentenced by the Special Court. He was charged with 'conspiracy to usurp a function of Government' and sentenced to two years. He was running a pirate radio station when arrested.
On the eve of St Patrick's Day all six hunger strikers were removed to St Bricin's military hospital.
On the 54th night of the hunger strike, Tony D'Arcy cried out "Seán I'm dying". Seán replied: "I'm coming Tony". The other prisoners appealed to McNeela not to get out of bed as he was very weak and they felt it would kill him but D'Arcy's cry concerned him and he staggered across the room to his comrade. Later that night D'Arcy was taken out to a private ward.
Tony D'Arcy, IRA Volunteer from Headford, County Galway died the following night.
The day following D'Arcy's removal from the ward, Seán McNeela's uncle, Mick Kilroy, the Fianna Fáil TD, came to see him. He attacked Seán for "daring to embarrass de Valera" the "heaven-sent leader" by such action and demanded that Mcneela give up his hunger strike at once. McNeela ordered him out of the room.
The next day April 19 Seán McNeela, the IRA Volunteer from Ballycroy, County Mayo, died.
An IRA order to end the hunger strike was sent to the prison on the day before by GHQ but word had not got in in time to save McNeela.
In the third week of April 1940, 66 years ago, Irish republicans Seán McNeela and Tony D'Arcy died on hunger strike.
An Phoblacht Magazine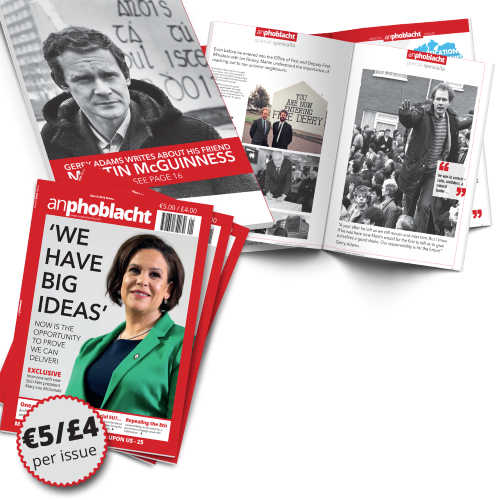 AN PHOBLACHT MAGAZINE:
The first edition of this new magazine will feature a 10 page special on the life and legacy of our leader Martin McGuinness to mark the first anniversary of his untimely passing.
It will include a personal reminiscence by Gerry Adams and contributions from the McGuinness family.
There will also be an exclusive interview with our new Uachtarán Mary Lou McDonald.
test