20 April 2006 Edition
Resurgent spirit of 1916
The occasion of the 90th anniversary of the 1916 Rising has been marked by large, colourful and well attended commemorations right across Ireland. All the annual republican commemorations witnessed an increased turnout this year.
Republicans, who have always celebrated the memory of 1916 and the principles of the Proclamation, warmly welcome the resurgence of interest in the Easter Rising. The discussion and public debate of the relevance and legacy of 1916 has also renewed an interest in republicanism and the ideals of a united and sovereign Irish nation.
The 90th anniversary also stands out because of the Irish state's rediscovery of 1916 after many years in which its rulers abandoned that memory and even banned Easter comemorations in their eagerness to placate the interests of the British state in Ireland.
However, while the 26 County state abandoned the memory and legacy of 1916, the Irish people never did. Recognition of this fact and of the increasing strength and relevance of republicanism throughout Ireland is what lies behind the revived state commemoration.
In 2006 a new generation of Irish republicans is committed to completing the unfinished business 1916, of creating an Ireland of Equals. Ninety years on from the Easter Rising, a dynamic and rapidly growing Sinn Féin is setting the political agenda North and South.
We are striving to make the ideals of the Proclamation a reality and are determined to build an Ireland of equals, free from sectarianism. While we will never hide our objective of a united Ireland nor our belief that a 32-County Republic is the best gurantee of the rights of all the Irish people regardless of creed or colour, we want to construct peace between Orange and Green. This involves working constructively in government with unionists. It remains to be seen if unionism is up to that challenge. Either way Sinn Féin will not shirk from pursuing the full implemetation of the Good Friday Agreement nor from holding the two Governments to account to ensure that the will of the Irish people is realised.
An Phoblacht Magazine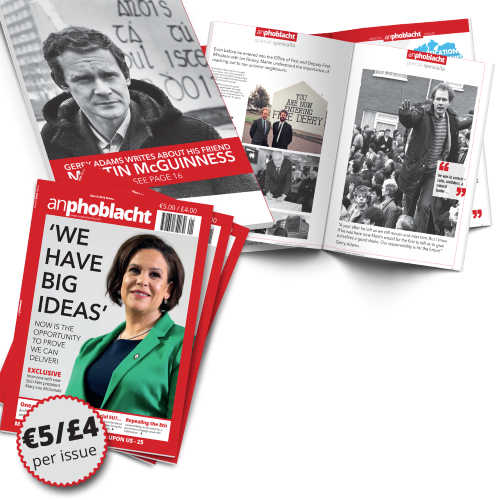 AN PHOBLACHT MAGAZINE:
The first edition of this new magazine will feature a 10 page special on the life and legacy of our leader Martin McGuinness to mark the first anniversary of his untimely passing.
It will include a personal reminiscence by Gerry Adams and contributions from the McGuinness family.
There will also be an exclusive interview with our new Uachtarán Mary Lou McDonald.
test