6 April 2006 Edition
Remembering 1981: Bobby Sands contests by-election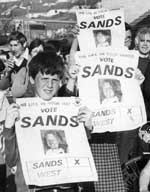 Eyes of world on Fermanagh/South Tyrone
BY SHANE MacTHOMÁIS
On the fifth day of the 1981 Hunger Strike, Frank Maguire, the MP for the constituency of Fermanagh/South Tyrone, died of a heart attack.
Over the following three weeks the number of candidates for the by-election fluctuated up and down with, at one stage, as many as seven candidates being mooted, and almost an eighth candidate when by mistake an over-enthusiastic member of Sinn Féin took out under her own name, a second set of nomination papers for Bobby Sands.
Noel Maguire, brother of Frank Maguire, was first to declare his candidature, and lodged nomination papers at the electoral offices in Dungannon on Wednesday the 25 March. Bernadette McAliskey had also declared herself as a runner on a Smash H-Block/Armagh and anti-repression ticket.
Former Ulster Unionist leader Harry West was elected as their candidate at a party convention, and UDR lieutenant Roy Kells, with the encouragement of Ian Paisley, was announced as being prepared to stand, but only as an 'agreed' loyalist candidate. And, as expected, an SDLP convention in Irvinestown ratified Austin Currie, who had previously attempted to wrest the seat from the late Frank Maguire in the bitterly contested May 1979 election.
The 1979 election, contested without endorsement from the SDLP party executive, who correctly feared repercussions from splitting the nationalist vote, placed the local SDLP in a difficult position. They too were deeply divided over the wisdom of not just contesting the seat, but contesting it on an anti-IRA ticket, their fears being proven justified when Currie lost the election.
Currie's self serving attitude in 1979 forced the party leadership to temporarily remove him from his executive position, though he was by 1981 reinstated. It was the fear of being ostracised for good, should he do a repeat performance that forced Currie to swallow a bitter pill, when the party executive decided to overturn the local selection convention and not to contest the election.
The SDLP had mistakenly calculated that Noel Maguire was a definite runner and that between him and Bobby Sands, who by this stage had emerged as a definite candidate, that the nationalist vote against a single loyalist contender would be already split enough. The SDLP withdrew from the election, only to be dumbfounded when Noel Maguire also withdrew at the last minute and joined the broad-based backing for Bobby Sands, which included Tommy Murray (SDLP), Neil Blaney (Independent Euro-MP), Frank McManus (Irish Independence Party), and Bernadette McAliskey (National H-Block/Armagh Committee). Two members of the Irish Independence Party and the SDLP's Tommy Murray, signed Bobby Sands's nomination papers.
The confirmation that Sands would be a candidate had come from a Sinn Féin announcement on 26 March. Earlier that morning, Bernadette McAliskey had revealed that if a hunger-striker was to run then she would stand down in his favour and 'work the shirt off my back' for him.
The Sinn Féin statement said that Sands's candidature provided the electorate with the opportunity of quantifying their support for the political prisoners and against attempts to criminalise opposition to British rule. The statement made clear that under no circumstances, following Sands's election, would the seat be allowed to fall to the runner-up, in the event of a court action to dislodge him
Meanwhile Ian Paisley's attempts to push Harry West out of the running floundered when Paisley's choice, Roy Kells withdrew when he did not get the full support of the UUP. But Paisley continued to orchestrate a campaign against Harry West, which included personal visits and appeals from the widows of four UDR and RUC men. West, however, performed a minor coup, got photographed smiling with the widows, and stood his ground. Even a poster campaign against West, favouring the UDR lieutenant, with transport and manpower laid on by the UDR in the middle of the night, failed to change West's mind.
Bobby Sands's nomination papers were lodged by Jim Gibney and Owen Carron on the last possible day, Monday 30 March. Noel Maguire intended to withdraw just before the deadline, when it would be too late for Austin Currie to respond. As the 4pm deadline approached Gerry Adams and Owen Carron waited in a car beside the electoral office just in case Maguire failed to withdraw. In his pocket Gerry Adams carried a statement announcing Bobby Sands' withdrawal. With less than ten minutes to go Maguire arrived, went into the office and emerged with his nomination papers and called on his supporters to back Bobby Sands.
In a message to the electorate of Fermanagh/South Tyrone, their candidate Bobby Sands said that: "there is but a single issue at stake, the right of human dignity for Irish men and women who are imprisoned for taking part in this period of the historic struggle for Irish Independence."
He went on to say: "We are not elitist; we do not seek a different status to that afforded the ordinary prisoner because we supposedly frown upon them. Our protest and this hunger-strike are to secure from the British government an end to its policy of labelling us as criminals. This can be done by them conceding to us the same status that several hundred men in the cages of Long Kesh and three women in Armagh prison have. The eyes of this nation and many parts of the world will be on the people of Fermanagh and South Tyrone on polling day."
Key turning point in the struggle
BY JIM GIBNEY
I hid behind the wall of St. Patrick's Catholic Church, less than 200 yards from the front door of Dungannon's Electoral Office in Northland Row. From this safe distance I could watch, unobserved, the comings and goings at the Electoral Office. It was short of 2.30 in the afternoon, a warm day as I recall now, some 25 years later.
My inside jacket pocket held a little piece of paper, pregnant with historical change, of far reaching proportions for republicans. Of course at the time I was completely unaware of this. As I paced up and down the car park behind the Church I was more concerned not to be seen by anyone who would recognise me and be alerted to my intentions. The little piece of paper in my pocket was Bobby Sands' nomination papers to contest the by-election for Fermanagh/South Tyrone.
In Ballygawley Road housing estate, a few miles away, Gerry Adams was sitting by a phone. He was in communication with republicans in Lisnaskea, the home town of the recently deceased MP for the constituency, Frank Maguire. Gerry was also in communication with me, not I hasten to add by mobile phone, they were yet to be invented, but through Jimmy McGivern a local republican in his car.
Earlier Gerry had given me my instructions. They were simple enough. If by 3.50pm Noel Maguire, Frank's brother, had not withdrawn his nomination papers from the by-election then I was to withdraw Bobby's name from the contest. Four o'clock was the final deadline to withdraw papers. Three o'clock was the deadline for submitting a nomination. The leadership of Sinn Féin had decided Bobby Sands would not contest the election if there was another nationalist in the field.
At approximately 2.45pm the word from Gerry through Jimmy was that Noel Maguire was sighted in the company of a local republican in Lisnaskea shortly after 2pm. He had not been seen since then. The grapevine had it he had gone to ground. My heart sank with the news as I prepared myself to withdraw Bobby's papers.
Then another courier arrived at the car park with a more positive rumour. Noel Maguire was on his way to the Electoral Office with the local republican but no one knew for certain why.
Lisnaskea was a difficult hour's drive from Dungannon. We were all on edge. Would Noel make it to the Electoral Office before the deadline? Would he be stopped by the British Army at a checkpoint and delayed deliberately until after the deadline? Why was he coming at all if not to withdraw his name? Maybe he was just coming to tell the growing number of journalists outside the Electoral Office that he intended to stand?
I was not prepared to believe anything unless I saw it with my own eyes. Experience of the previous few weeks taught me that. It was packed with highs and lows as republicans grappled with what to do over the nomination of Bobby.
My anxious wait ended well within the time set for withdrawing a nomination. The solitary figure of the white haired Noel Maguire ascended the steps outside the Electoral Office. It was obvious he had decided to pull out of the contest. In keeping with his gentle demeanour he announced in a soft voice to the waiting journalists that he was withdrawing from the by-election because he had been told it would help save Bobby's life. He could not have it on his conscience that any action of his would endanger another person's life.
Noel Maguire's gesture was not only magnanimous. It was a pivotal moment which shaped the future conduct of the republican struggle in a dramatic and unexpected way at the time. Had Noel stayed in the contest then Bobby Sands would not have been elected MP for Fermanagh/South Tyrone because I would have withdrawn his name from the election. And the year 1981 might not have been the year the struggle changed so dramatically.
Bobby's election rocked the Thatcher government and the Irish establishment. It also came as a huge surprise to many republicans with one very senior IRA man saying to me, as we watched the news of Bobby's win on television, that it was worth 20 bombs. It was a spectacular victory against all the odds. It gave the prison struggle, and the struggle generally, a much needed boost.
Following Bobby's election, Kieran Doherty and Paddy Agnew were elected TDs and other prisoner candidates did well across the 26 counties in that year's general election. The election of two prisoner candidates as TDs was also significant for another reason. It ended Fianna Fáil's reign as the dominant party in the south. They never again formed a government as a single party. That year also saw Owen Carron hold Bobby's seat with an increased majority in the by-election caused by Bobby's death.
In the middle of all that was happening and with Bobby's win in the bag, I argued internally for Sinn Féin to contest the May local government elections held less than a month after Bobby's success. Not surprisingly I lost the argument. Other organisations like People's Democracy (PD), the IRSP, the IIP and pro-prisoner candidates did stand. The SDLP lost many of their council seats to these candidates including that of their leader Gerry Fitt who was still a Westminster MP at the time. Thereafter the struggle opened up a new front: contesting elections.
The election successes of 1981 gave republicans the confidence they needed to take the leap into the unknown electoral arena. I was not there for the internal debate which followed 1981. I was off to jail for the next six years. I can imagine it would not have been an easy debate to win. Republicans were very suspicious of participating in any form of struggle which they suspected was out of step with pursuing the armed struggle. For many in the leadership and elsewhere participating in elections was controversial and to be done selectively.
I was at an Ard Fheis in 1980 and heard Sinn Féin President, Ruaraí Ó Brádaigh denounce those republicans from Tyrone who put a motion to the conference to contest local elections in the Six Counties. Republicans in the 26 Counties were already contesting local elections. He warned delegates that anyone advocating such a course of action would face expulsion.
Between that Ard Fheis and Bobby Sands' election there was a low level debate among some of the leadership of Sinn Féin about how best to build Sinn Féin into a popular political party and the role, if any, of participating in elections. The opposition to fighting elections was very strong. Indeed this was reflected in the extreme opposition among Fermanagh republicans to the proposal to stand Bobby.
I proposed standing Bobby in the by-election. It came to me in a flash on hearing the news on the radio of Frank Maguire's sudden death. I thought it was a not to be missed opportunity to highlight the Hunger Strike and the protest for political status. I was to learn very quickly that not all republicans were taken by the idea.
The opposition in Fermanagh centred on the traditional republican hostility to elections. They were seen as a dangerous distraction summed up in the view that even if Sinn Féin won every seat in the country the Brits still had to be forced out by arms. There was also a genuine concern for the fate of Bobby and his comrades. Failure to win the seat would strengthen Thatcher's main argument that the prisoners did not have popular support.
The opposition held out over several meetings against the combined persuasive powers of Ruaraí O Brádaigh, Daithí O Conaill, Gerry Adams and Owen Carron - all arguing to stand Bobby.
For republicans 1981 is, understandably so, one of the bleakest years of the conflict because of the deaths on hunger strike of the ten lads. It is also a seminal year in terms of opening up a new and challenging front, participating in elections. This led to other, equally important changes- taking seats in Leinster House and forcing republicans to build a serious party with a radical message.
It all started in earnest on 9 April, 25 years ago this Sunday, in Enniskillen's Technical College, when the Returning Officer, in a breaking voice announced to the world, 'Sands, Bobby, Anti H-Block/Armagh Political Prisoner, 30,492, West, Harry, Unionist, 29,046'. Bobby Sands was declared MP for Fermanagh/South Tyrone.
An Phoblacht Magazine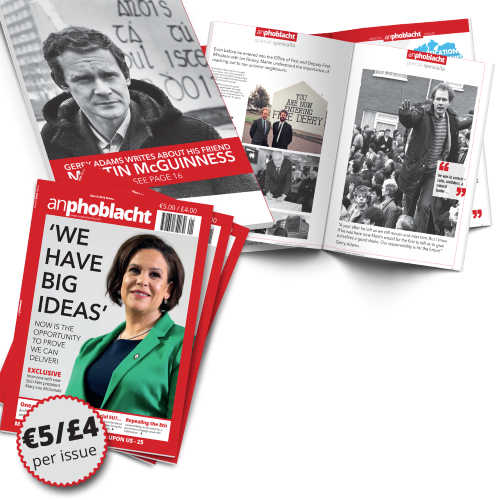 AN PHOBLACHT MAGAZINE:
The first edition of this new magazine will feature a 10 page special on the life and legacy of our leader Martin McGuinness to mark the first anniversary of his untimely passing.
It will include a personal reminiscence by Gerry Adams and contributions from the McGuinness family.
There will also be an exclusive interview with our new Uachtarán Mary Lou McDonald.
test