30 March 2006 Edition
Government seeks to spin way out of A & E crisis
Last Tuesday's declaration by 26 County Health Minister Mary Harney of a state of emergency in A&E wards will be seen by many as cynical electioneering by a Government that knows it is vulnerable on the issue.
The recent appearance of actor, Brendan Gleeson , on RTE's The Late Late Show, where he lambasted the state of the health service, and the politicians responsible for it, resonated with the public revealing a huge depth of feeling about this problem.
More spin is the Government's reaction to being caught in the glare of public anger. It must not be allowed to spin its way out of this current crisis. It must not be allowed either, under the cover of reform, to pursue its ruthless agenda of privatisation. In particular the declaration by Harney that the A&E problem must be treated as a 'national emergency' cannot be used as an excuse to advance the privatisation agenda. The motives behind her declaration at this point must be carefully considered. When making it Harney said: "That means we have to do things that we mightn't do in a different set of circumstances. We have to mobilise all the resources that are available from the voluntary sector, in the public system and in the private system...". Those seeking privatisation of the health service know that an upfront announcement of such a move would be widely opposed. Cleverly they seek to create a demand from the public for use of private resources to solve a problem which they have allowed to reach such a critical point.
This Government's committment to privatisation is obvious. It pours money into private healthcare, gives generous tax breaks to the private sector, and has failed to negotiate a contract that would see consultants work purely in the public sphere. It even reneged on its own health plan which had promised an additional 3,000 beds.
What is needed is a radical overhaul which ends the two tier health system and creates a publicly funded, accessible health system, free at the point of delivery.
The Tániste's sudden recognition of a crisis does not increase the likelihood of a speedy resolution. However, having now admitted the scale of the problem, there will be more public scrutiny on the Government's record and the steps it takes to alleviate it. Don't hold your breath.
An Phoblacht, 58 Parnell Square, Dublin 1.
Tel: 8733611/8733839. Fax: 8733074
53 Falls Road, Belfast BT 12 4PD.
Tel: 90 223006. Fax: 90 225553
e mail: [email protected]
website: http:www.anphoblacht.com
An Phoblacht Magazine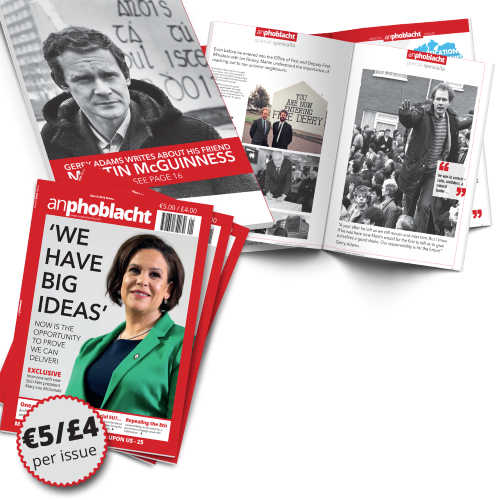 AN PHOBLACHT MAGAZINE:
The first edition of this new magazine will feature a 10 page special on the life and legacy of our leader Martin McGuinness to mark the first anniversary of his untimely passing.
It will include a personal reminiscence by Gerry Adams and contributions from the McGuinness family.
There will also be an exclusive interview with our new Uachtarán Mary Lou McDonald.
test