23 March 2006 Edition
End to era of quangos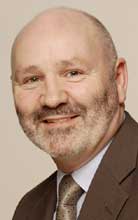 Sinn Féin's spokesperson on Public Administration, Alex Maskey has welcomed the reduction of the number of quangos currently operating in the North as a requirement to bring about a democratic society.
"The challenge for people is to see the political institutions reinstated and strong local government built on the most stringent equality measures possible to deliver democratic accountability and end all forms of discrimination," said the South Belfast MLA.
Maskey said Sinn Féin wanted to see an even greater transfer of powers to local government, but only within the context of functioning institutions and strong equality protection. "There must be cast iron checks and balances to ensure equality and that there would be no return to the sectarian abuse of powers by unionists that led to many powers being stripped from councils in the first place," he said.
The radical reorganisation of public bodies in the Six Counties continued this week with British Secretary of State Peter Hain detailing the final stage of the Review of Public Administration. The review has already promised to slash the number of local councils from 26 to seven and to drastically reduce the number of health and education bodies.
Hain said the number of public bodies would be cut by half, from 154 to 75. Executive agencies and other public bodies will be reduced from 70 to 42 while eleven tribunals, which deal with employment disputes and appeals, will transfer to a new Courts and Tribunal Service.
However, following representation, Hain said it had been decided to increase the number of councillors, who will sit on the new councils, from around 50 to 60. This will mean the current 582 councillors sitting on 26 councils will be reduced to 420 sitting on seven.
Sinn Féin has criticised a proposal to move control of public housing away from the Housing Executive and into the hands of the new councils. The Executive was founded over 35 years ago as a means of ending blatant sectarian allocation of housing by unionist-controlled councils. Because only householders could vote, unionists used housing allocation as a means of ensuring political domination.
"Sinn Féin believe that there is a role for the Housing Executive as a regional and strategic body that ensures that there is a common housing policy, is responsible for allocation, and making sure that we are building enough social housing to meet need," said Maskey.
"While there is strong argument for councils to have a greater role in housing, it will be a long time before nationalists will trust unionists with powers of housing provision or allocation," he said.