23 March 2006 Edition
Political policing: new campaign launched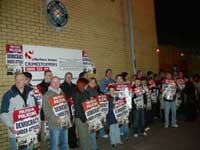 Barracks picketed across the North
The scourge of political policing in the Six Counties was confronted by Sinn Féin activists and supporters right across the North last week as the party launched a new, continuous campaign to end political policing.
PSNI and British army barracks were picketed in numerous locations with demonstrators raising the issue of the sinister securocrats and political detectives, who remain at war with Irish republicans, who collapsed the power sharing executive and whose aim is to prevent political progress, stop changes in policing, thwart the restoration of the power sharing Executive, curtail the implementation of the Good Friday Agreement and undermine the peace process.
The new campaign which includes postering and leafleting began with a day of action and protest on Wednesday 15 March.
Sinn Féin is demanding that the British government take action to end political policing. This requires powers on policing and justice to be transferred to a locally elected Assembly within a framework of equality and human rights.
Barracks picketed in Belfast last week included New Barnsley, Antrim Road and Mountpottinger.
West Tyrone
Speaking in Omagh In West Tyrone Sinn Féin MLA and Omagh District Councillor Barry McElduff has accused the PSNI of "poisoning the political process with regular interventions aimed at preventing change so as to suit a Unionist agenda". With McElduff at the local launch of the campaign were members of Ógra Shinn Féin who have found themselves at the centre of Political Policing. McElduff said those Ógra Shinn Féin members present had been subject to political harassment and intimidation in recent months. The harassment experienced by the Ógra Shinn Féin members ranged from being taken off public transport outside Omagh, because of high profile speeches at Sinn Fein's recent Ard Fhéis in Dublin, another member being stopped, searched and questioned in Dublin city centre by the Gardaí and also one youth being a constant target of harassment over the past three years. "Trying to harass young people out of politics is another example of Political Policing", said McElduff.
He said that he intended to write to An Taoiseach regarding the intimidation of Ógra Shinn Féin.
North Antrim
North Antrim Sinn Féin MLA Philip McGuigan was accompanied by his party colleagues Martin McGuinness MP for Mid Ulster, Francie Brolly MLA for East Derry and Henry Cushinan councillor for Antrim Town at the launch in the North east.
McGuigan said: "Republicans in North Antrim and Derry are convinced that the same people who co-ordinated loyalist death squads to kill our loved ones are the same people who plotted to de-stabilise the peace process through the arrest of Francie Brolly and Stormontgate.
"They had adopted this policy which is pro-loyalist, anti-republican and anti-peace process."
Newry
The political murder of solicitor Rosemary Nelson seven years ago was remembered at a protest and vigil in Newry. Upwards of one 100 Sinn Féin activists took part in a candle-lit vigil and picket at the PSNI Headquarters on the Belfast Road.
Before the protest got underway Newry councillor Marian Mathers said:"The main elements of the life of Rosemary Nelson, her successful and courageous defence of her clients meant that she was seen by , what passed as a police force, as an enemy and someone who had to be got rid off."
"Her last few years were a nightmare lived in the terror of continual police threats against her life. Eventually on the 15 March 1999 the police made good their threats and Rosemary Nelson met her death in a horrific explosion caused by a bomb placed under her car".
Newry/Armagh MLA, Davy Hyland and Councillors Charlie Casey then joined members of Newry's five Sinn Féin cumainn in peaceful and dignified protest at the PSNI Headquarters in Newry where over 600 campaign leaflets were distributed to passing motorists and pedestrians.
As part of the ongoing political policing awareness campaign in the Newry area, over 7,000 full colour leaflets will be distributed to every home in the city in the coming weeks.
East Derry
East Derry Sinn Féin MLA Francie Brolly, speaking at the party's 'End Political Policing Campaign' protest in Ballykelly has said that political policing is a threat to everyone. Brolly was joined at the launch by local Sinn Féin councillors Anne Brolly, Marion Donaghy, Brenda Chivers, John Felix McElhinney, Cathal Ó hOísin, Paddy Butcher and Billy Leonard. Several republicans turned out in support when the party held a candle light vigil outside Ballykelly Military barracks.